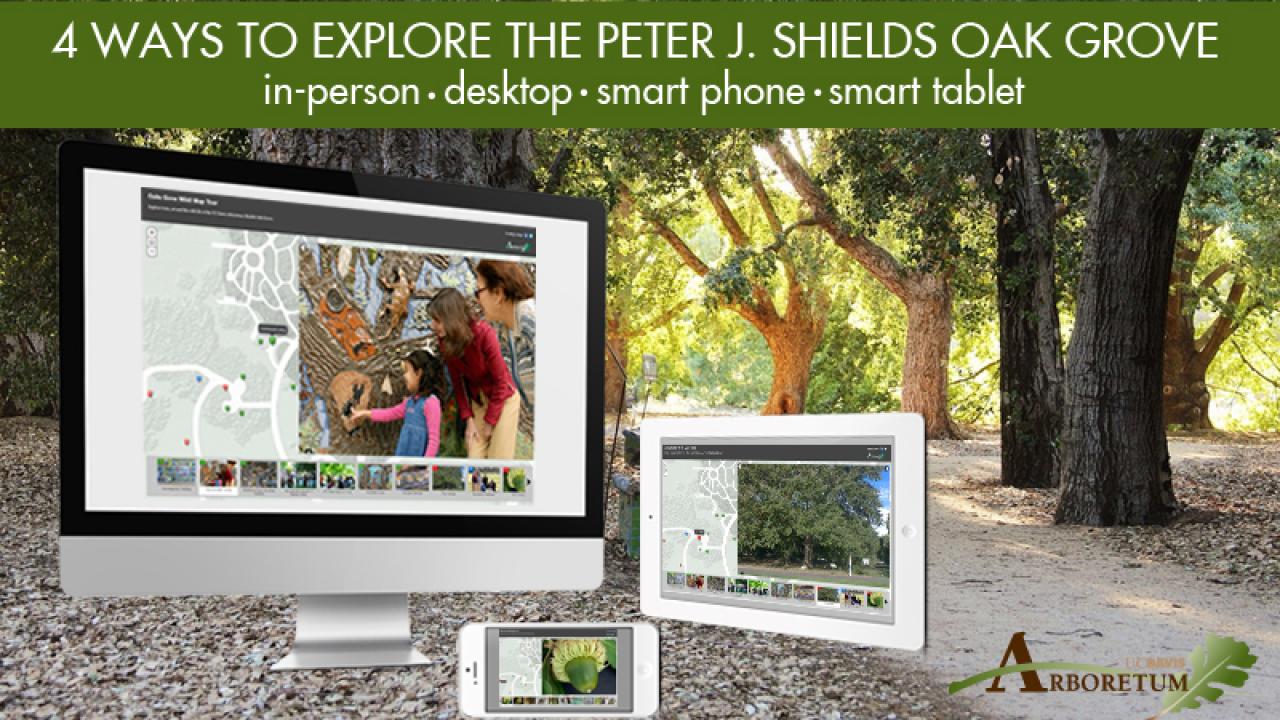 Background image courtesy of jdavisphotography.com
Exploring the UC Davis Arboretum's Peter J. Shields Oak Grove just got easier with the launch of "Oaks Gone Wild!," a web-based story map dedicated to informing the public about this important campus collection.
You may already know that the UC Davis Arboretum's Shields Oak Grove is home to one of the largest and most diverse oak collections in the country, but did you know it is home to oaks with acorns as big as golf balls, oaks once grown to build warships, and oaks required to dye the royal robes of European monarchs red? Visitors who explore the "Oaks Gone Wild!" story map will encounter more than interesting horticultural and historical tidbits about these unique trees—the story map also reveals information about the grove's abundant wildlife and innovative community-created art.
Thanks in large part to the UC Davis Arboretum and Public Garden's partnership with Esri—one of the world's foremost geographic information systems (GIS) companies and a leader in making their resources available to public gardens—we now have the ability to create story maps to educate, entertain, and inspire our virtual and actual visitors. Created for the curious visitor as opposed to the seasoned scientist, this story map seeks to engage its audience with tongue-in-cheek titles and short, engaging descriptions paired with enticing photos. Virtual visitors can tour the collection at home on their desktops or access the information when they arrive on site using their smart phone or tablet.
WHERE is the Shields Oak Grove? CLICK HERE for a map.
Learn more about the UC Davis Arboretum Peter J. Shields Oak Collection: 
Blog Post "Shields Oak Grove Turns 50"
Category
Tags