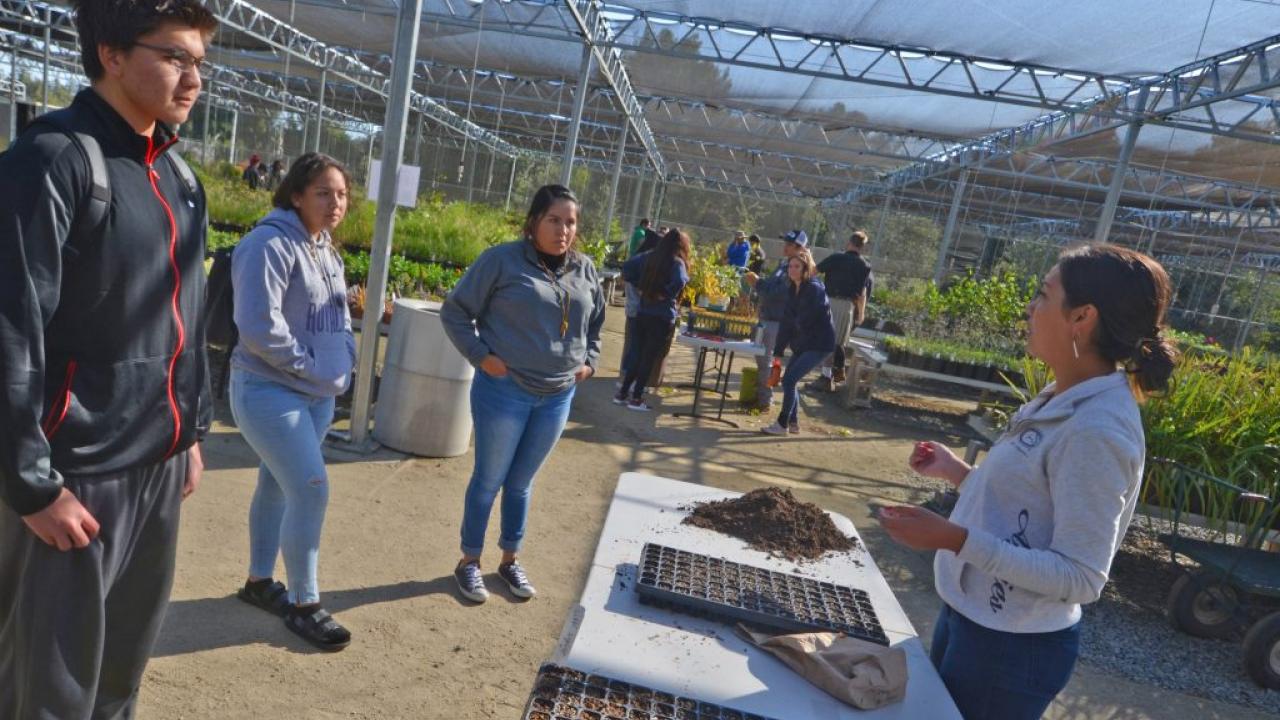 by Katie Hetrick
Typically, UC Davis Arboretum and Public Garden teaching nursery staff provide instruction to an audience of university students and volunteers interested in learning the how-tos of propagating and growing plants perfect for our region. The tens of thousands of plants they grow find permanent homes in campus landscapes or at the homes of regional residents who shop the nursery's seasonal plant sale fundraisers, but recently that audience base has expanded.
Last Friday, teaching nursery personnel hosted a group of high school students participating in the Intertribal Agriculture Council (IAC) Youth Leadership Summit. These students, with connections to Native American tribes in California, Nevada, Hawaii and New Mexico, learned how to grow culturally important plants for a large-scale environmental restoration project on Maidu land in Plumas County.
"We were thrilled to partner with the Intertribal Agriculture Council for this project," says Taylor Lewis, nursery manager for the UC Davis Arboretum and Public Garden. "Our organization is all about helping people and environments thrive so it's incredible to participate in a program that expands our impact in very meaningful ways."
"Plants maintain important roles in a variety of tribal cultures," explains Reina Rogers, recently retired American Indian liaison for the National Resources Conservation Service (NRCS). "They are used for food, medicine, music and traditional ceremonies; we need to make sure our youth know how to grow and care for them."
To facilitate this practice, workshops highlighting propagation methods for plants including willow, angelica, yarrow, milkweed and fescue grass, were led by students participating in the Arboretum and Public Garden's Learning by Leading program, staff, and one other UC Davis student familiar with the nursery, the Maidu restoration project as well as traditional tribal needs.
Ellen Sanders-Raigosa, Environmental Policy major, worked with Lewis over the summer at the Arboretum Teaching Nursery to gain the knowledge necessary to grow plants for her own tribe, the Paskenta band of Nomaki Indians.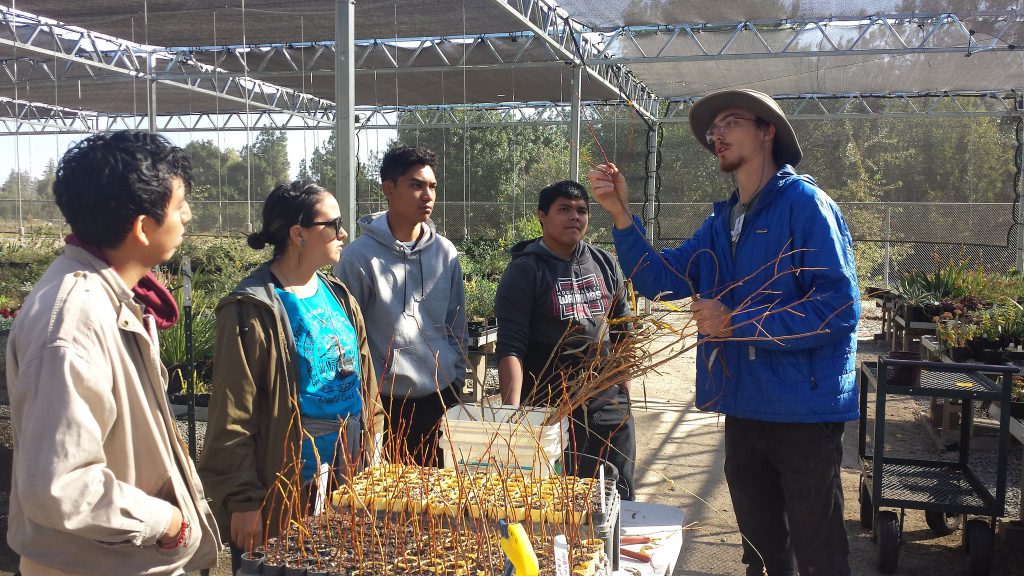 "I wanted to give back to my community by learning how to grow culturally important plants that may not be readily available on our reservation," says Sanders-Raigosa. "So, I participated in a joint internship sponsored by both the IAC and NRCS, but a large part of it included time at the teaching nursery."
"NRCS provided the equipment and the greenhouse space for me to grow the plants I was interested in cultivating, but I needed to know more about actual plant propagation techniques. That's where the Arboretum Teaching Nursery came in."
Thanks goes to Keir Johnson-Reyes, intern coordinator and technical specialist for the Intertribal Agriculture Council, who made the connection to Taylor Lewis at the Arboretum Teaching Nursery.
"I knew somebody at UC Davis knew how to help Ellen," says Johnson-Reyes. "It was just a matter of finding out who and if they could work with her on this special project.
"The Arboretum and Public Garden's nursery was a perfect fit. Their Learning by Leading program with a focus on plant propagation was already in place and they willingly accommodated her unique needs."
"When I started I didn't even know how to prune … everything was new," continues Sanders-Raigosa. "Now, one summer later I have the chance to share my knowledge with Native youth who can bring these teachings back to their communities."
"We are thrilled to be able to partner with the IAC and other federal and state agencies on this project," says Kathleen Socolofsky, assistant vice chancellor and director of the UC Davis Arboretum and Public Garden.
"When we can create an environment where students take teaching and leadership roles to help our environment and regional communities thrive, that's a fabulous day at the office!"
Category
Tags