Habitat Horticulture
This team offers students the opportunity to learn how to transform our landscapes into urban habitat, with an emphasis on sustainable practices and plant-pollinator interactions. This team's work is centered in the habitat gardens of the Environmental GATEway, located at the west end of the Arboretum and Public Garden. Students will use this area as a living laboratory with collections that include the hummingbird garden, the insect pollinator gardens, the native meadow basin, and the large scale stormwater management system. 
This internship will provide students with hands-on skills including seed collection, propagation, weeding, planting, maintenance, species monitoring and plant record keeping. Learning plant and pollinator identification will be heavily emphasized. Students will learn and integrate the natural history information of the many species that use the garden's resources. 
Students will also get the opportunity to apply and share their knowledge through outreach at plant sales and community events.
Quarters: Year Long—Fall through Spring
Schedule: 3 hours/week commitment for the entire school year
Units: 1 unit/quarter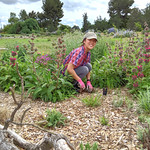 Habitat Horticulture Projects
Click here to learn more about the types of projects Learning by Leading Habitat Horticulture interns lead.
Tags