Plant Propagation and Nursery Management
Work with professional Arboretum nursery and plant sales staff to gain hands-on experience working in a nursery. Interns will learn methods for propagating a great variety of plants, many of which are unusual in cultivation.
Interns are encouraged to choose the plants they work with and will gain experience in a range of nursery tasks, including irrigation, pruning, re-potting, and IPM/pest control. Interns will also participate in Arboretum plant sales offered on the weekends in order to gain experience with nursery events.
Quarters: Fall, Winter, and Spring
Schedule: 3-9 hour/week commitment; each shift is approximately 3 hours.
Units: 1-3 units
Staff Mentor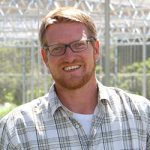 Taylor Lewis
Nursery Manager
Email
530-752-6711