A Legacy for the Next 100 Years
The character of our university is created by multiple physical factors in our environment — one of the largest being our trees!
The Campus Tree Renewal Program — a result of our university's Living Landscape Adaptation Plan — is a collaborative effort between the UC Davis Arboretum and Public Garden and Campus Planning to create a landscape of trees able to defend against the climate the scientific community projects for our region, enhance the capacity of our trees to better tolerate changing environmental conditions, and transform the landscape to one that is less vulnerable to predicted higher temperatures and lower precipitation.
The program involves tree removals, tree plantings, community engagement, and, at the end of the day, creating a legacy of campus trees for the next 100 years and beyond!
Will trees will be removed as part of this program?
Yes. There are many reasons a tree might be approved for removal including the following:
Safety. As a result of stress by drought, pests, disease, lack of adequate space to reach maturity and other unsafe conditions trees can pose safety risks. If there is a question about a tree's long-term health and its prospects for recovery, certified arborists are consulted. We have also recently hired a campus urban forester to oversee this important process. 
Long-term viability and death. Trees may be removed because the prospects for their long-term health are low as a result of growing too close to other trees, permanent hardscape or buildings. This process can lead to improving the health of surrounding trees that no longer need to compete for resources. In addition, trees are also removed because they have reached the end of their natural lifespan, they could not withstand current climate conditions, or were damaged by pests, disease and/or other conditions.
Construction. There are circumstances where trees are removed as a result of construction. The campus does not take tree removal lightly, and considers each project and proposed tree removal carefully. Solutions include altering project plans to save trees, in depth root analysis to determine long-term health before, during and after construction and more.
California Avenue Hackberry Tree Removals

Primarily planted in the 50s and 60s, the health of the hackberry trees along California Avenue have been declining steadily over a number of years. Now, as a result of their age, climate change, poor water quality and basal rot fungal infections they present safety issues, especially given the high winds our area now experiences regularly.



Years ago, when we knew that these trees were in decline and would eventually require removal, we began planting oaks and elms we knew to be climate-ready, along the avenue. These trees are already looking beautiful and thriving in our current conditions. We will continue with similar choices when planting new trees.  In some cases, because other trees have already been planted as replacements, there will not be another planted to replace it; in other cases new trees will take their place.
What trees will be planted?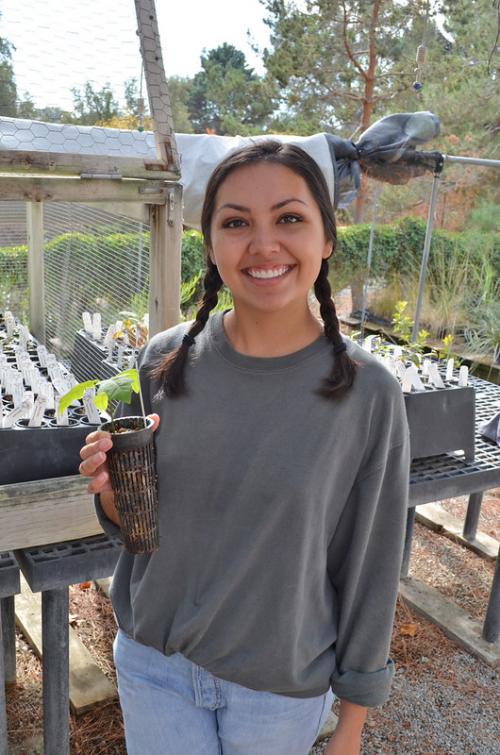 In order to create a valuable tree canopy like the cork-oak lined thoroughfare along West Quad, we will only be planting trees that are appropriate for the future climate.
Not only will we plant tried and true tree species like valley oaks, cork oaks and live oaks, we've also found that Texas red oaks thrive in our current, low-water conditions. As a result, we are testing more trees from Texas. Students in our Learning by Leading™ Urban Tree Stewardship program helped gather, grow and plant 45 species in campus trial sites. The results can be found in our Texas Tree Trials Database. 
We have also expanded our capacity for growing trees in our nursery with a special focus on oaks. We upgraded our propagation facilities, are experimenting with new materials, and employing current best practices to ensure our campus has a healthy stock of trees to shade many generations to come.
How can I stay engaged and get involved?
While we are just getting started on our Campus Tree Renewal Program, there are a number of ways you can stay engaged and get involved now.
Sign up for The Leaflet
We will use our e-newsletter, The Leaflet, as the primary way to keep our community informed about the status of our tree inventory, their health, community planting events and more. Sign up now!
Donate to the UC Davis Oaks Fund
Join us in preserving our campus's signature trees – the mighty oaks – and protecting them for future generations. Learn more and give!
Contact Us
Ask a question, provide feedback or share a concern. Use our contact form in the right-hand column of this page or email us at arboretum@ucdavis.edu.
---
Want to learn more?
 
At the UC Davis Arboretum and Public Garden we're all about trees! 
It all starts with our name — "Arboretum" comes from the latin "arbor" meaning "tree," and "-etum," meaning "place." Today, arboreta such as ours serve as living museums with a wide range of plant collections for study and public enjoyment.
With all of the UC Davis campus as our "public garden," we have a lot of trees to care for, over 16,000, in fact! With such a long history of stewarding trees, we are grateful for the ways that these beautiful, natural resources work alongside us to accomplish our fundamental purpose — helping both people and environments thrive.
Tree Resources
Tree Tours
More Engagement Resources