ELLEN'S PICKS: Dramatic and drought-tolerant plants
Ellen Zagory, director of public horticulture for the UC Davis Arboretum and Public Garden, is always on the lookout for plants that thrive in our region and serve multiple purposes.  The plants featured in this article will all be available at the Friends of the UC Davis Arboretum plant sale along with hundreds of other attractive, low-water, easy-care, region-appropriate plants.
"On campus we have fairly heavy soil and water that's high in bicarbonates and boron, so I always think…if it grows well here, it will do even better elsewhere," says Zagory.
"In light of limited water supplies and rising water prices we need to think even harder about plants that can survive with low or very low quantities of water, but they can still be pretty," explains Zagory. "You'd never know these were drought-tolerant considering the seasonal impact and drama they provide!"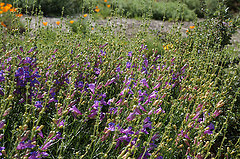 The amazing Penstemon 'Margarita BOP', foothill penstemon,  is reaching perfection making mats of  stunning purple and pink at some of the major intersections on campus.  Combined with orange California poppies it's a real eye catcher!  Thrives on every two weeks water and makes a nice low mat that  will grow especially well on slopes or rocky areas.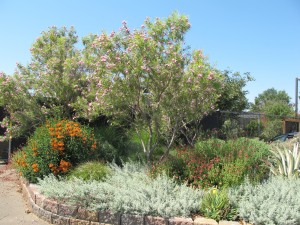 Chilopsis linearis, desert willow, is a small tree with delicate narrow leaves and large beautiful pink or lavender flowers.  Loved by hummingbirds it can be pruned to enhance its picturesque shape while requiring little water once established.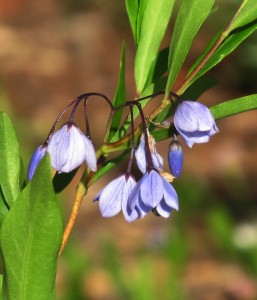 Solly heterophylla, Australian bluebells, is an evergreen twining perennial that produces adorable clusters of "bell" flowers commonly blue but sometimes also seen in pink or white varieties.  Extremely tough it grows in sun or shade and can be trained up given support to cover a fence or wall (needs support) or grown as a small shrub.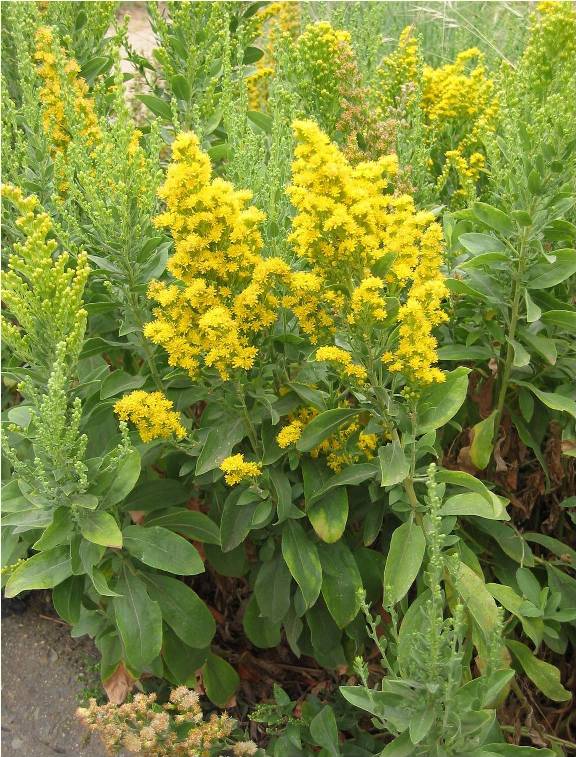 Solidago californica'Cascade Creek', Cascade Creek goldenrod is a superior form of this native discovered by master plantsman Roger Raiche.  The flower heads are large and compact and do not flop like other types.  Perfect for habitat gardeners in low and very low water conditions it will attract a variety of creatures like native butterflies and other pollinators to the garden in summer and fall.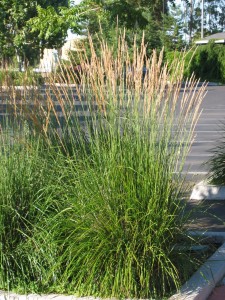 Calamagrostis  x acutiflora 'Karl Foerster'  for ornamental grass enthusiasts this variety is a workhorse in the garden.  A strong vertical element for behind lower growing rounded forms, the large tufts of  green foliage sent up tall spikes of flowers that morph from shimmering masses in spring to stately  six-foot tall golden vertical dried seed heads in fall.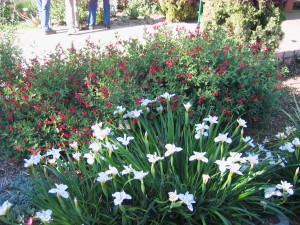 Iris 'Canyon Snow'is a hybrid native California iris that puts on an amazing show of large white flowers in April.  Of all the PCH (or Pacific Coast Hybrid) iris that we have tried this one is the most vigorous and adaptable to varying conditions.  It grows in sun or part shade although too much shade will reduce its bloom.  Can be propagated by division when the new roots emerge as temperatures drop at the beginning of autumn.
We hope you find these plant ideas helpful, and look forward to seeing you are our plant sale.
Primary Category
Tags