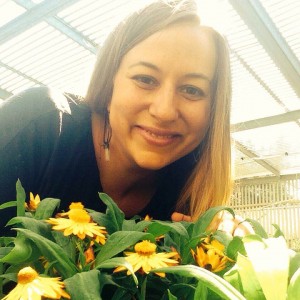 After nearly a decade, Mia Ingolia, the Curator and GIS Manager at the UC Davis Arboretum and Public Garden, has accepted a new position as a biologist/botanist at the San Francisco Public Utilities Commission. The SFPUC manages 63,000 acres of watershed lands and 210-miles of rights-of-way in three Bay Area counties. These diverse landscapes are home to many federally- and state-listed rare plants and animals.
In her new job in the SFPUC Natural Resources Land Division, Mia is reviewing and revising Habitat Conservation Plans, as well overseeing mitigation and monitoring efforts in riparian, oak woodlands, grasslands, chaparral vegetation across Bay Area watersheds. Mia will also have a special role developing a 3-acre garden — a native plant garden featuring bioregional plants of the watershed — at a SFPUC East Bay Watershed Interpretation Center, now under construction: she is currently preparing planting plans, reviewing plant selections, establishing schedules for seed collection, and reviewing garden designs. In addition, Mia is serving as the technical lead for the design and build of a new native plant nursery.
Although we were all sad to see Mia leave "for greener pastures," it is wonderful to hear about her new work, ranging from large restoration projects — 300,000 new plants at San Antonio Creek! — to small pockets of habitat enhancement — planting native willows around a small pond, and new plantings of lupine to support the Mission Blue Butterfly populations. Meanwhile, we are deeply grateful to our amazing curatorial volunteer teams that Mia recruited and trained, who will be carrying on the curatorial work of the garden until the new curator is hired.
We will miss you, Mia!
Category