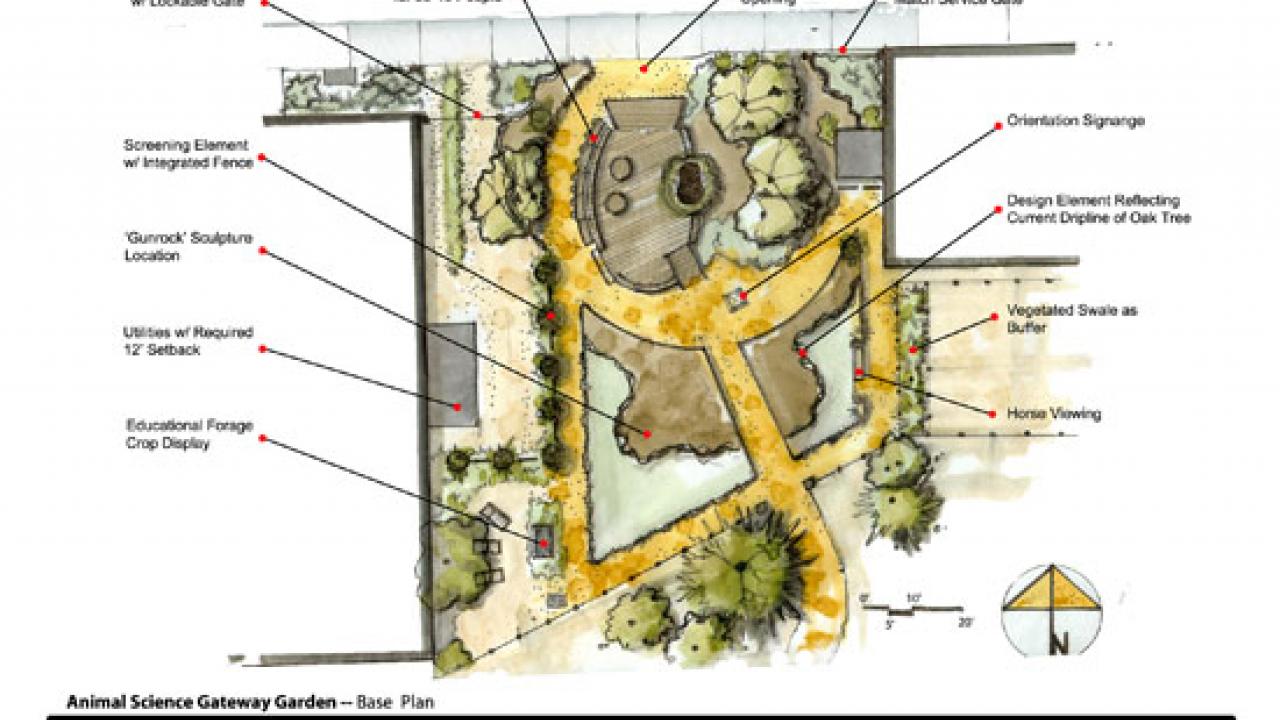 Thanks to a partnership between the Arboretum and the College of Agricultural and Environmental Sciences, the Arboretum has been collaborating with the Department of Animal Science for the past year to create a teaching landscape where the Arboretum's Southwest U.S./Mexican Collection adjoins the Cole Facility horse barns. The project involves installation of a new path connecting the sites, improved fencing and welcoming visitor gates, a horse viewing area, an outdoor classroom with seating and study space, and a series of integrated interpretive signs that will highlight Animal Science research and programs.  The focal point of the new garden will be a magnificent heritage valley oak that will shelter and shade the outdoor classroom.
Funding for the installation of this garden is coming from the College of Agriculture and Environmental Sciences whose Animal Science programs will be highlighted. A grant the Arboretum received from the Institute of Museum and Library Sciences will complement the project by adding a new irrigation system to the Arboretum side of the site. Although ambitious, the garden plan will make efficient use of campus resources by incorporating recycled materials from UC Davis' rich agricultural history and capitalizing on the construction expertise of Arboretum and Animal staff and the enthusiasm of students and community volunteers.
To date, Animal Science staff has been working on clearing the site and getting it ready for construction, and recent UC Davis landscape architecture alum John Gainey has developed an innovative garden design. We will keep you updated on the progress of this project as it develops.
Download a .pdf of the Animal Science GATEway Garden base plan here.
Category
Tags