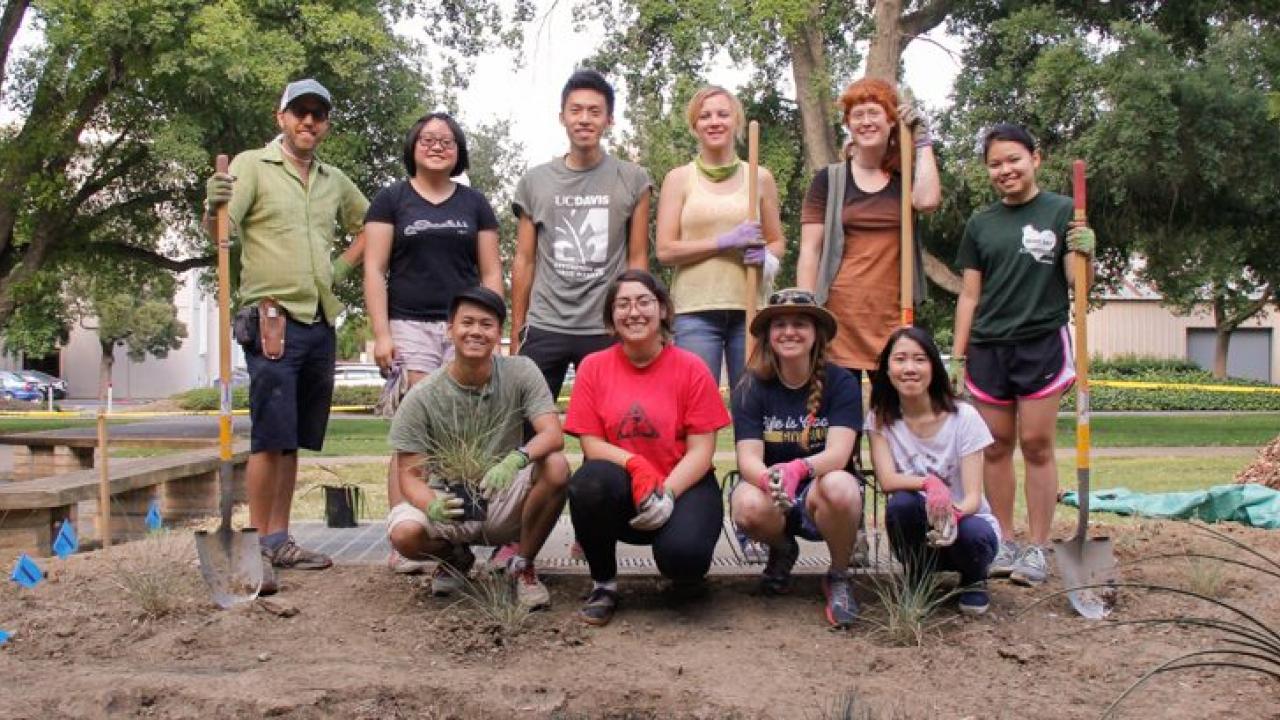 We believe that students learn best by leading.
Members of the Friends of the UC Davis Arboretum and Public Garden, in addition to other loyal supporters, helped us provide internships to the over 80 students participating in our Learning by Leading Program over the 2015-16 school year. Here is a recap of how these students added richness to our landscapes, improved our outreach efforts, and leveraged staff resources.
These 11 environmental leadership interns, led by students Sukhi Brar and Lauren Bradt, enlivened the gardens with free, family-friendly museum education programs, a comedy improv workshop, a brand new Arboretum Photo Scavenger Hunt, and more! In recognition of their incredible dedication, they also won a gold level Community Service Award from the UC Davis Community Service Resource Center and a gold level President's Volunteer Service Award from President Barack Obama. 
Nine interns, led by students Carli Hambley and Natalie Dean, developed and maintained three edible gardens and a greenhouse growing location on campus. They also raised funds to support their program by selling student-grown edible seedlings and participated in multiple outreach events where they promoted sustainable edible gardening. 
Led by student co-coordinators Anna Barberio, Paige Kelty, and Vivian Le, these 11 students became stewards for the Arboretum, led community engagement projects at local elementary schools, and created fun, educational programs for the public including Relaxation Day and Bugtopia. 
This group of students played a key role in a number of landscape conversions and habitat enhancement projects. Led by Katie Pierce and Naftali Moed, they worked to plant over a thousand native trees, shrubs and grasses throughout the west side of campus and the Arboretum. (Photo: Here this team learns about pollinator-friendly plants from Horticulturist Ellen Zagory.) 
These 5 students, mentored by GATEways Horticulturist Stacey Parker, learned a variety of horticultural skills specific to growing and caring for California native plants and, in doing so, helped rejuvenate our Mary Wattis Brown Garden of California Native Plants — one of the Arboretum's most important and visible demonstration gardens. 
Students in the Arboretum Teaching Nursery were once again instrumental to the success of this year's plant sales. Dozens of interns and three student employees, together with our community volunteers, grew over 6,000 low-water plants for the sales, and helped to keep operations running smoothly for our many volunteer teams and campus planting projects. 
A new addition to the Learning by Leading Program, the goal of this internship is to elevate the presence of our Putah Creek Riparian Reserve. Throughout spring quarter 10 students, led by co-coordinators Mayra Pelagio and Naftali Moed, worked in teams to restore trails, plant native sedges, document natural history observations, map invasive plants using GIS, and keep the Reserve clean during the spring high-use season. 
This team of eight interns, led by students Kathy Guertze and Nguyen Nguyen, gained real-world training as they converted little-used lawns near the library and Everson Hall to sustainable landscapes. They created the designs, presented their plans, renovated the irrigation systems, planted and cared for the plants, and managed local media attention.
Category
Tags