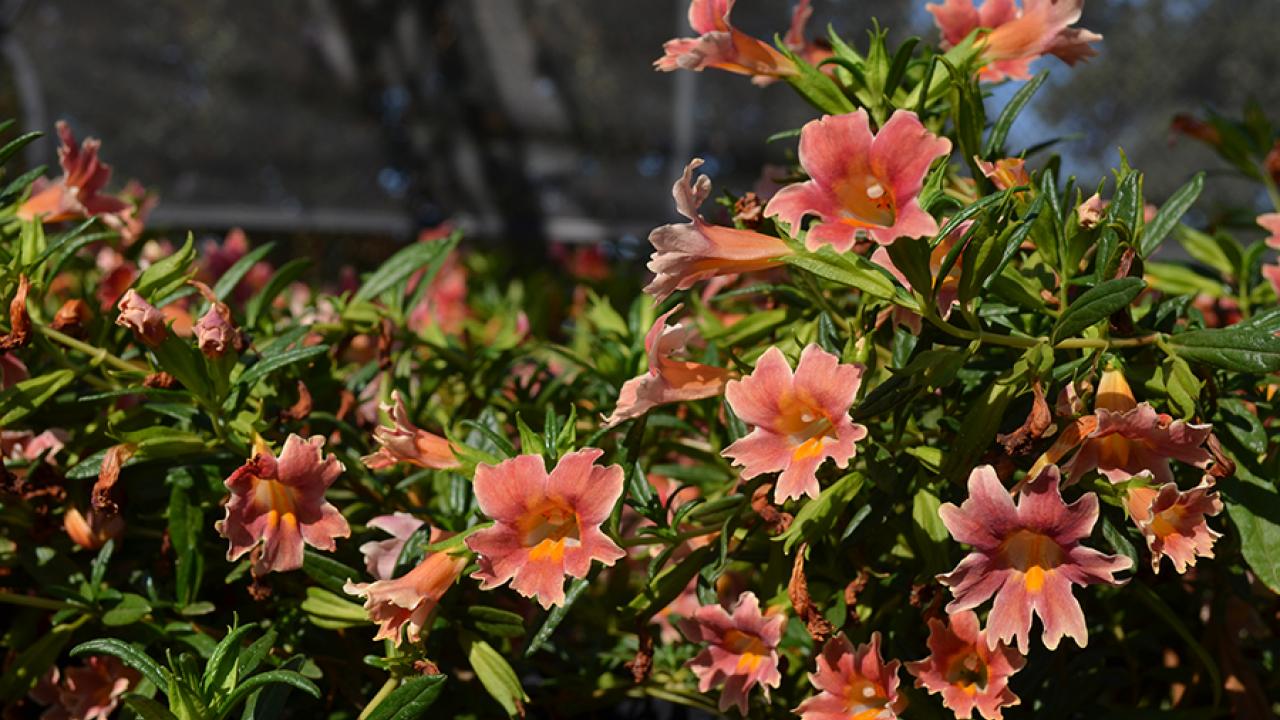 by Taylor Lewis, Nursery Manager
We, at the Arboretum Teaching Nursery, suffer from the same afflictions as you; we are always looking for amazing-blooming, easy-maintenance, and habitat-enhancing plants. These passions drive us to push our horticultural boundaries away from what we already know and love, into trying something new.
If you are looking for your next favorite plant, you will be blown away by all that's new in our fall inventory. For those of you in the market for our traditional "staple" plants, fear not! We will always grow our core selection of regionally appropriate species. The Arboretum All-Stars you know and love will always have plenty of table space reserved.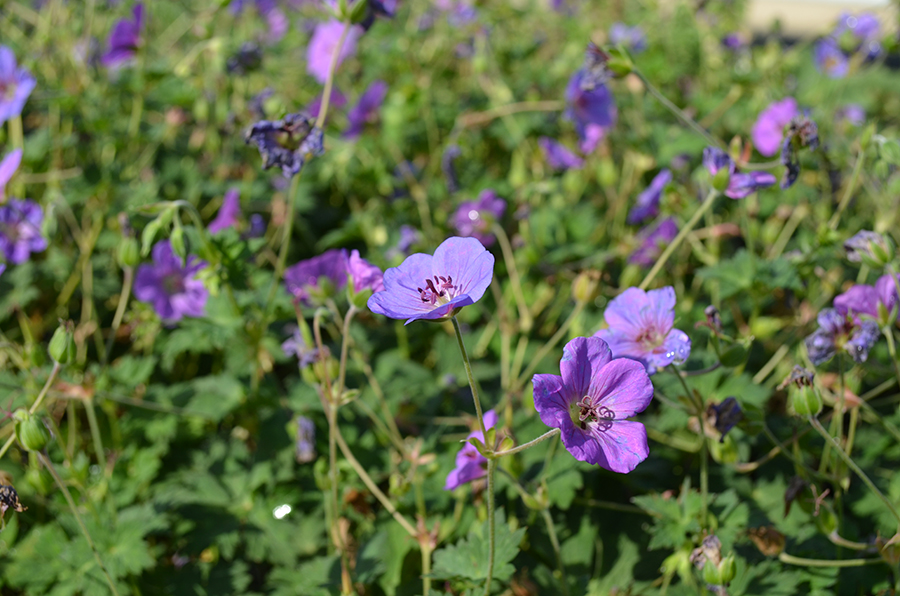 Dry shade. Every landscape has an area with these conditions and for these spots we love coral bells (Heuchera). This fall we are "ringing" in the year with 6 cultivars of natives and 10 plus varieties of non-natives. Also check out the selection of native Iris with 5 colors you're sure to love; we're also offering a few non-native Iris that are must haves. Are you a Hydrangea-head and wish they'd grow in Davis? The oak leaf Hydrangea is a rock-star; we'll have 6 varieties and colors of those to choose from. Lastly, save a place for one of our varieties of geraniums — go for 'Biogold' Blue Sunrise, if you want color now!
Sun. We love our Mulhlenbergias. There are over a hundred varieties of this grass, but only a few are commercially available. We will have 6 different varieties that are sure to please including 3 capillaris cultivars whose pink clouds of blossoms peak at different times through fall. Consider expanding your palette of perennials with multiple colors of Echinacea, kangaroo paw (Anigozanthos), red-hot pokers (Kniphofia) and jellybean monkey flowers (Mimulus). Bottle brush (Callistemon), butterfly bush (Buddleja) and manzanita are also well represented.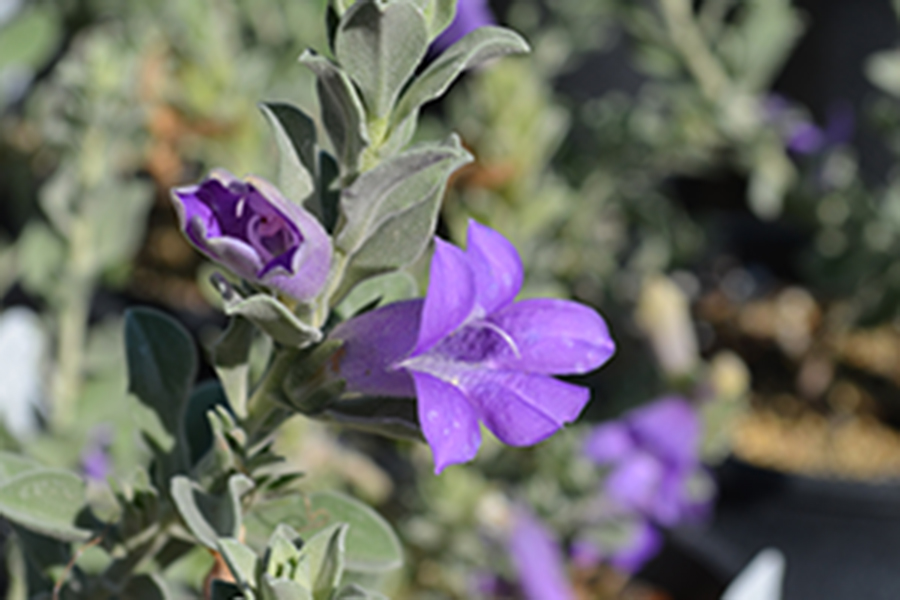 Australian natives. Because of the similar Mediterranean-type climate we share with the land down under, Australian plants have proven to perform well in the Arboretum, so we've expanded our selection of Eremophila (emu bush), Grevillea, Calothamnus (one-sided bottlebrush), and Australian fuchsia. If you already love the lilac vine (Hardenbergia), check out the 'White Out' and 'Rosea' types.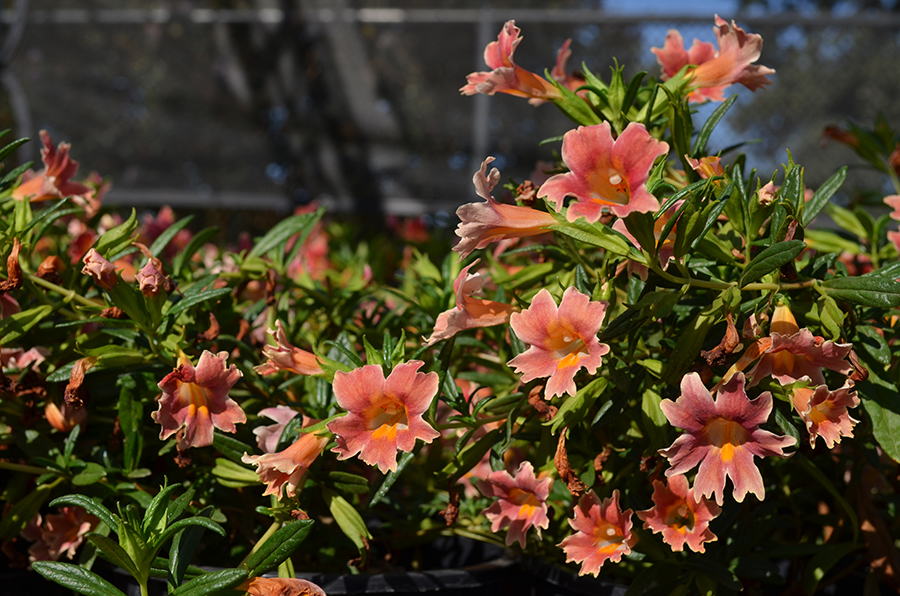 California natives. Natives new to our nursery, but that we know love the valley, include coffeeberries (Frangula) with varieties 'Eve Case', 'Mound San Bruno' and 'Leatherleaf', sugarbush (Rhus ovata), heart leaf penstemon (Keckiella cordifolia) and chaparral nightshade (Solanum xantii 'Mountain Pride'). In addition, check out our new native sages (Salvia) including 'Celestial Blue' and 'Black Lace'.
Mangave. Did you know that the hardy Mangave is a cross between Manfreda and Agave plants which are both native to the southwest U.S. and Mexico regions? Falling in love with Mangave has been easy and this season we have seven new cultivars including 'Lavender Lady', 'Macho Mocha', 'Mission to Mars', 'Pineapple Express', 'Man of Steel', 'Moonglow', and 'Mint Chocolate Chip'.
This is just a drop in the bucket of the hundreds of varieties and the tens of thousands of plants we'll have for sale this fall. Be sure to check out our complete inventory online leading up to each of our fall sales.
Category
Tags