When it comes to purchasing plants, nursery owners understand that most customers want to take home plants with flowers, but is that the best way to approach creating a sustainable landscape? Staff at the UC Davis Arboretum and Public Garden hope to educate their community to think outside the bud, set up their landscapes for an incredible, year-round display and, at the same time, prepare their landscapes for our area's inevitably intense summer heat.
Taylor Lewis, nursery manager at the UC Davis Arboretum Teaching Nursery, has big ambitions for his program, one of them is providing the resources our region needs to restore its environment. To help accomplish this lofty goal his staff, students and volunteers propagate and grow plants for the public that are perfect for supporting pollinators year-round.
Only open a few days a year during spring or fall – staff at the Arboretum Teaching Nursery notice that plants not in bloom during their sales often get overlooked.
"Almost everything we grow blooms at some point," says Lewis. "But if shoppers don't see that, they may not want to take a chance on them or, most likely, they just want the immediate gratification of planting flowers. I get it.
"The problem to me is that that approach can translate to lost potential for better supporting the environment because you only get blooms during the times of year you shop. For many this is spring."
To help their customers and our community feel more comfortable taking home a plant outside its bloom season, Nursery Special Project Manager Abbey Hart offers her tips.
---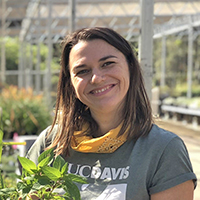 5 "Think Outside the Bud" Tips
Picture perfect
Alongside most plants in their inventory, Arboretum Teaching Nursery staff, students and volunteers display educational cards featuring flowery photos, bloom season, watering needs and more. Imagine the flowers the plant will have in the season you need them most.
When in doubt, tip it out
Don't be afraid to tip out the plant, into your palm to see if it is well rooted. This will help build a newbie gardener's confidence that the plant will perform (and bloom) when transplanted.
Full and fabulous
Obviously there are exceptions, depending on the plant type, but look for a plant that is bushy and full in the pot, then you can bet it will perform well once in the ground.
Just plant it
Late winter is a great time to get out there and plant. The sooner you get plants in the ground, the better prepared they will be when summer hits and all the recent rains are long-forgotten.
Know your weaknesses
Remember when your landscape needed a pop of color and purchase plants with those bloom seasons and trust that, with proper care and placement, the pop of color you need will emerge at just the right time.
Category
Tags