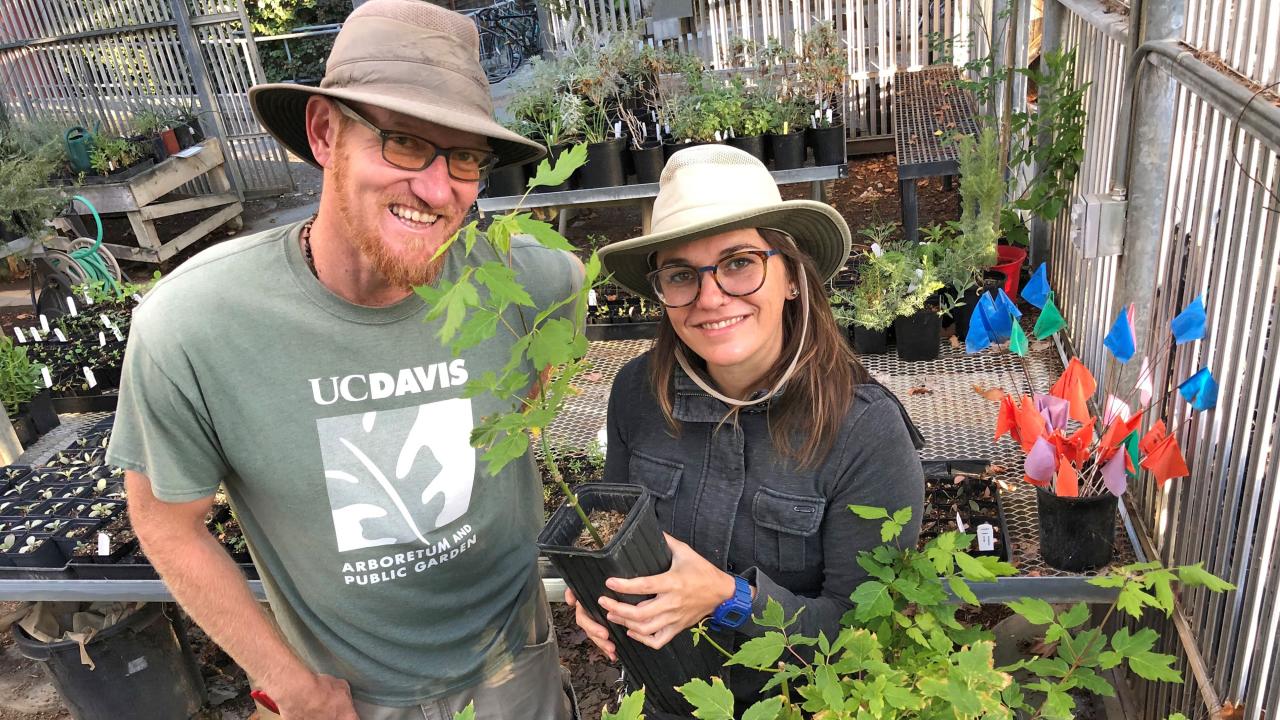 By Abbey Hart, Nursery Special Projects Manager
You know about the Arboretum Teaching Nursery's Plant Sales, but did you know the nursery team has myriad other special projects going on behind the scenes? Here are a few highlights of some current projects focused on growing novel trees for the Arboretum and Public Garden and the broader community.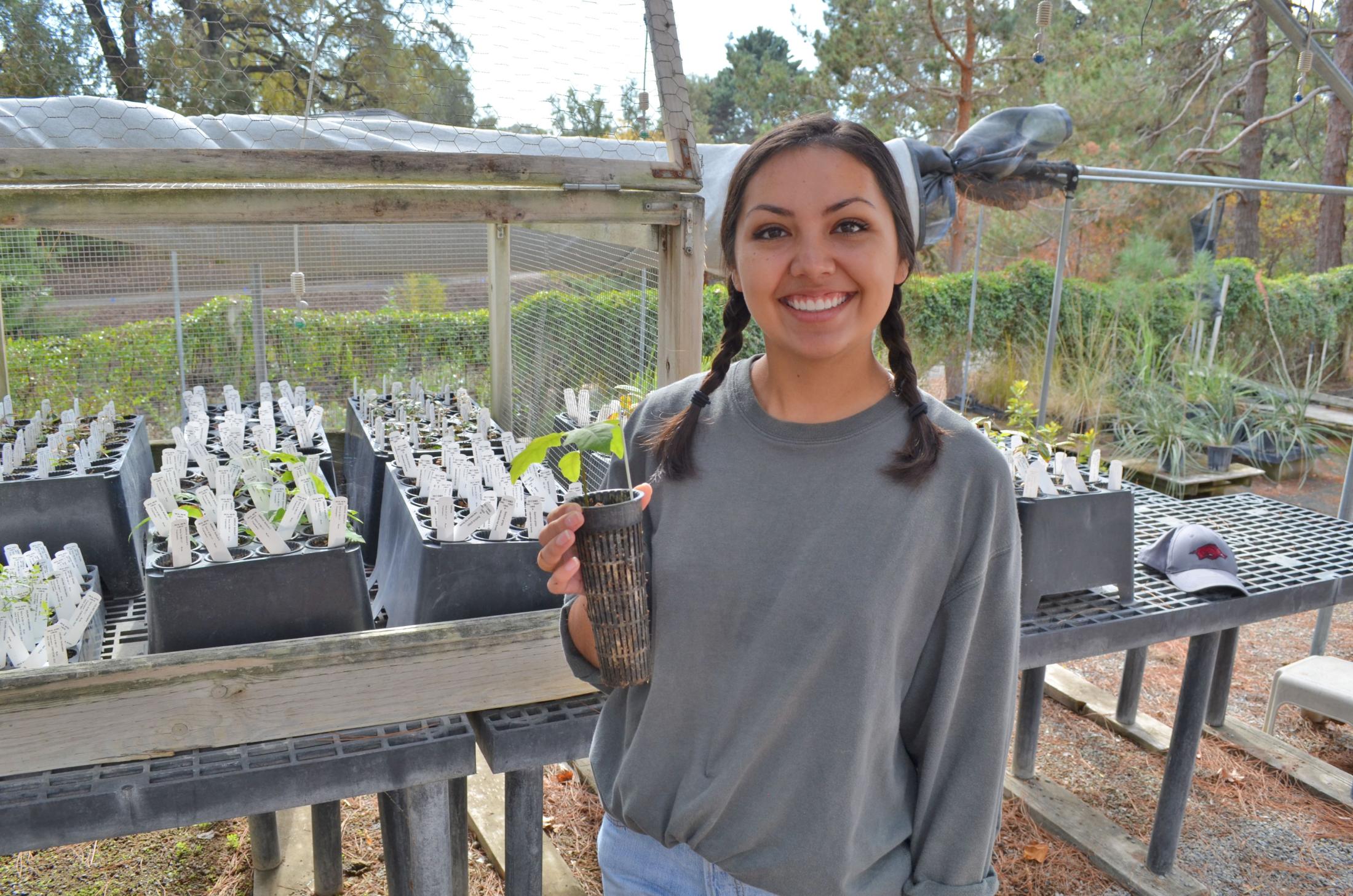 In 2018, we were contacted by the California State Capitol Museum Park in search of help in preserving and replacing some of the special trees they were losing from their collec-tion. The park currently has around 860 trees representing 210 unique species. A number of these are historic, rare, and original specimens including 5 of the original 36 Civil War battleground trees remaining from those planted in the 1880s. Many of these tree have reached the end of their lifespan, and 10% of the Capitol's trees were lost in the recent drought. In addition, quite a few came from countries where they are now endangered or where our own quarantine regulations prohibit importing replacements. Through our partnership, we are propagating trees that will continue the legacy of Capitol Park as a world-class arboretum. Students in our Learning by Leading™ Program are assisting with this project and have the opportunity to learn about some unusual species and selec-tions and practice propagation and tree care.
Another special project we are developing focuses on bringing novel and climate-ready trees to the Arboretum and Public Garden, UC Davis campus, and wider community and region. Did you know that urban tree canopies in inland California will be disproportionately affected by climate change, with 40% or more of currently used trees becoming unsuitable for the pro-jected climate of 2100 (McBride & Lacán, 20181 )? To address this startling projection, the Arboretum and Public Garden has developed a Living Landscape Adaptation Plan for transform-ing our campus to a climate-ready, tree-filled environment. To this end, we were recently awarded a grant from the Saratoga.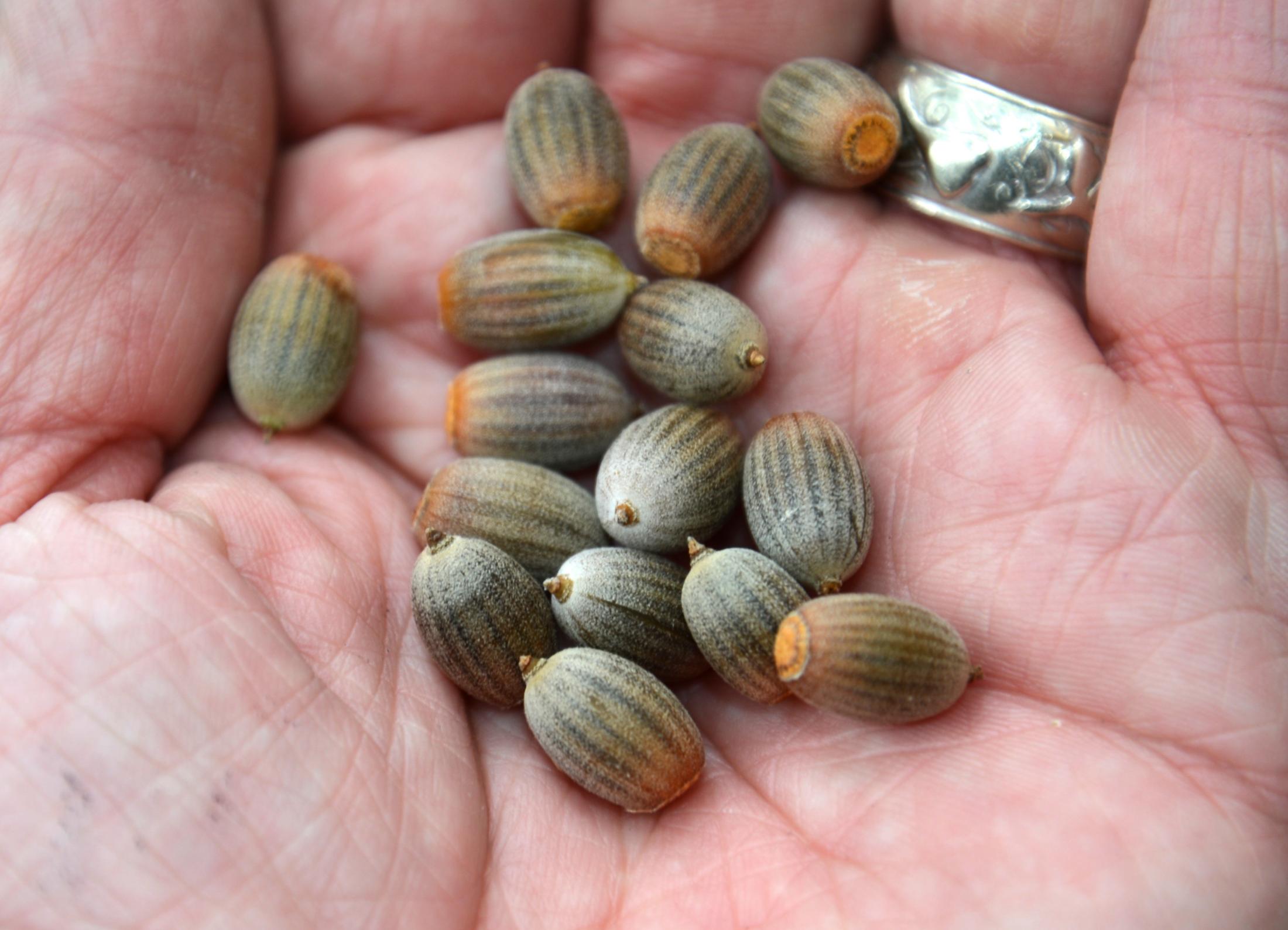 Horticultural Research Endowment to seek out novel tree species from Central and West Texas that will satisfy the tricky balance of thriving in our current climate and enduring into our future. This will increase the diversity of our urban canopy which has obvious aesthetic value, but it will also improve our landscape's resiliency in the face of the many unknowns that climate change presents. 

As part of the grant, Emily Griswold, Director of GATEways Horticulture, myself, and Learning by Leading™ student Ellen Sanders-Raigosa will be traveling to Texas to survey and collect propagation materials from a few dozen target species. Ellen will be leading students to propagate and grow out the trees to be planted in the Arboretum and Public Garden and other test sites. After some initial trials, we will introduce a diverse palette of climate-ready trees that are new to this region and available for horticultural professionals and home gardeners alike. Visitors to the Arboretum and Public Garden will see these specimens and educational materials about them in distinct landscape types, and regional growers will be able to use our experiences and protocols as a resource. Our investment in a diverse and resilient local landscape will continue to serve as a regional example as we face the future, ready to adapt and grow.

Thanks to the generosity of UC Davis Oaks Forever! campaign contributors, we are already expanding and improving our capacity for growing trees, with a special focus on oaks. We are upgrading propagation facilities and experimenting with new materials to employ current best practices and ensure a healthy stock of trees. Together, with student and community engagement, we are securing a future tree canopy that will shade many generations to come.
Category
Tags