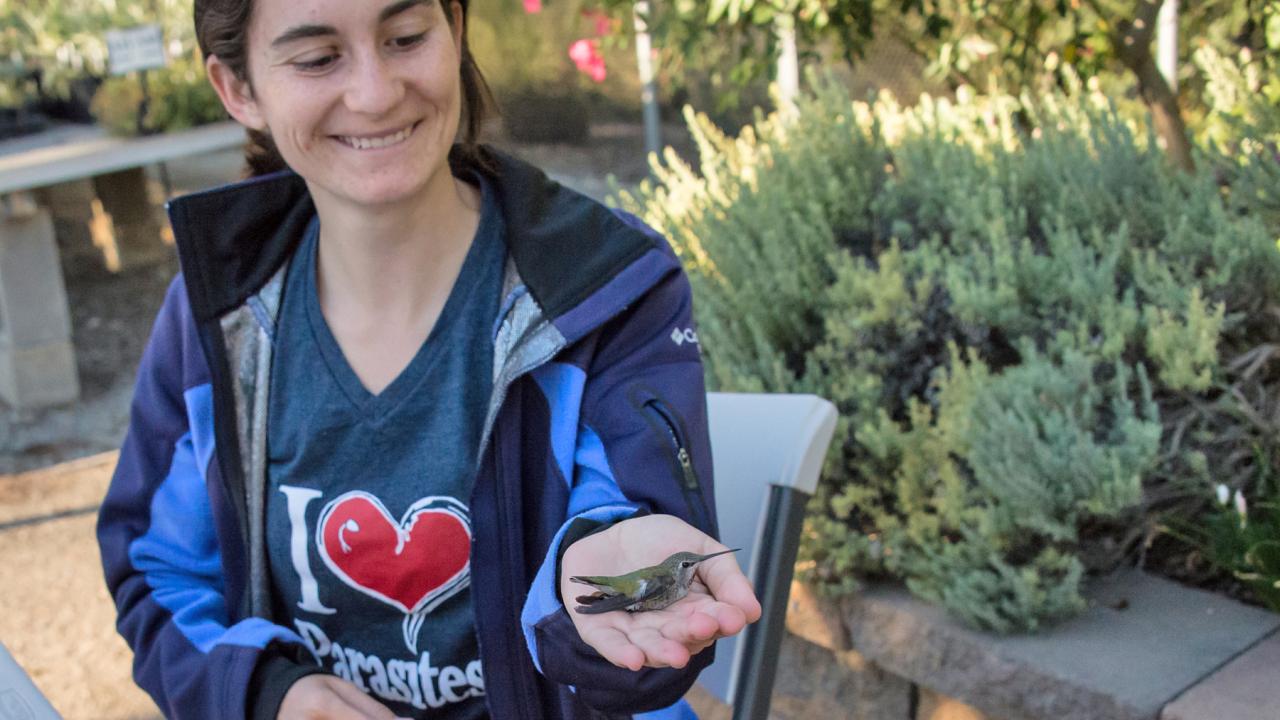 Although every season offers something unique to UC Davis Arboretum visitors, spring is perhaps the most spectacular. It's when many California native plants blossom after an extended winter dormancy, native bees emerge from their wood and underground nesting sites and additional migrating butterflies and hummingbirds take advantage of this popular rest stop on their way to destinations further south.
"For over 80 years we've curated a landscape filled with regionally appropriate plants, not just for their beauty and ecological value, but as a scientific resource," says Kathleen Socolofsky, assistant vice chancellor and director of the Arboretum and Public Garden.
"Our landscapes serve multiple purposes, many of which are easy to see – we are a community amenity, a place where you can come learn more about the academic richness of UC Davis and discover best practices in sustainable horticulture. But what you may not see is how our landscapes also serve as a resource for faculty and academic research."
In large part due to the Arboretum's long-term practice of creating gardens that support local ecosystems, their landscapes attract a wide variety of pollinators and thus have become popular location for groundbreaking research on these vitally important species. Here is an overview of a few projects of note.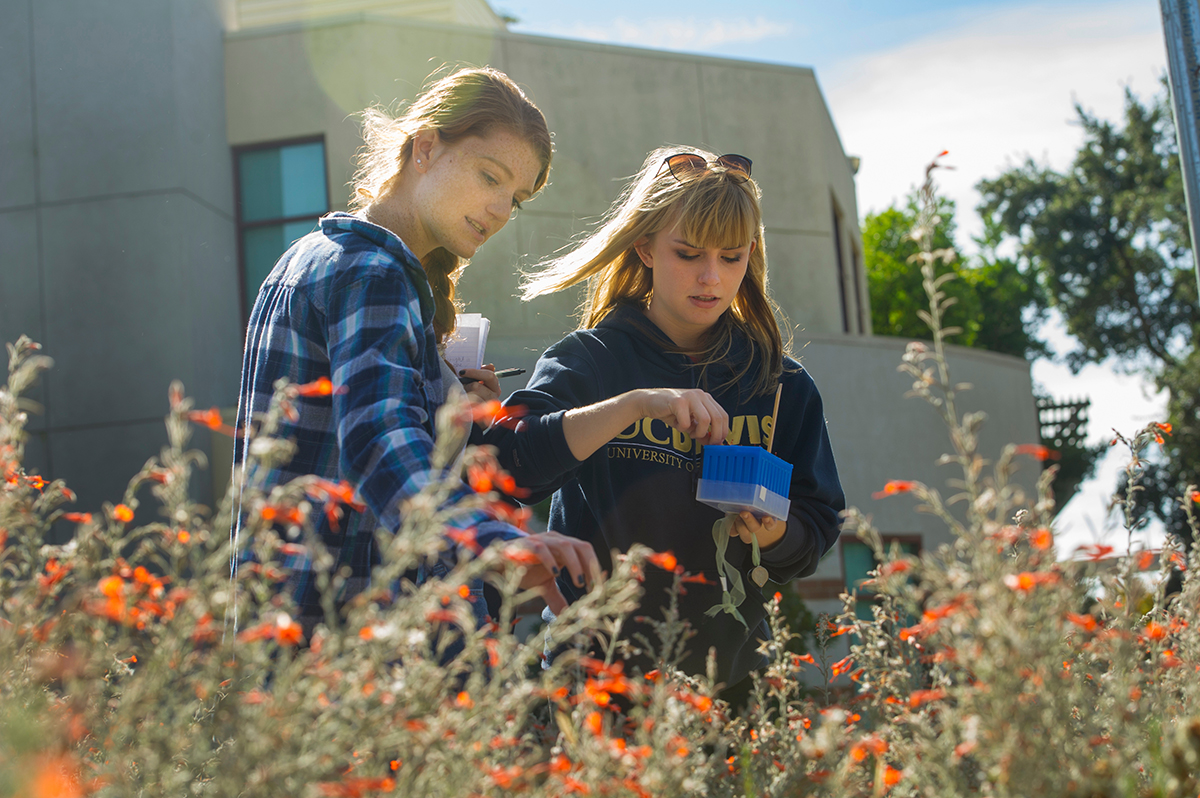 California Fuchsia and Pollinator Research
If you happen to see California fuchsia flowers covered with pretty semi-opaque organza gift bags, it's not an art project, its research. Dr. Rachel Vannette, assistant professor in Entomology and Nematology, studies a wide variety of organisms that use plants for their survival. Using the Arboretum and Public Garden's large collection of California fuchsia (Epilobium canum) varieties and cultivars, Dr. Vannette examines pollinator and microbial flower preferences. The research compares floral color, size, and length of floral tube. Her goal is to link the floral traits, pollinator attraction and microbial communities found in nectar. Because her researchers are interested in measuring the floral traits of both the blossoms that receive pollinator contact and those that don't, they will place bags over certain blossoms before taking them back to the lab for analysis.
Mapping Bee Habitat 
Starting in 2017, Kim Chacon, UC Davis doctoral candidate in geography, has made the most of her walks through the Arboretum. Each week, she surveys bees and flowers throughout the gardens, documenting flower visitation and bee species interactions. Chacon works on habitat connectivity for bees at a landscape scale in order to learn more about what defines bee habitat fragmentation and how to remedy it. To do this she creates maps layered with research data on bee foraging preferences, bee genus seasons, bloom-time data from CalFlora and plant location coordinates from the Arboretum and Public Garden's geographic information systems (GIS) to identify high-quality bee habitat areas and the gaps that lay between them. Once her data is fully compiled, she hopes to apply her research to a GIS urban pollinator analysis in San Francisco. 
Hummingbird Health
Created in collaboration with Dr. Lisa Tell, professor and researcher in the Department of Medicine and Epidemiology at the School of Veterinary Medicine, the nascent Hummingbird GATEway Garden, was developed not only to demonstrate how others can create dedicated habitats to support hummingbirds, but to also shed light on the importance of the hummingbird population, its decline and the work being done at UC Davis to support it.
In addition, Dr. Tell has set up urban hummingbird feeders in the nearby Arboretum Teaching Nursery to study if these popular pollinator attractors play a role in the spread of disease in hummingbirds. The research results, published March 6 in the Proceedings of the Royal Society B, found that very few of the bacteria and fungi found in feeder sugar water have been reported to cause disease in hummingbirds. But, as Tell says, the best food source for hummingbirds is floral nectar, but if you do use a feeder, best practices include routine cleanings free from harmful residues.
Create Your Own Pollinator Paradise
Stroll the Arboretum, gather your ideas, then shop the UC Davis Arboretum and Public Garden's one-acre nursery for an incredible selection of Arboretum All-Stars, California natives and thousands of other attractive, low-water plants perfect for creating a landscape alive with environmentally important pollinators.
Category
Tags