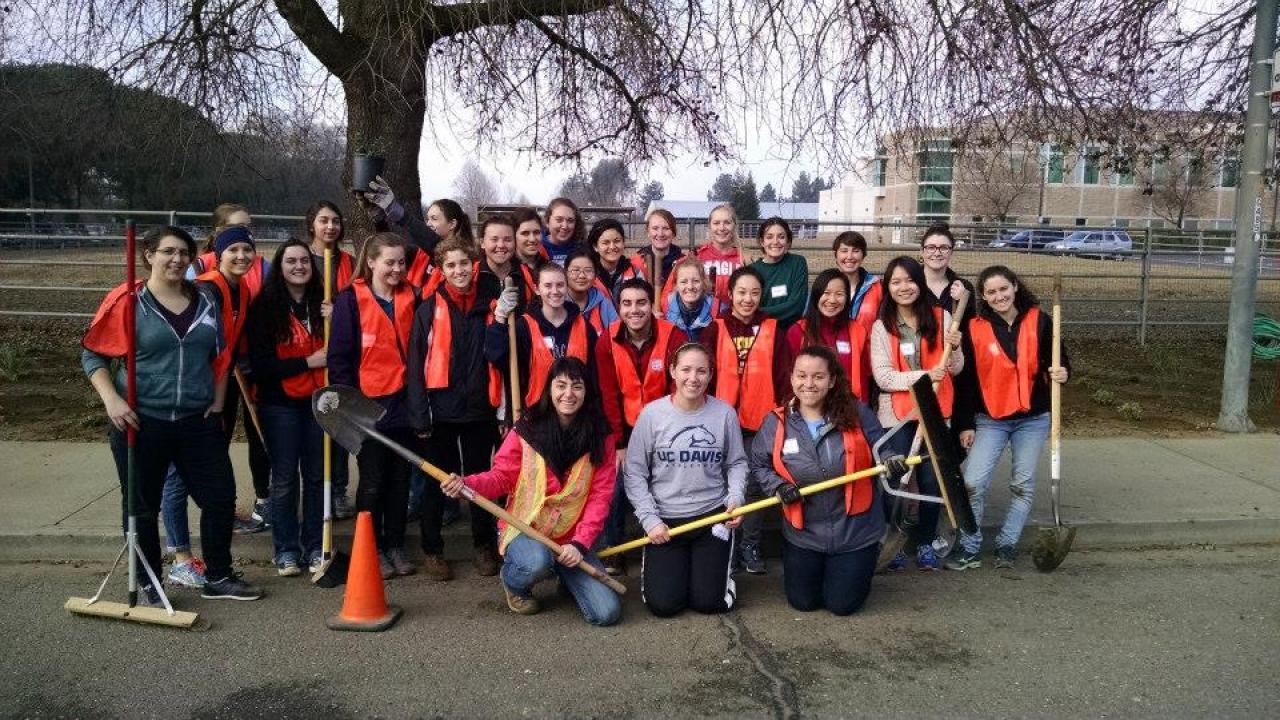 Last Saturday, January 24, 2015, students and members of the Environmental Club at UC Davis assisted staff from the UC Davis Arboretum and Public Garden (APG) in planting a strip of landscape along the curve of Garrod Drive just outside the Vet Med horse corral and across from our teaching nursery.
This project, the result of a partnership with UC Davis Environmental Health and Safety (EH&S) department, will improve erosion, stormwater quality, and reduce the run-off issues that invariably occur as the result of horses and our other four-legged friends rehabilitating nearby.
The plants, paid for by funding from EH&S, were propagated by students and volunteers at our teaching nursery; some were removed from demonstration beds in areas where the plants needed thinning; and a few were donated by our Director of Public Horticulture Ellen Zagory who had some aloes that were getting too big for her yard!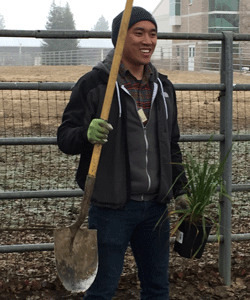 Haven Kiers, special projects manager with the UC Davis Arboretum and Public Garden, landscape architect, and lecturer for UC Davis Landscape Architecture and Environmental Design courses, designed and facilitated the large planting while UC Davis student  Jonathan Su, Arboretum Ambassador and APG intern, educated the large group of enthusiastic volunteers in proper planting techniques.
A huge thank you goes out to Mandy Royal, APG intern and Environmental Club member, for organizing this incredible team of volunteers and facilitating this important environmental improvement.
What's next? The landscape along Garrod Drive curve is about a third of the way complete. This recently completed portion reflects the style of landscape located along our teaching nursery just across the street; the middle part of this strip will feature some of the plants listed below along with more grasses, while the final piece of this design will conclude with a mixture of grasses including carex, juncus, and Festuca californica.
Planting List
Hesperaloe parviflora, coral yucca
Salvia greggii 'San Takao', San Takao autumn sage
Iris 'Canyon Snow', canyon snow Pacific Iris
Neomerica caerulea, walking iris
Aloe spinossisma, spider aloe
Carex divulsa, Berkeley sedge
Eriogonum fasciculatum, California buckwheat
Festuca californica, California fescue
Juncus patens, California grey rush
Rosmarinus officinalis 'Mozart', Ed Carman's rosemary
Muhlenbergia dubia, pine muhly
Saponaria x lempergii 'Max Frei', hybrid soapwort
Ceanothus maritimus 'Valley Violet', valley violet maritime ceanothus
Teucrium chamaedrys , germander
Elymus condensatus 'Canyon Prince', canyon prince wild rye
Nepeta x faassenii, hybrid catmint
LEARN MORE about our campus stormwater quality improvement projects.
Category
Tags