UC Davis Hummingbird GATEway Garden
by Levy Hernandez, Learning by Leading student intern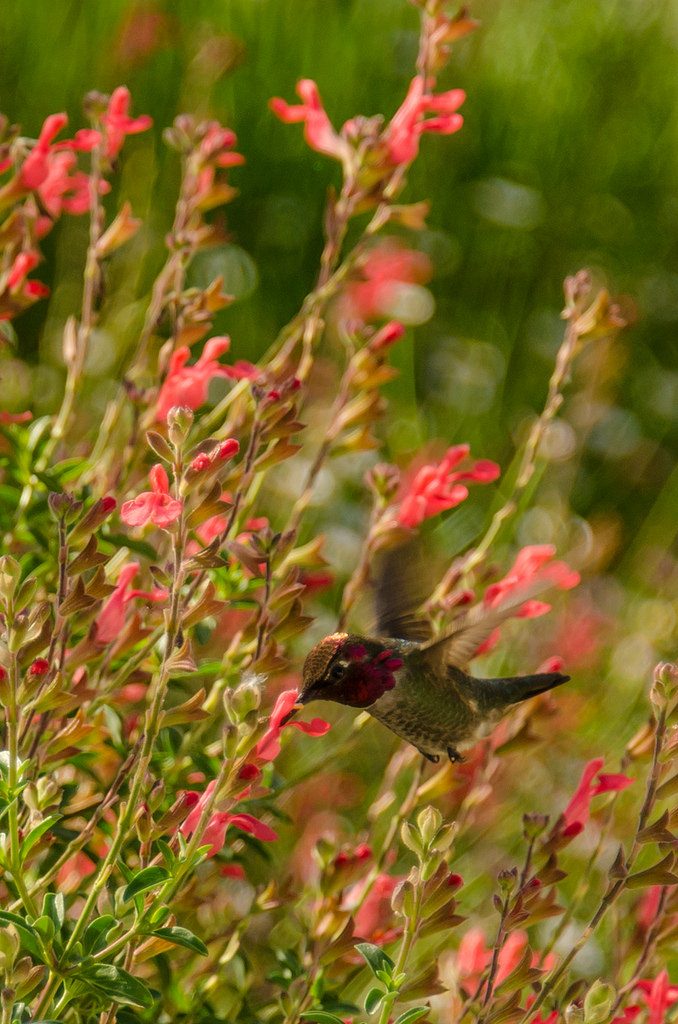 Thanks to many wonderful donors, the UC Davis Arboretum and Public Garden, together with our partners from the UC Davis School of Veterinary Medicine, volunteers, students and staff, planted the campus's first hummingbird demonstration garden – the Hummingbird GATEway Garden – located north of the Arboretum Teaching Nursery and east of the newly constructed Veterinary Medicine Student Services and Admin Center.
Hummingbirds are some of the most beautiful and unique organisms on the planet. Native only to the Americas, hummingbirds provide important ecosystem services as they quickly fly from flower to flower, pollinating much faster and over considerably larger areas than insect pollinators do. In Northern California, and specifically in Davis, you can see five species of hummingbirds at various times of the year depending on their migratory patterns: black-chinned, Rufous, Allen's, Costa's and Calliope, while Anna's hummingbirds can be seen year around. 
Nearly 15% of hummingbird species are vulnerable to extinction.
Unfortunately, due to large-scale global development, climate change, the simplification of insect and plant communities, habitat loss and a variety of other human-caused influences, researchers consider nearly 15% of hummingbird species vulnerable to extinction. Other than that statistic, there really is not much research about hummingbird disease incidence, prevalence, and overall population health. Dr. Lisa Tell, avian veterinarian at the UC Davis School of Veterinary Medicine and director of the Hummingbird Health and Conservation Program (HHCP) is currently conducting research to provide the key scientific information necessary to fill in these knowledge gaps.
With this garden the UC Davis Arboretum and Public Garden not only wanted to demonstrate how others can create dedicated habitats to support these little creatures year round, we also wanted to be able to help shed light on the importance of the hummingbird population, its decline, and the work being done at UC Davis to help support them. To assist in this education and outreach effort we are planning for the installation of plant labels and interpretive signage, in addition to other enticing visitor amenities.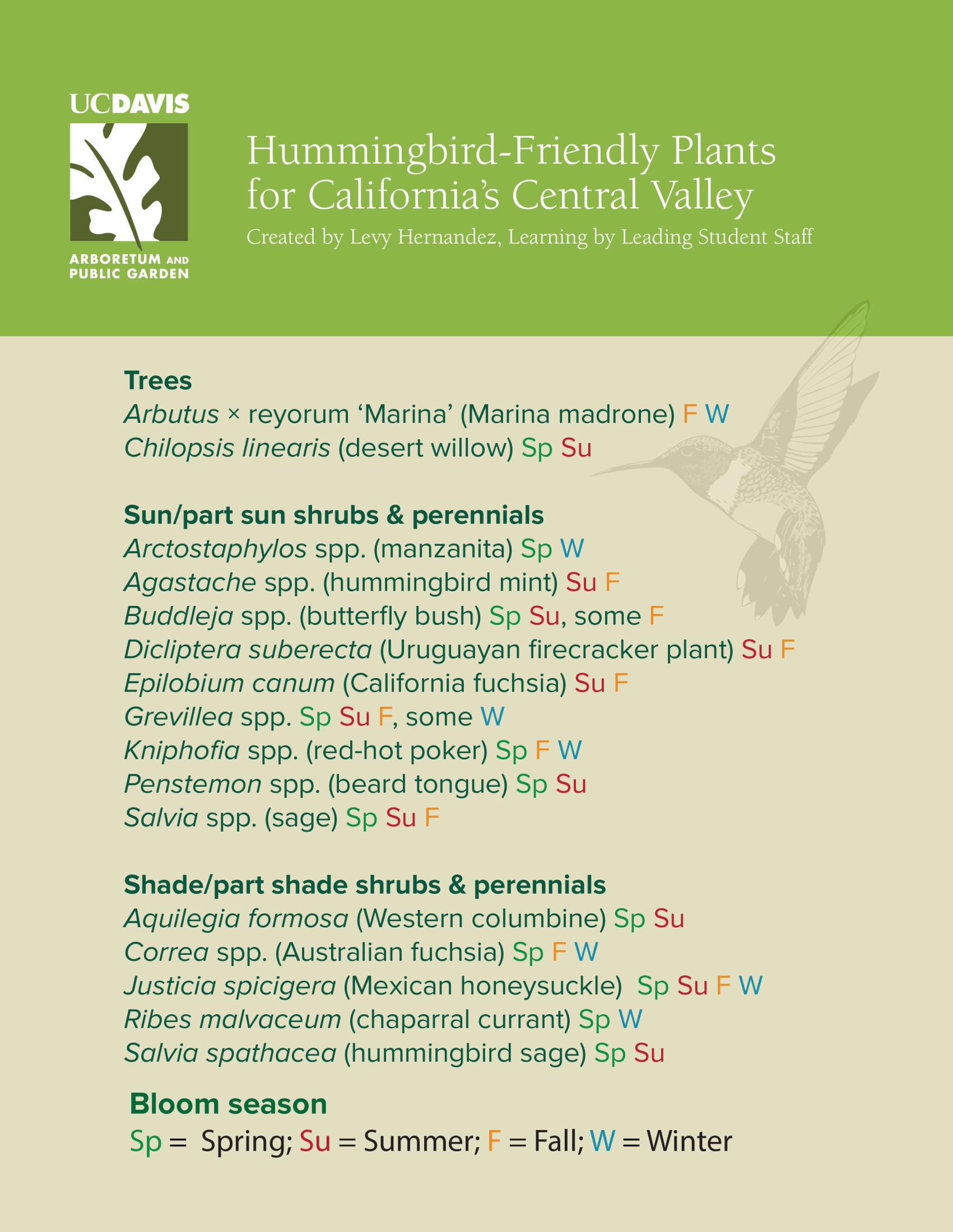 If you're interested in how you can help provide hummingbirds with a natural habitat and bring them into your own garden, check out these guidelines, the plant list included here for your download and read this related article by our Director of Horticulture, Ellen Zagory.
On a side note, the development of this garden was not the first time the UC Davis Arboretum and Public Garden has collaborated with HHCP. Dr. Tell has already established the Arboretum Teaching Nursery as a research and hummingbird-banding site thanks to the assistance of Arboretum Volunteer Mary Patterson and Nursery Manager Taylor Lewis. 
Hummingbird Gardening Tips
It is true that these birds are mainly attracted to tubular, red-pigmented flowers, from pale orange to deep purple, but their curiosity will take them to any colorful flower, they may surprise you! Incorporate plants with colorful, tubular flowers that provide a succession of blooms throughout the year. See list above for recommendations.
Provide a mix of trees and shrubs (preferably flowering) in addition to lower-growing perennials, as hummingbirds like to perch and seek shelter at varying heights. 
Limit your use of pesticides. Ingestion of pesticides can cause fatal harm, not to mention that hummingbirds need soft-bodied insects as essential sources of protein. They also rely on spiderwebs as "glue" to construct their nests. 
If possible, provide a slow-moving, shallow water feature or misters for bathing purposes, but ensure that these waters are kept clean and not contaminated with fecal water. If the water feature does not have a good biofiltering system, then misters would be better to minimize any spread of disease. 
Other resources:
UC Davis Hummingbird Health and Conservation Program (HHCP) 
Hummingbird-friendly plants for California's Central Valley (Adobe Acrobat .pdf)
Primary Category
Tags