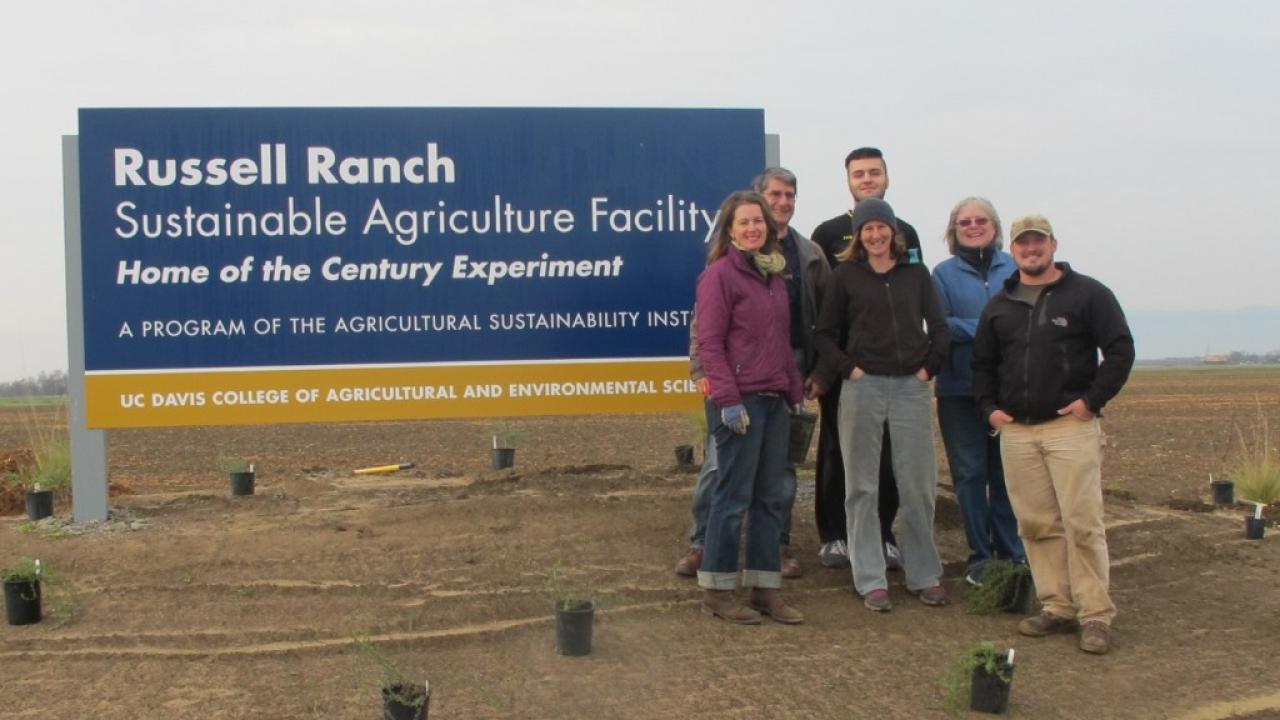 The Russell Ranch Sustainable Agriculture Facility recently received a front door makeover including a new facility monument sign in addition to landscaping provided by a horticultural team from the UC Davis Arboretum and Public Garden.
Faculty and researchers at the facility were interested in a small landscape that served many functions—it had to highlight and balance their new signage, be low-water, low-maintenance, and attract pollinators. As it happens that type of plant selection is a specialty of Director of Public Horticulture Ellen Zagory and GATEways Horticulturist Stacey Parker.
The UC Davis Arboretum and Public Garden provided the plants while members of the UC Davis Agricultural and Sustainability Institute provided the irrigation and planting power, not to mention future maintenance needs. The result is a small landscape that, once established, will require very little water or maintenance while simultaneously helping attract and keep pollinators on the site.
Here's a list of what was planted:
Quercus lobata, valley oak
Aster chilensis 'Point St. George', native aster
Solidago californica 'Cascade Creek', Cascade Creek California goldenrod
Muhlenbergia rigens, deergrass
Ceanothus maritimus 'Valley Violet', valley violet maritime ceanothus
Isomeris arborea, bladderpod
Fremontodendron californicum 'San Gabriel', flannel bush
Baccharis 'Centennial', Centennial coyote brush
Eriogonum fasciculatum, California buckwheat
Eriogonum fasciculatum 'Theodore Payne', Theodore Payne buckwheat
Eriogonum fasciculatum 'Warriner Lytle', Warriner Lytle buckwheat
Arctostaphylos densiflora 'Howard McMinn', Vine Hill manzanita
Category