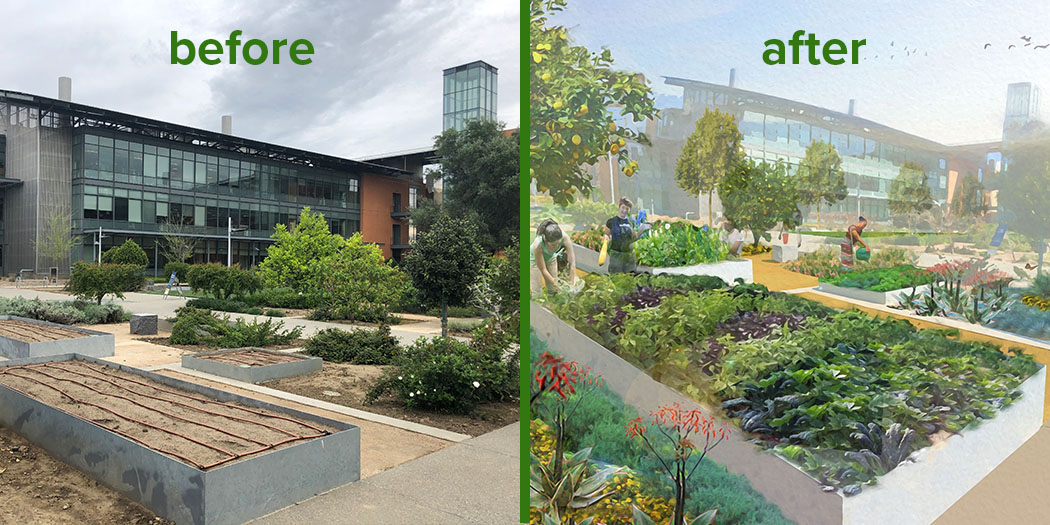 Image on the left: current photo. Image on the right: photorealistic rendering created by Nick Burke, Campus Planning and Landscape Architecture
About
An exciting project is underway in the courtyard of the Robert Mondavi Institute for Wine and Food Science…
As our nation's number one school of agriculture and one of the world's most sustainable universities, UC Davis is home to students and a community interested in nourishing the world responsibly.
In support of this passion, the UC Davis Arboretum and Public Garden is transforming one of our campus's most high-profile public gardens — the Good Life Garden — to a place where we can share the science and social justice issues around food, food production and food safety.
Our vision for the garden involves teams of students participating in the Arboretum and Public Garden's popular Learning by Leading™ program, stewarding the garden and elevating its role as an educational hub for edible landscape projects campus wide.
Your gifts during this campaign will help make our campus vision for the Good Life Garden a reality!
Campaign Goal 
To do this we need to raise $50,000 for the Good Life Garden during the GATEway to the Edible Campus campaign. This campaign launches during the UC Davis Give Day then concludes on May 3, 2018 during the Big Day of Giving.
What will the campaign fund?
– Plants for student interns to create a seasonally changing palette of edibles surrounded by beautiful, pollinator-attracting perennials.
– Student interns to develop and install signage that shares the ground-breaking work performed by the academic departments and research centers located in the Robert Mondavi Institute for Wine and Food Science
– Free events focused on educating the public about the connection between good food and good health
– A  mobile education cart used by students and community members to educate our others about edible and sustainable gardening best practice