Healthy Outside with Girl Scouts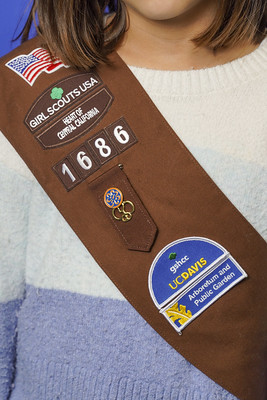 Spend time surrounded by nature, exploring the Arboretum while completing activities that will connect you with the flora and fauna thriving in our gardens, all while earning a patch through the Healthy Outside partnership with the Girl Scouts Heart of Central California, or GSHCC.
How to participate
GSHCC and the Arboretum and Public Garden have put together a packet with instructions, activity sheets and everything else you need to earn a patch, while being "Healthy Outside."
About Healthy Outside
Healthy Outside aims to connect people to the health and well-being benefits of nature. Studies show that spending even a short time outdoors reduces stress and anxiety, improves mood, strengthens social ties, and positively impacts many other health and well-being outcomes. Taking time to connect to nature in gardens, parks, forests or other green spaces, whether through mindfulness, outdoor play or scientific observation, can help us to feel more relaxed, happy and healthy.
Improve your health and well-being by exploring the UC Davis Arboretum with activities that encourage mindfulness, physical activities and observing nature and earn a UC Davis Arboretum and Public Garden patch!
Not a Girl Scout?
No worries! These activities are designed to be fun, enriching and educational for people of all ages. To earn the patch and participate in more programs like this, join Girl Scouts today.
Get inspired!
Scroll through these photos of Girl Scouts earning their Arboretum and Public Garden badge while enjoying the health benefits of being in nature.