Where is this Garden?
It is located in the courtyard of Hunt Hall, on the north side of the Memorial Union and the south side of the tennis courts along Howard way. Find it on our campus map.
Landscape Lab GATEway Garden
The Landscape Lab GATEway Garden, located in the Hunt Hall courtyard, serves as a living laboratory for landscape architecture students. Every fall, students design and build a new feature for the courtyard. In the past students have created covered bike parking, a storm water catchment and rain garden, a deck and benches made from campus-grown redwood trees, and, most recently, a pergola. The plan is for future students to build upon and further improve these projects in the months and years ahead. The Landscape Lab highlights innovative materials, regionally appropriate plants, and a variety of environmentally friendly building techniques.
Get inspired by the creativity, design and construction knowledge displayed in these projects. You may even find ideas for your own yard!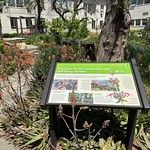 Browse a Gallery of Photos
Go back in time to clock the transformation of of this lush, sustainable landscape from a barren plot of weedy grasses.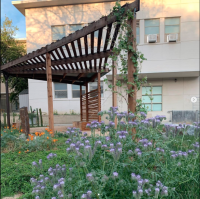 Follow the class on Instagram
Students enrolled in the Landscape Architecture "Design Build" class are responsible for the transformation of this incredible space. See more of their photos and follow their progress on Instagram.