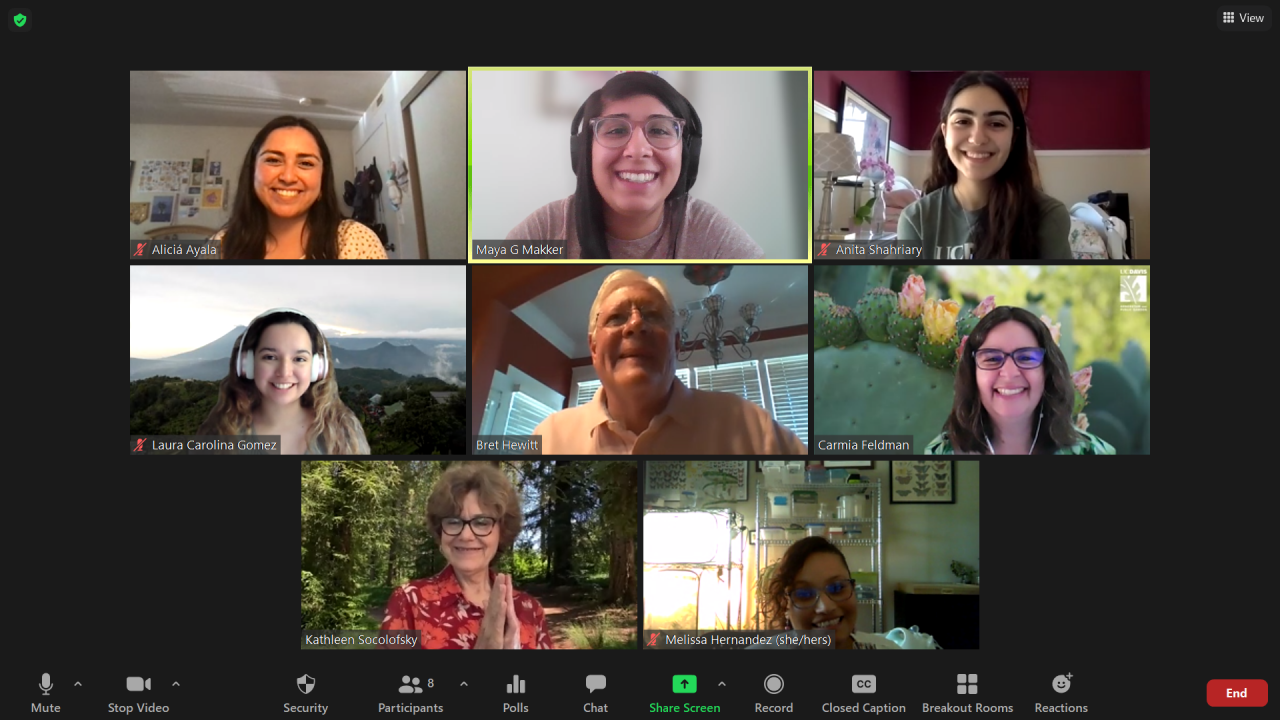 The Pinkerton Prize for Outstanding Student Contributions to the UC Davis Arboretum and Public Garden was created in the early 1990s by Bret Hewitt and his late wife Deborah Pinkerton, the first environmental education employee at the Arboretum and Public Garden. The prize honors exceptional Learning by Leading™ students participating in our environmental education programs.

Aliciá Ayala
Museum Education Co-Coordinator 2020-2021
As co-coordinator for the virtual Museum Education team, Aliciá Ayala has excelled as a mentor, leader, and advocate for her student interns. Aliciá took the initiative to create systems and tools that allowed our team to stay organized and connected during this unprecedented school year. Aliciá has led numerous projects as co-coordinator that have given Arboretum and Public Garden audiences the opportunity to engage with nature and support wellbeing, including an interactive virtual tour for kids. Her compassion, skill as a deep thinker, and creativity have inspired students and staff alike. Aliciá is an engaged environmental educator and will continue to make lasting contributions to the communities she serves.

Anita Shahriary
GATEways Outreach Intern 2019-2020, Co-Coordinator 2020-2021
During the time that Anita has been an intern and a co-coordinator, she has learned how to lead in the most challenging of circumstances. Not only did she navigate the challenges of continuing to lead a new cohort of students in a 100% virtual space, she also took on an important leadership role while her staff mentor went on maternity leave and she became a single coordinator during spring quarter. Anita's positive energy and perseverance helped her team create several Nature Rx programs and workshops that focused on the healing benefits of being out in nature. Anita's mentorship has helped her peers feel safe and have a sense of belonging. Anita has shown immense growth and leadership this year, making her deserving of the Pinkerton Prize.

Laura Gomez
Arboretum Ambassadors Intern 2018-19, Co-Coordinator 2018-2021
An environmental leader, science communicator and proponent of accessibility to nature and environmental resources, Laura has helped design and implement numerous Ambassador programs which require many weeks of planning. Most notably, programming has included Biodiversity Museum Day, a large open house for campus museums. Highlighting the Arboretum and Public Garden's renowned Peter J. Shields Oak Grove, Laura's team consulted with expert staff, synthesized technical content and provided a number of activities tailored to varied audiences. This year Laura and fellow co-coordinator Erin Schoemehl focused on creating engaging virtual programming by hosting a Nature Rx workshop at the UC Davis Mental Health Initiative conference and a spring Nature Rx and Equity in Green Spaces workshop. Collaborating with faculty, staff, and campus centers, Laura has also taken the lead on developing numerous program surveys to help inform future Ambassador projects. Having a passion for outreach, inclusivity and working with diverse audiences, Laura has been an excellent role model for the team and has helped strengthen the Ambassadors' focus on campus community engagement.
Category
Tags