Break up with your lawn, use cardboard to say goodbye with no regrets
As seen in the Davis Enterprise, March 2014
by Katie Hetrick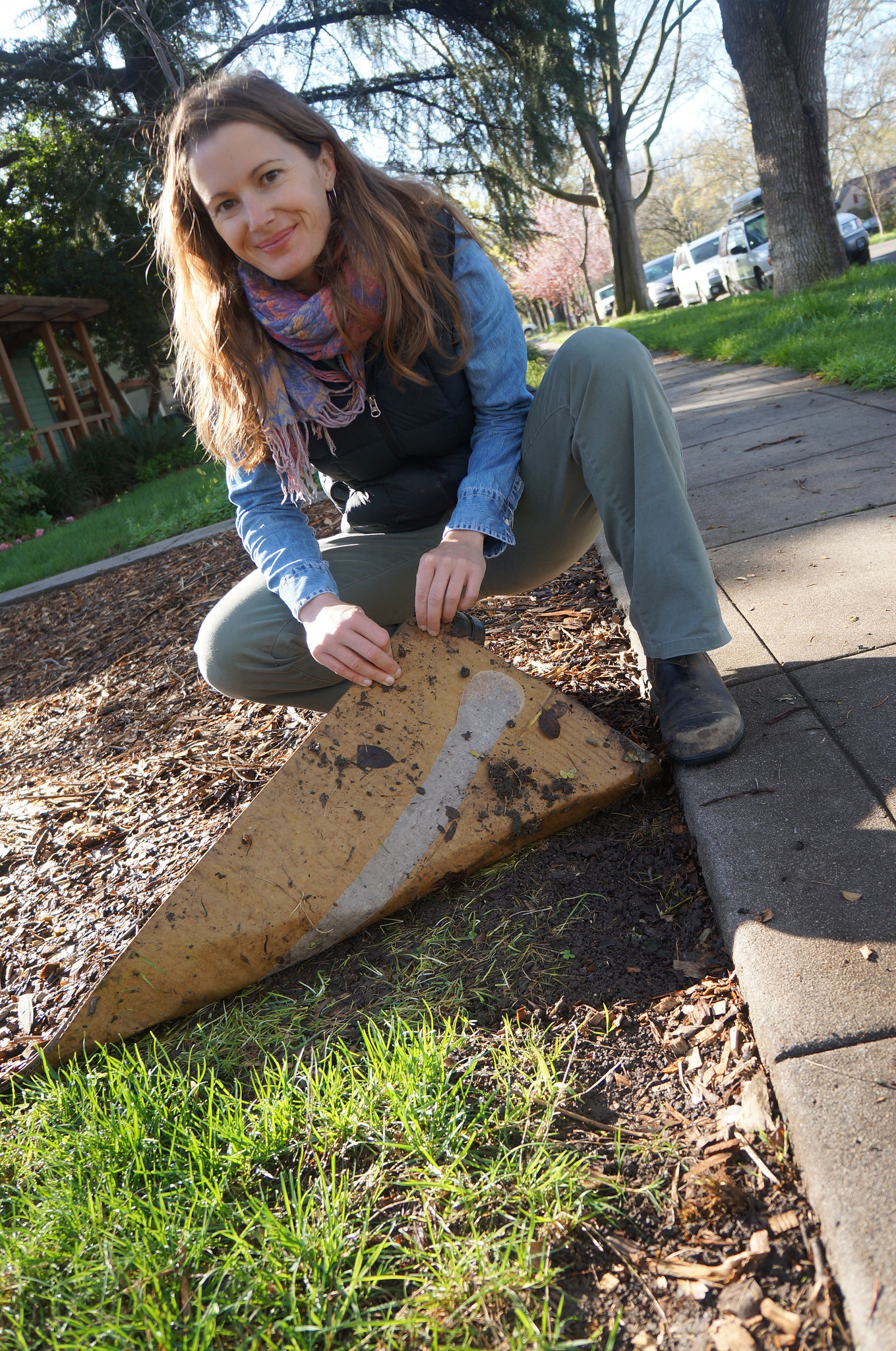 You hear it on the news. You read it in the papers. Then, there's that nagging inner voice telling you every time you walk out the front door, "Break up! You've got to break up!"
But you ignore it all in favor of making the excuse that you don't know where to begin and that you might regret it.
Stacey Parker, horticulturist for the UC Davis Arboretum and Public Garden and a new Davis homeowner, can empathize.
"I completely understand. Lawns are what we're used to and they're definitely appealing, but times have changed," she says. "Having just bought this little house, I'm ready for the adventure of making my yard fit the real situation with the water supply.
"I'm the economizing type anyway, and I'm excited to apply what I've learned from working on campus. There are so many great plants out there that are happy with very little water — it just makes sense."
With almost 95 percent of the state remaining in a drought despite recent rains, according to U.S. Drought Monitor reports, and city of Davis water rates rising every year, homeowners are looking to their landscape for help even without "Cash for Grass" programs like the cities of Sacramento and Roseville have offered their residents.
"The thought of lawn removal can be overwhelming," Parker says. "There are so many ways to achieve the same goal. I don't think it should be stressful, expensive or complicated.
"At the Arboretum and Public Garden, we're all about involving the community so I figured why not extend that idea to my front lawn? I'll make it an educational work in progress!"
Another important landscape component many homeowners consider revamping is their irrigation systems. Quite a variety of options are available, but it isn't always necessary to change.
"I'm going as low-tech as you can go. I'm leaving my existing sprinkler irrigation system," Parker says. "While drip is ultimately more efficient, I'm still going to save a bundle by decreasing the amount and frequency that I water based on my plant choices alone."
As for the variety of lawn removal methods, homeowners can go the chemical route by spraying the grass with herbicides, removing it with sod cutters, solarizing it or sheet mulching over it, just to name a few.
"I've decided to utilize the sheet mulching method," Parker says. "Late winter or early spring is the perfect time to start. Without added water, most California lawns will go dormant in the summer so it's better to start this process in the spring, when the grasses are alive. The idea is to eliminate your lawn, not to keep it comfy until fall."
There are five steps involved, four active and one inactive:
* Cut your lawn as low as possible;
* Cover it with cardboard;
* Dampen the cardboard;
* Add 4 to 6 inches of mulch; and
* Wait until fall to plant.
Sheet mulching with cardboard is an inexpensive way to remove a lawn that does not require chemical application or sheets of plastic. A single layer of cardboard is laid out over the areas of lawn no longer needed. When it eventually breaks down, the cardboard will add carbon back into the soil.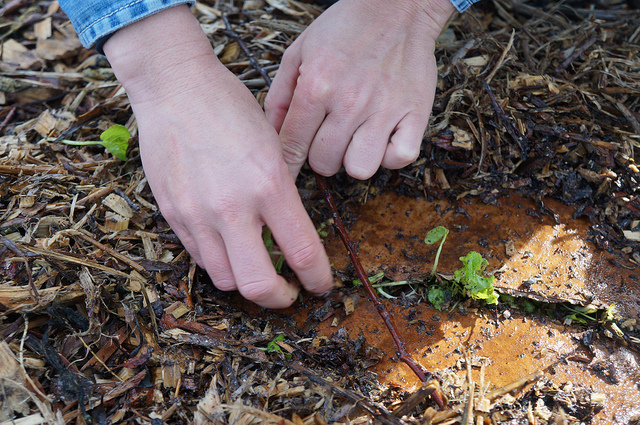 "I recommend using the largest size boxes you can get your hands on," Parker says. "I used a bunch of bike boxes. I was able to obtain quite a few for no charge after visiting local bike shops. We're lucky to have a few in the area.
"Dampen the cardboard as it is laid down to protect your layering work from disruption by wind," Parker advises. "You'll also want to overlap your edges to prevent weeds and grasses from weaving their way through. They can be quite tenacious.
"My other tip is to remove a border of lawn about six inches wide near your sidewalks. It will allow the cardboard to hug the edges more effectively," she adds. "I used a pick ax, but you can use a trowel or any sharp tool. The little ditch creates a place for the cardboard and mulch to hunker down to keep your edges neater."
The next step in the process is to add a layer of 4 to 6 inches of mulch.
"I'm in the process of adding mulch right now. So far I received one delivery and covered as much cardboard as I could, but it's only about an inch thick. That's not enough to smother a lawn," she explains. "The idea is to make it impossible for the grass to see the light of day. I'll be able to add enough mulch once my next delivery arrives."
How much mulch homeowners need depends on the area of lawn they want to remove.
"It's really easy figure out with all the online mulch calculators," Parker says. "I discovered that lots of tree removal companies will deliver to your house for free."
Step four is waiting out the spring and summer to make sure your lawn is gone.
"My yard will be neat, just not as green," Parker says. "I've still got to finish the sheet mulching process over the rest of my lawn in the next week or so. Then I'm going to take the spring to improve other areas of my little landscape.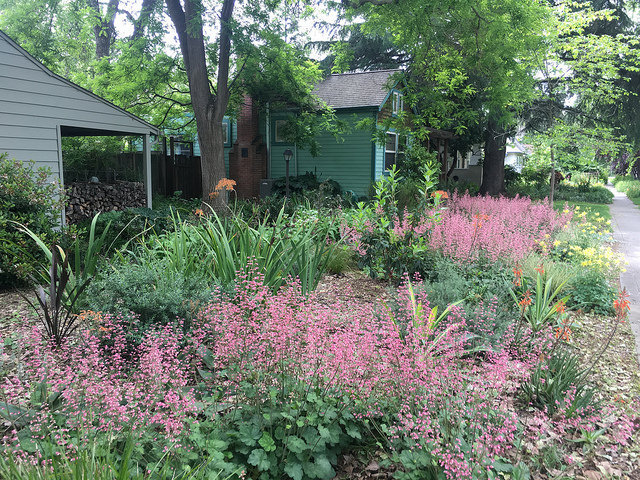 "Personally, I'm really interested not only in adding low-water plants for shade, but also attracting native wildlife by incorporating plants like the California pipevine."
Homeowners like Parker who are making changes to their landscapes to save water and be more sustainable are developing what the UC Davis Arboretum has coined "the new front yard."
For links to information that will help area homeowners in their quest to break up with their lawns, visit our Sustainable Gardening Toolkit to find "Life After Lawn" stories about other homeowners who have made the switch in addition to planting plans, plant lists, pollinator gardening resources and more. 
Tags