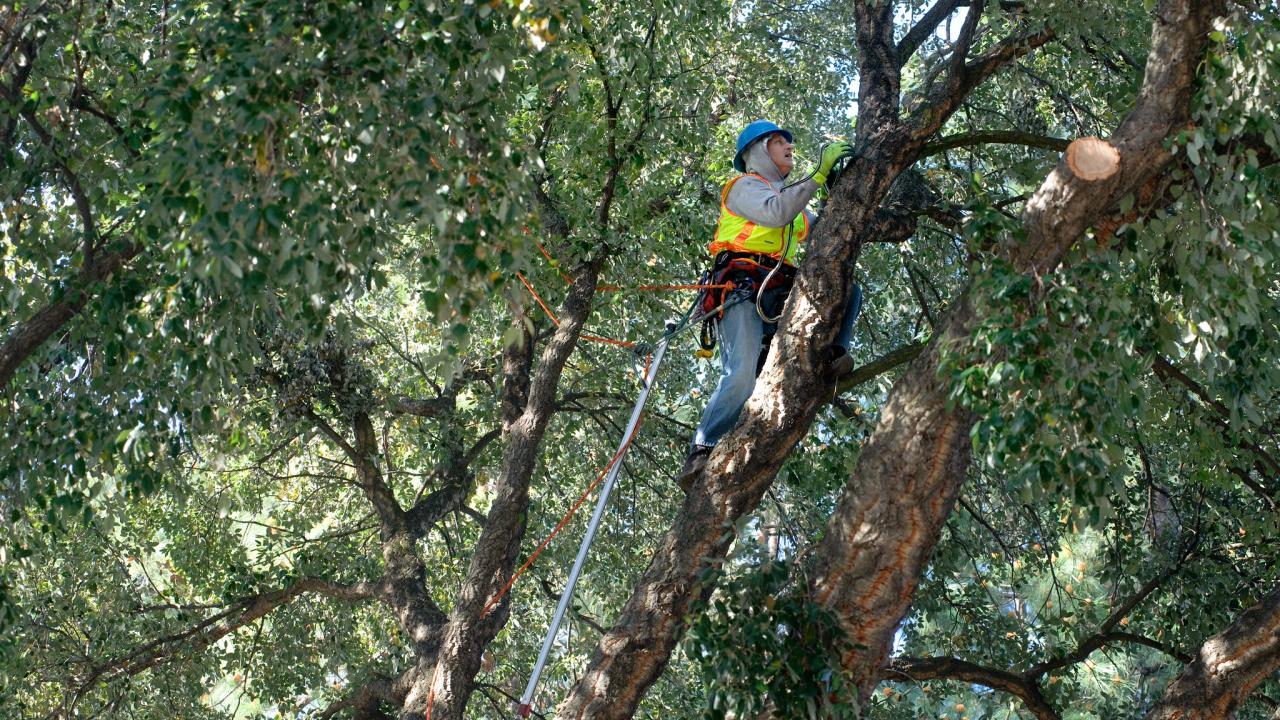 Maintain an urban forest enjoyed by millions!  Apply to be a tree trimmer at the UC Davis Arboretum and Public Garden, where every career employee receives extremely competitive health and retirement benefits including:
Three weeks vacation at start, holidays and paid sick leave
One of our state's best pension benefits and a retirement savings program
An impressive selection of medical, dental, vision and life insurance
Under general supervision of the Associate Director of Grounds and Landscape Services, this tree trimmer will primarily focus on tree pruning and removal. 
Become part of the team responsible for receiving the first 4-out-of-4 star accreditation by the Professional Grounds Management Society for their environmental stewardship, economic performance and social responsibility practices.
LEARN MORE and APPLY BY: Sunday, September 27, 2020
EXPLORE UC Davis' Competitive HEALTH and RETIREMENT Benefits
Full Position Description
| | |
| --- | --- |
| Salary Range | $23.74 - $33.23 |
| No. of Positions      | 1 |
| Appointment Type | Career |
| Percentage of Time | Fulltime, 100% |
| Shift Hours | Monday- Friday  6am – 2:30pm |
| Location | UC Davis |
| Union Representation | Yes |
| Benefits Eligible | Yes |
| Apply by Date | 09/27/2020 |
Job Summary
Under the direction of a tree trimming supervisor, provides maintenance service to the campus urban forest by performing work in trimming, shaping, cultivating, removing and planting trees.
Essential Responsibilities
35% Pruning Duties
Shape, remove dead wood, reduce hazardous limbs, remove mistletoe, train young tree structures, remove complete tree and stumps. Use approved tools and equipment including climbing gear and high lift boom trucks.
35% Tree Removal
Remove all generated material from the tree trimming operation. Using a mechanical brush chipper, chip all wood and brush up to twelve inches in diameter. Operate front-end loading tractor to remove all wood rounds over twelve inches in diameter.
20% Safety
Prepares surrounding area for safe tree trimming and removal operations. Lays out proper safety cones for roadway or path pruning and ensures safety placards are in place. Controls traffic flow for bike, pedestrian, and vehicle traffic. Assists in removal operation by hand roping limbs down to ground level to avoid damage to buildings or pedestrians.
5% Equipment Operations
Maintains tools necessary to complete the assignments. Items include but are not limited to: chain saws, pole saws, stump grinders, truck winch, lift boom, front-end loader, and climbing ropes.
5% Training
Training sufficient to keep skills at a safe level for all tree pruning operations. Training includes seminars which cover agronomic topics such as disease and insect control, pruning techniques, proper tree selections for planting, CPR. First Aid, Safety Rescue, and equipment operations.
Physical Demands
Lift objects/equipment weighing up to 70 pounds.

Walk, lift, stoop, push and bend for entire shift.

Work in confined and cramped quarters.  
Work Environment
Employment contingent upon successful completion of the Department of Transportation (DOT) Drug and Alcohol Testing program. Employee will be placed on the random testing pool list for drug and alcohol testing.

This position is subject to completion of a Pre-Placement Medical Exam provided by Employee Health Services.

Must possess current ISA Tree Worker/Climber Specialist Certificate.

This position is subject to Medical Surveillance procedures and review in accordance with Federal and State Laws and Regulations and University Policy.

Work a flexible schedule including evenings, nights, weekends and overtime, as needed.

Position may, at times, require employee to work with or be in areas where hazardous materials and/or infectious diseases are present.

CPR Certificate within the first 90 days of employment.

Employee is personally responsible for following safety procedures/guidelines.

Position will participate in Department of Motor Vehicles (DMV) Pull Notice System.
UC Davis is a smoke and tobacco free campus effective January 1, 2014. Smoking, the use of smokeless tobacco products, and the use of unregulated nicotine products (e-cigarettes) will be strictly prohibited on any UC Davis owned or leased property, indoors and outdoors, including parking lots and residential space. Additional information and specifics regarding the policy are available at http://breathefree.ucdavis.edu/index.html. 
Required Qualifications
Current ISA Tree Worker/Climber Specialist certification.

Knowledge of pruning standards by the Tree Care Industry Association.

Experience using tree trimming tools.

Working knowledge of industry standards and specifications to perform pruning tasks accordingly.

Experience performing aerial rescue using free climbing tools and equipment and to perform CPR in emergency situations.

Skill to calculate rope strength by using basic math skills in order to select the necessary rigging and materials to lower various sizes of limbs of wood.

Skill to identify plants based on both botanical and common name.

Skills to plant, stake, and maintain trees in a healthy manner.

Computer skills to enter and retrieve data.

Skills to meet customer/client expectations with an emphasis on quality, quantity and timeliness of work.  
Preferred Qualifications
Writing skills to produce reports and recommendations to campus management and contractors.

Skills to train personnel in tree trimming related duties.

Skills to drive a high lift boom truck and maintain the appropriate license as mandated by the Department of Motor Vehicles.  
LEARN MORE and APPLY BY: Sunday, September 27, 2020
EXPLORE UC Davis' Competitive HEALTH and RETIREMENT Benefits