Marquee trees debut in Davis this May
Coming soon to a tree near you — oversized hang tags promoting the importance of trees — thanks to a collaboration between the City of Davis Tree Commission, Tree Davis, the California Center for Urban Horticulture and the UC Davis Arboretum and Public Garden.
The City of Davis Tree Commission, the group primarily responsible for reviewing and approving — or denying — tree removal requests for the City, conceived of the idea.
"We want everyone to understand how important trees are to our community and environment," says Robert Cain, urban forest manager for the City of Davis.
"A couple years ago we delivered door hangers to several city residents that emphasized the importance of keeping our trees watered during the drought. This year we want to share more about their ecosystem benefits as well as fun facts about landmark trees."
Stacey Parker, regular tree commission member and horticulturist with the UC Davis Arboretum and Public Garden knew how to get the job done and where to pilot test the project.
"I am fortunate to work with some very talented and eager students," says Parker. "I told the Arboretum and Public Garden's Learning by Leading Museum Education interns about the idea and they jumped on it! We piloted the project on a bunch of hang tags on campus trees and the feedback has been tremendous."
"I'm not surprised! We are an Arboretum after all," explains Parker. "It's all about the trees…we collect them, we care for them, we educate people about them…we even sell them."
The Arboretum Teaching Nursery recently started growing trees suitable for our region at their one-acre facility.
"It's incredible how quickly trees can positively change a landscape and the surrounding environment," says Taylor Lewis, nursery manager. "The ten gallon trees we sell will be 'tag worthy' in no time."
The idea of using trees as backdrops for ecosystem benefit messages is not new. Inspired by a similar project at the Morton Arboretum in Illinois, the Learning by Leading™ program students developed their own designs and incorporated information specific to UC Davis after collaborating with multiple participants including campus arborists.
"It was great to work with the students and hear their excitement when learning about our campus trees," says Melanie Gentles, campus arborist for UC Davis Grounds and Landscape Services. "All our trees have unique histories and are critical to creating the campus environment we love so much; it's nice to see them recognized."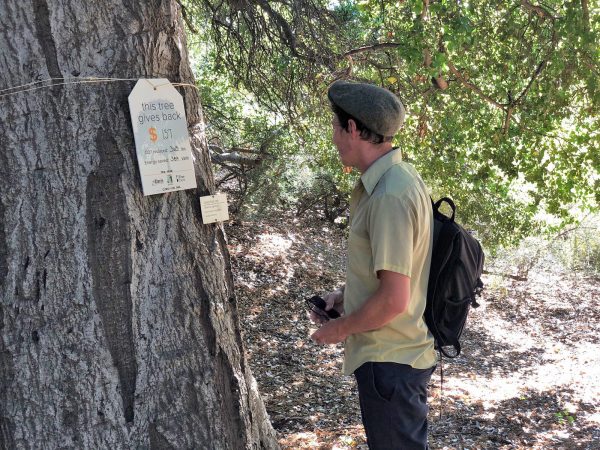 Campus visitors and community members can now see dozens of the tags along a trail of about 50 trees starting at the Quad, in the center of campus, and extending all the way to east end of the Arboretum (near the Davis Commons).  Some tags offer tips on tree care and others quantify their ecosystem benefits.
The tags on city trees will be similar. The students who developed the tags for campus will create them for the City as well.
"Trees provide us with so much. These tags are a small way for us to honor them," says Mia Groff, museum education intern at the UC Davis Arboretum and Public Garden.
The students will place them on landmark trees, trees that are part of the Downtown Davis Treewalk, as well as trees at schools, parks and high-traffic green belt locations."
"It's a big project and we're excited about it, but it wouldn't have happened were it not for California Center for Urban Horticulture," says Cain.
Dave Fujino, executive director for the Center and regular tree commission member, offered to help fund the extension of this campus pilot program into the City.
"Our mission at CCUH is to help protect resources and enhance ecosystems in California's urban environments," says Fujino. "A high-profile, student-created campaign about the importance of trees is an opportunity we are proud to support."
The same Learning by Leading™ Museum Education students who created the campus's tree tags, will also be working on the creating, producing and displaying the City's tree tags.
"We are thrilled with the leadership role our students have taken with this project," says Kathleen Socolofsky, assistant vice chancellor and director of the UC Davis Arboretum and Public Garden. "They are taking the time to highlight one of the most important features of our campus environment and sharing their work with the community for even larger impact."
Primary Category
Tags