Pollinator-Attracting Container Plantings on Display for the Public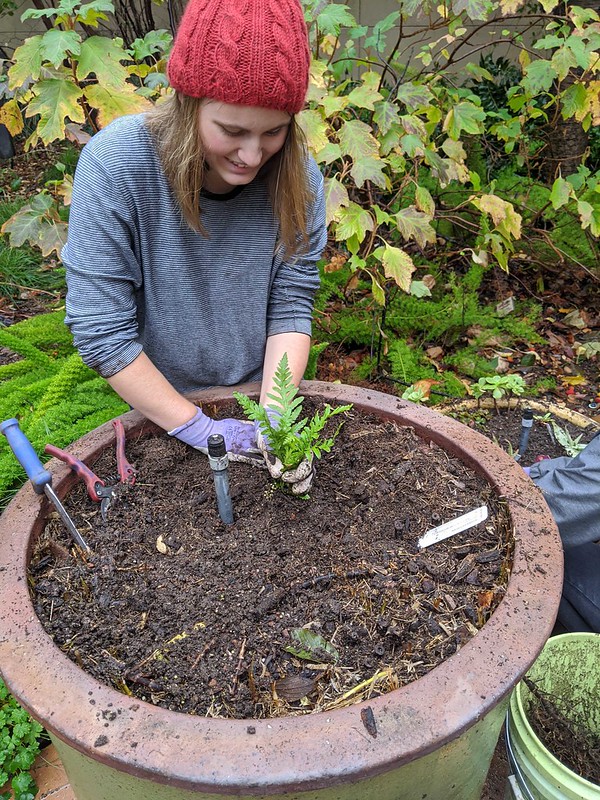 Hidden among the popular eateries at Davis Commons in downtown Davis is the Arboretum Terrace Garden and Lois Crowe Patio — a Mediterranean-style garden featuring vine-covered pergolas, multiple seating options, decorative paving, small sustainable landscapes and container plantings thoughtfully designed for California's Central Valley. Now, it's also the location where the Arboretum and Public Garden's Leading by Learning™ Habitat Horticulture team is exhibiting their newly designed pollinator-friendly containers.
Lining the edge of the garden are a dozen, 5 to 25-gallon pots filled with pollinator-friendly plants, such as coyote mint (Monardella villosa), known to attract butterflies and coral bells (Heuchera), which is popular with bees. The containers serve as inspiration for the public who will also are able to purchase the same (or similar) three-plant mixes at the Friends of the UC Davis Arboretum and Public Garden's seasonal plant sales.
The goal behind this project is to encourage and educate people that they can host habitats for wildlife, no matter how small the space they're working with may be.
"This goal is the reason why I joined this team," says Lauren Glevanik, a fourth-year, plant biology major. "We hope people pass through this demo garden and get inspired to plant containers to attract pollinators in their own spaces."
"Our team combines landscape design with plant-pollinator ecology to create gardens that serve as habitats for beneficial bugs," Glevanik said.
The Habitat Horticulture team took about two weeks to complete this project and two weeks to plan for it. They began by deciding which types of pollinator plants would look good and grow well in a container and coordinated with another Learning by Leading™ team, Museum Education, to create plant labels to better inform the public.
Student co-coordinator for the Habitat Horticulture team Cory Quon, a fifth-year, sustainable environmental design major, said that throughout this project she has been able to improve her communication skills.
"I've had a lot of leadership positions but don't think they have lived up to what I'm doing now. Being a student coordinator involves a lot of things. Having the ability to communicate in different ways with your team, the public, but also within the Arboretum and Public is a huge part of the job."
Primary Category
Tags