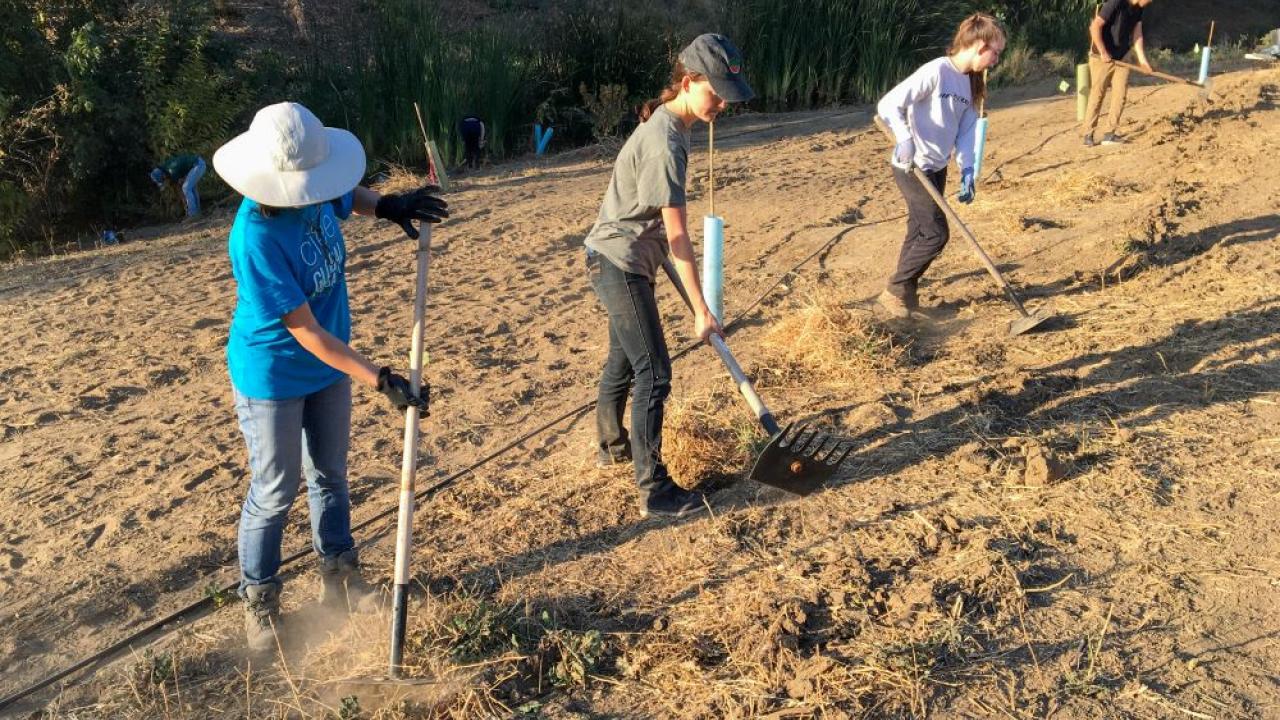 Tucked away near the UC Davis Sheep Barn, west of Highway 113 and north of Putah Creek, exists a newly cultivated piece of land. Due to the hard work of interns working on the Arboretum and Public Garden's Learning by Leading™ team focused on Habitat Restoration, this previously barren patch of land is now filled with plants such as button willow and tules that provide shade over the man-made water way.
The hope of this internship team is to restore the land around where old Putah Creek used to run to emulate the habitat provided before humans diverted water flow in the 1870s then completely cut off water in the 1940s in order to stop flooding in the city of Davis. They wish to create habitats for native species that have since left but need to have a place to come back. This area is part of a partnership with the UC Davis Center for Aquatic Biology and Aquaculture (CABA), which provides discharge water from tanks used for research to feed into the old creek bed. Their work has allowed species such as frogs to come back and inhabit this riparian habitat that the team is designing.
This quarter after considerable planning, the Habitat Restoration team made measurable strides in filling this empty area. Before Thanksgiving break, the team added the last touches on their irrigation lines by adding emitters that allow the water to drip down continuously, hydrating the plants located on the west side of the creek bed.
Student co-coordinator Natalie Ruckstuhl sectioned off the west side of the creek so that six different interns could design the landscape, to encourage active student participation.  
"Last year I wanted everyone to know about the plants as much as I did, and I didn't feel like that was the case, so that's why I made this assignment for them this year. I feel like that is a good learning experience and gives everyone an opportunity to contribute," said Ruckstuhl.  
The interns said the experience they gained is invaluable. Jazzy Li, a third-year, landscape architecture major, enjoyed the hands-on learning environment. 
"We do a lot of maintenance which is really healing. We get to be out and be on the site and learn practical experience that you don't always get sitting in front of a computer," said Li.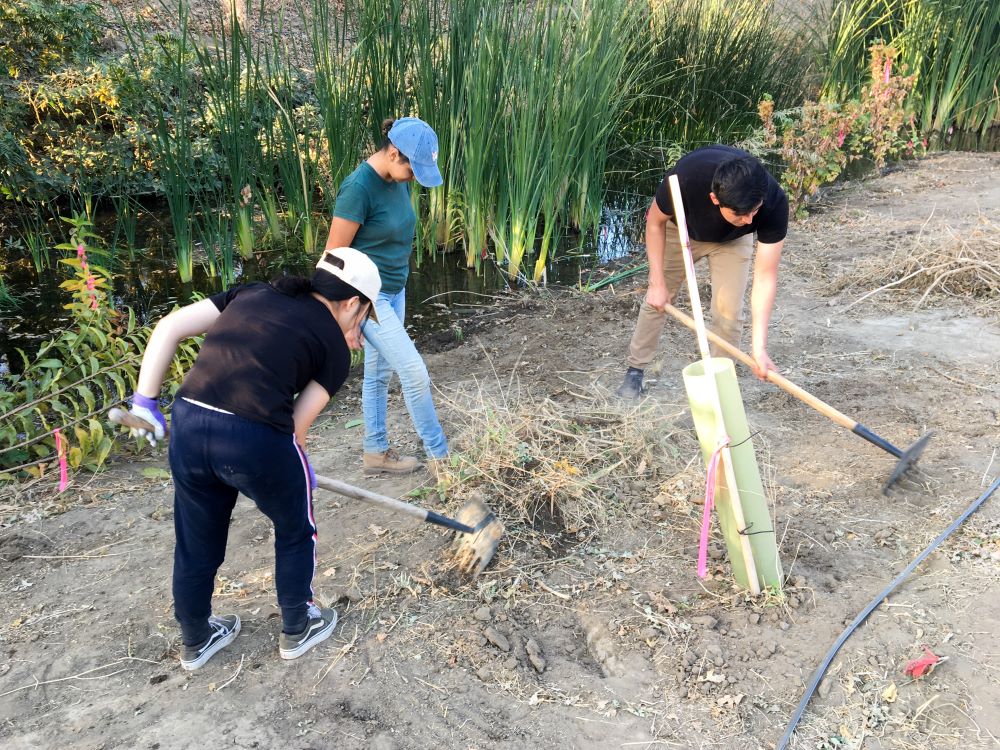 Clarissa Rodriguez, another third-year, landscape architecture major, appreciates the quality education she received on topics that are helping her in school.  
"In my major we do a lot of designing for outdoor spaces and we also need to be knowledgeable of the labor that people do for those designs," stated Rodriguez. "We have been doing a lot of drip line irrigation which is a more sustainable way to water plants, instead of using sprinklers." 
Category
Tags