UPDATE: Good Life Garden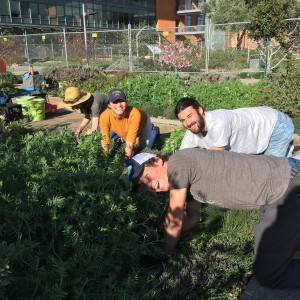 The Good Life Garden is one of the four gardens with specific areas managed by the Edible Landscape Learning by Leading Program interns. The others are located at The Domes, the Salad Bowl Garden outside the Plant and Environmental Sciences Building and inside the Environmental Horticulture greenhouse where the seedlings the students grow are used to landscape the gardens they maintain.
Throughout the fall and winter, the Good Life Garden plots, maintained by our students, were planted  with cover crops to prep the soil for spring.
"Cover crops keep the soil rich in nutrients," says Chelsea Chan, Good Life Garden Co-Manager. "They are an easy, low maintenance way to keep soil healthy while actively suppressing weeds from  growing in the area."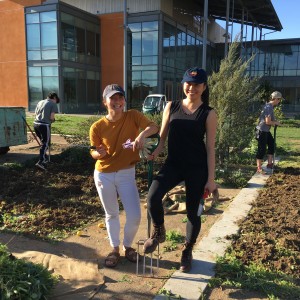 Now, the students are ready to grow some food! The choices they made for this garden were thoughtfully selected after first discussing options with representatives from UC Davis Food Pantry, the student organization that will be receiving the edibles upon harvest and distributing it to students in need.
"It came down to crops like kale and chard, which are sometimes referred to as 'cut-and-come-again' vegetables," says Chan. "For example, kale will grow large leaves, which are then trimmed and eaten. Soon after, the trimmed kale will produce a new set of large leaves. This process continues throughout the season."
Interested in supporting the edible endeavors of these students? To help fund their program they will be selling the vegetable starts they've grown themselves at the Friends of the UC Davis Arboretum and Public Garden spring plant sales. Proceeds from this fundraiser will help them pay for program costs like gardening equipment.
To see the progress of these students' crops, visit the UC Davis Good Life Garden.
Posted March 8, 2016 | Jamie Marzouk, Communications Intern
Tags