Sheepmowers
The UC Davis Arboretum and Public Garden is collaborating with Assistant Professor of Landscape Architecture Haven Kiers in her research project designed to help determine if sheep, which intermittently graze a lawn on central campus, can eat weeds and grass, fertilize and control pests as well as or better than using conventional landscaping methods.
"This is a perfect partnership," said Tyson Mantor, Arboretum and Public Garden associate director.  "We pride ourselves on the many sustainable landscape maintenance efforts we currently use to keep our grounds beautiful. We welcome sheep to the effort."
Details
A number of campus sheep will be allowed to graze in a fenced lawn area on central campus. An equally sized adjacent lawn will serve as a control and will be conventionally maintained by Arboretum and Public Garden landscape managers. Sheep will be transported to the site in a trailer and allowed to graze, then, at the end of the day, they will be transported back to the campus sheep facility. It is anticipated to take 2-3 days to "mow" the experimental half of the lawn. Two student shepherds will supervise the sheep at all times. 
Download the full project description
Current Grazing Schedule
Spring 2023 schedule (grazing hours 9:30 a.m.-3 p.m.) at Wickson Hall
Wednesday-Friday, April 5-7
Wednesday-Friday, April 26-28
Wednesday-Friday, May 17-19
Wednesday-Friday, June 7-9
Future Dates?
Follow @ucdavis_sheepmowers on Instagram for the latest news or visit their website!
Videos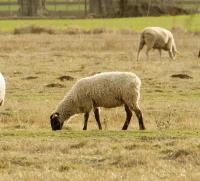 Visit Their Website
Because sheep that mow lawns obviously need their own website!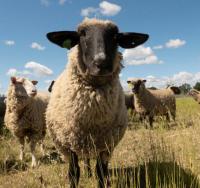 Read the Press Release
Sheep Will Graze the UC Davis Gateway District to Help Maintain Landscape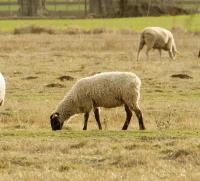 Follow the Sheep Mowers on Instagram
The sheep mowers are on social media! Follow them @ucdavis_sheepmowers and use their hashtag #ucdsheepmowers.
Additional Press
Tags