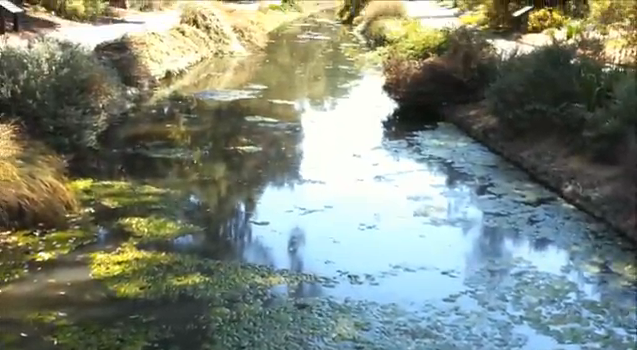 Last summer we informed you that the UC Davis Arboretum and Public Garden initiative was featured within and on the cover of UC Davis Magazine.
That article inspired the following comment: 
Your article on the arboretum ["Outside the Box," summer 2012] was great. I truly enjoyed reading about the changes made and planned future improvements. However, one item has continued to perplex me for more than four decades: Why is Lake Spafford so deplorable?

Every time I visit Sacramento I always make a pilgrimage to walk through the arboretum. And for countless decades, the lake and Putah Creek feeder have continued to be an eyesore. I just cannot fathom why this has been the case, given that the university has an engineering school and environmental science division?

Can't anyone come up with some sort of economical pumping system to keep the water continually flowing? With all the planned improvements and changes, Lake Spafford should rank high on this list.

Michael Schiavo '69
Melbourne
Bob Segar responded as follows:
We share Mr. Schiavo's desire for a more attractive Arboretum Waterway—and for the first time, I'm confident that we have a strategy in place to accomplish just that. In the past, many attempts have been made to improve the water quality in the waterway: dredging the basin, aerating the water, even introducing treated waste water to establish water flow. But since the shaping of the waterway in the 1960s, there has never been a redesign to right-size the channel to keep water moving.

We have just completed a successful pilot project at the east end of the waterway, led by Andrew Fulks, manager of the Putah Creek Riparian Reserve, and Ryan Deering of the arboretum staff. With the help of reserve steward J.P. Marié, they modified the elevation along a stretch of the waterway to create small waterfalls, then pumped water back to the top for a recycling of the water. The test successfully broke up existing algae pads and kept new algae from forming. In coming months we hope to upsize this approach and, section by section, achieve the long–standing goal of a waterway worthy of the beauty of the arboretum gardens.

Bob Segar
Assistant Vice Chancellor for Campus Planning and Community Resources
READ MORE about the UC Davis Arboretum and Public Garden in UC Davis Magazine.
Link to video documenting pilot project on YouTube.
For a sneak peek at the pilot project Bob is referring to, be sure to watch the video embedded above. We are excited about the possibilities for this new approach to keeping the Arboretum waterway beautiful and plan to keep you informed of this project's progress over the coming months.