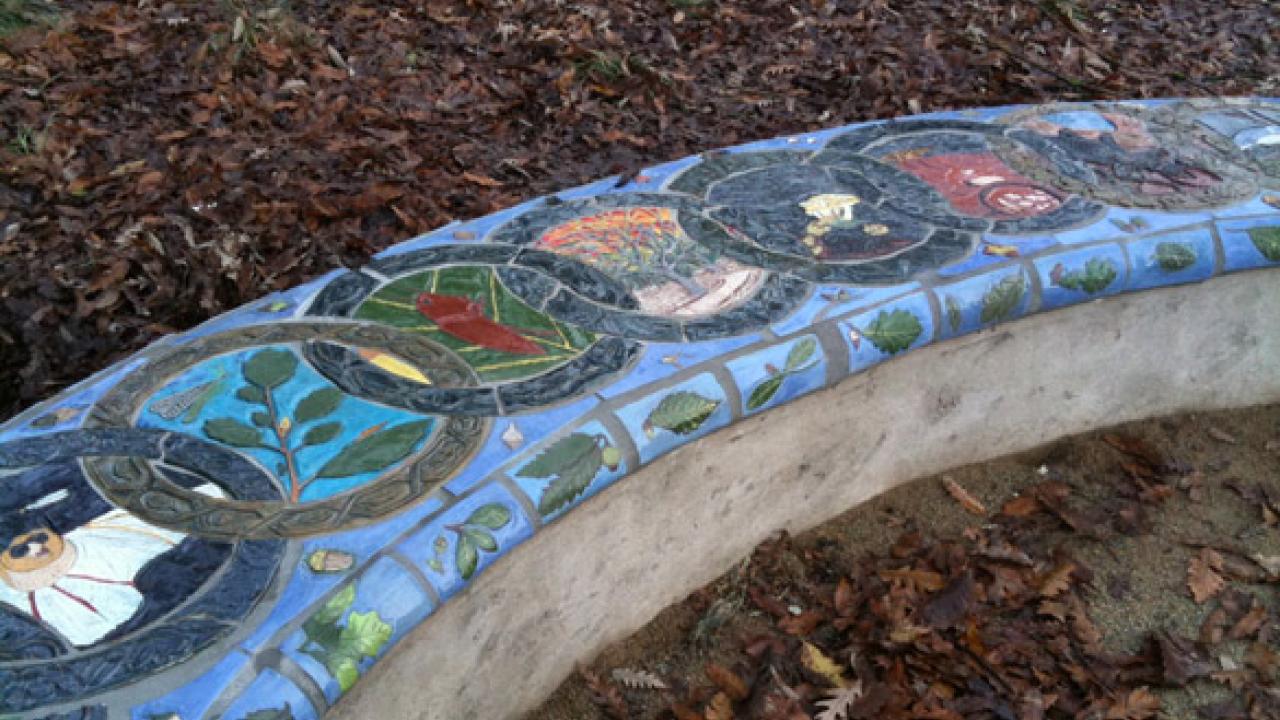 In the Art-Science Fusion Program, formal lectures and workshops are balanced with time in the Arboretum gardens and art studio.  Community members work alongside undergraduate students to produce art that expresses scientific concepts.  These works, in turn, are used in the Arboretum's public education programs.
You will be given the skills and materials to carve, paint, and glaze a cove piece to contribute to the ceramic tile surface of a 50-foot curved concrete bench at the entrance to Shields Oak Grove. The tile installation will highlight 43 steps in the life cycle of an 800 year old English oak.  You may select an image of a wildflower, mushroom, bird, mammal, or insect from the English oak woodland to depict on your cove piece.  The finished ceramic bench will serve as an outdoor classroom and gathering area for tours of the Arboretum's nationally recognized oak collection.
Join Art/Science Fusion instructors Donna Billick and Diane Ullman in creating tiles for a permanent installation at the UC Davis Arboretum!
WHO: UC Davis students, Arboretum volunteers, and anyone with an interest in art and science!
WHAT: Creation of ceramic tiles of plants, insects, and wildlife
WHEN: Tuesday evenings, October 4 – November 15, from 6 to 9 pm
WHERE: The Lab + Studio = Labudio (Environmental Horticulture Building, Rooms 126/128)
RSVP: Please contact Emily Griswold at ebgriswold@ucdavis.edu to RSVP
No previous experience necessary.  Materials, tools, and instruction will be provided.  Wear old clothes and shoes, and come create some tiles!
DIRECTIONS: The Labudio is on the UC Davis Campus. Visitor parking is available for $7 in UC Davis Visitor Lot #5 at the corner of A Street and Old Davis Road.  From Lot 5, walk west along Old Davis Road, toward the Mondavi Center. The Environmental Horticulture Buildings will be on your left. Walk inside the central courtyard to find Rooms 126 and 128, the Art/Science Fusion Labudio rooms.
Questions? Contact Emily Griswold at ebgriswold@ucdavis.edu or 530-754-8038.
Category
Tags