Thank you to everyone who gave to the UC Davis Arboretum and Public Garden during our region's 24-hour Big Day of Giving on May 5th! Thanks to the generosity of current and new donors, members, volunteers, and our own staff, we raised $11,400 from 161 donors.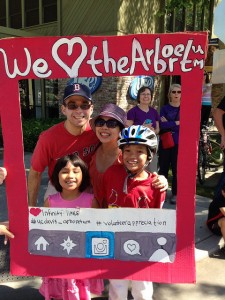 This one-day total combined with pro-rated incentive funds (donated from regional corporations and organizations via the Sacramento Region Community Foundation) should take us past our goal of $12,000 for the day.  Big Day of Giving was not only historic for our organization, it was historic for the Sacramento region — 529 participating non-profit organizations raised over 5.6 million dollars in one day!
The funds we raised will be used to support our GATEways public education programs including our Valley-wise gardening outreach and to grow our "Learning by Leading" initiative, which enables undergraduate students to develop innovative environmental and educational programs for underserved children and families.
Thank you again to the generosity of the donors listed below and to all of our loyal supporters who give in whichever way they can—with their time, creativity, words of encouragement, or donations. Together we are creating an exemplary place of beauty, learning, and environmental stewardship.
Anonymous Gifts (9)
Dawn Adams
Kristen Aldebol
Jacqueline and Jim Ames
Lyle Anderson
Judith Ballester
Cidney Barcellos
Denise Bell
Alison Berry
Doris Blaker
Judith Blum
Barbara Bower
Kent Bradford and Barbara Zadra
Madeline Brattesani
Dianna and Paul Brink
Karen Broido
Stephen Brush
Stella Cade
Dawn Calciano
Teresa Campbell
Eli Carlisle
Darleen Coppersmith
Melanee Cottrill
Christina Craig-Veit
Candace Cross-Drew
Ann Daniel
Debra Denton
Joy Dias
Patti Donlon
Rex Dufour
Bob and Margie DuSell
Carl and Karen Eilers
Joy Elson
Carmia Feldman
Ann Filmer
Elaine Fingerett
Nancy Foster
Lucas and Stacie Frerichs
Dahlia Garas
Paul Gepts
Kathleen Gill
Karol Gottfredson
Cliff and Carol Gravem
Jim Gray
Phillip Gray, Jr.
Larry Greene
Teri Greenfield
Paula Gunther
Gail Hahn
Lesley Hamamoto
Rachel Hartsough
Joanne Hatchett
Kristin Heinemeier
Katie and Eric Hetrick
LuAnn Higgs
Sally and Michael Hirst
Michael Hirst
Carolyn Hughes
Timothy D. Inouye
Robin Johnson
Kendra Johnson
Jennifer Jones
Allan Jones
Cathryn and Robert Kerr
Loretta Key
Alexander King
Nicki King
Kristine Kirkendall
Cathy and Larry Klaiber
Carol Knight
Julia Kulmann
Bill and Laura Lacy
Elizabeth Lasensky
Frank Laurich
Marshall Lee
Phillip Lendaris
Huey Lin
Angela Linderholm
Garth Lindley
Kerry Loux
Judith Mack
Whit Manley
Yvonne Marsh
Alexia Martin
Shirley Maus
Andrea Mayer
Anne McCabe
James Merk
Steve Miura
Dolores Morrison
Laura Moser
Marjorie Muck
Margaret Neu
Susan Nishio
Ann Noble
Erica Orcutt
Donnette Orsi
Nancy Ostrom
Pamela Pacelli
John Palmer
Pamela Pappone
Joanne Paul-Murphy
Cheryl Piety
Kelleen Piner
Zoë Plakias
Elizabeth Pollard
Vaughan Ramon
Kevin Rice
Jane and Mike Richardson
Warren Roberts
Keith Rode
Nancy Roe
Mary and Ron Rogers
Anne Rogers
Grace Rosenquist
Tatiana Roubtsova
Therese Ruth
Elizabeth Sagehorn
Anne Schellman
Maxine Schmalenberger
Jacquelin Siegel
Gregory Smith
Robert Snider
Bob Gregoire and Kathleen Socolofsky
Harry Spanglet
Danielle Sprague
Tom and Meg Stallard
Linda Sternberg
Dana Stokes
Christopher Stokes
Steve Stombler
Hans Strandgaard
Karen Campbell Swift
Rose J. Swift
Jean Telford
Gary and Janet Thatcher
Tuyet Truong
Barbara Turner
Suzanne Ullensvang
Teresa Vyvlecka
Bev and Bruce Watros
Jon Watterson
Christina Weber-Johnson
Joellen Welsch
Martha West
Katherine Whitney
Naomi Williams
Henry Wirz
Madeline Woods
Judith Wydick
Zarah Wyly
Category
Tags