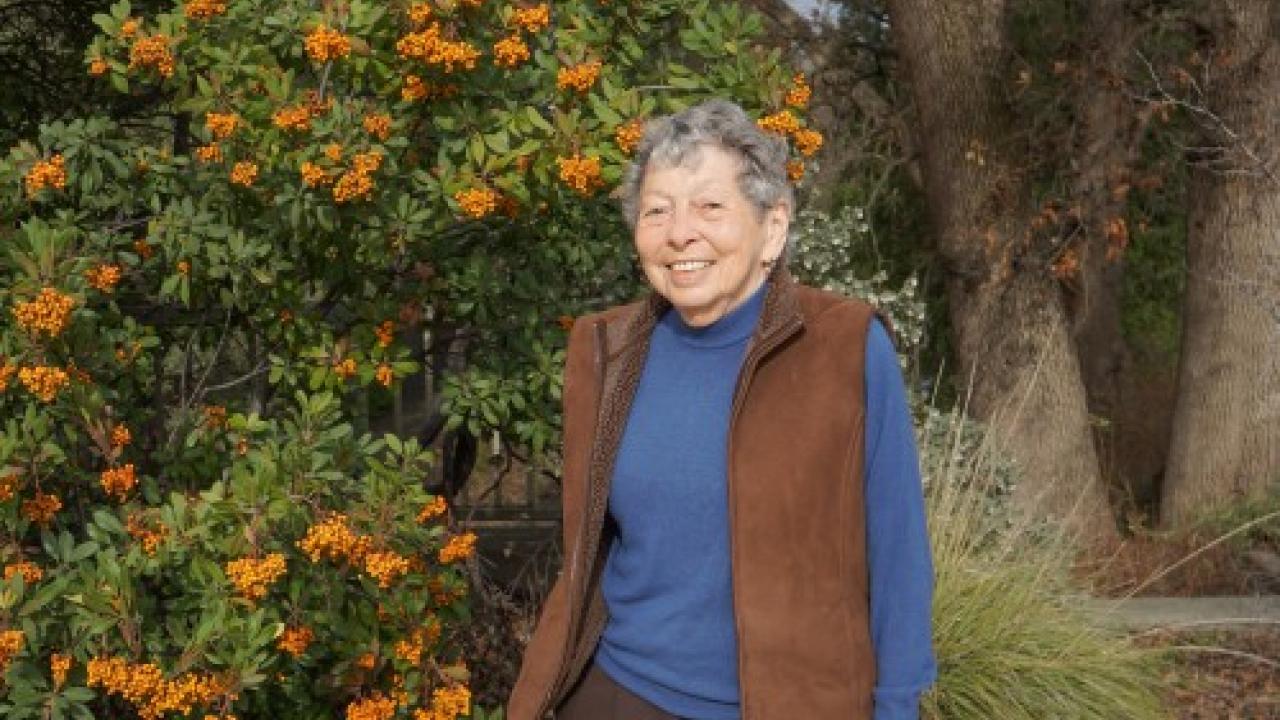 Thanks to an endowment created by Shirley Maus —longtime Arboretum supporter and volunteer — you will notice a renewal of our California Foothills Collection.
Shirley's ancestors resided in the foothills region of California since about the time California became a state in 1850. One side of her family lived north of the Consumnes River in the El Dorado area, the other side came from south of the river in Amador. With that history, it's easy to understand why Shirley has always taken a particular interest in this collection.
"As a child, I loved visiting my great grandparent's ranch where there were so many oaks on all the hills," recalls Maus. "The California Foothills Collection reminds me of my childhood memories in Amador and all the gorgeous black oaks we admired and explored."
The California Foothills Collection, located between Mrak Hall Drive bridge and the La Rue Road bridge, is where the largest black oak in the Arboretum resides. The collection is also home to several majestic, 200-year-old Valley oaks, pines, Ceanothus (California lilac), numerous species of native currants and gooseberries, as well as native grasses used as groundcovers.
This year, funding from the Maus endowment allowed our Learning by Leading students, to refresh and restore the collection with new plantings. Next year, it will allow for the creation of a new sign to identify the collection and assist visitors navigating the Arboretum.
Mother of two sons, an active resident at University Retirement Community in Davis, member of the Executive Board at the UC Davis Arboretum and Public Garden and various committees at the Mondavi Center for Performing Arts, Shirley is hard to pin down, but if you do, please thank her for helping reveal this lesser-known, yet iconic collection for generations to come.
About endowments. Endowments are a great way to provide ongoing support for our organization. The principal amount Shirley donated will be kept intact while the investment income is used year-to-year to support different projects. In addition to an endowment for our California Foothills Collection, Shirley and her late husband Ronald have also endowed a creative writing contest in memory of their daughter Pamela. If you would like to learn more about endowments contact Garth Lindley at glindley@ucdavis.edu or (530) 752-8637.
Category
Tags