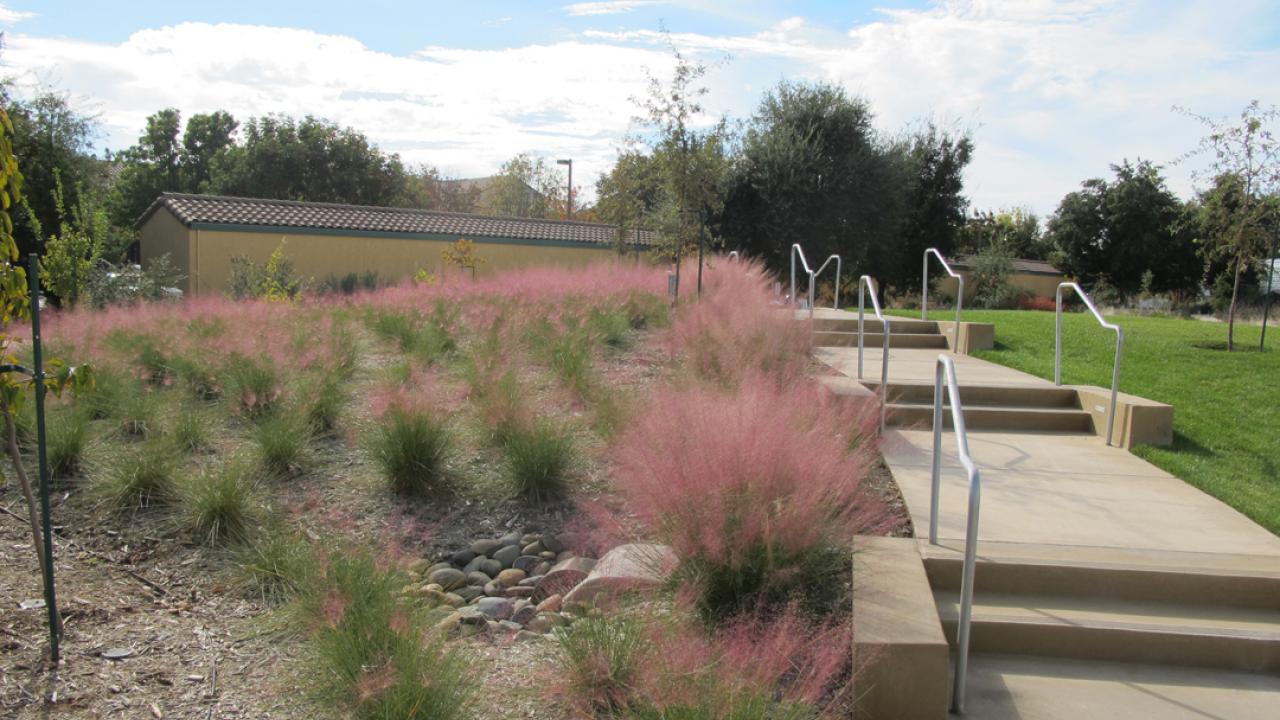 Durable Delights: Gorgeous and hearty plants that shine without much polish!
DIY home landscapers interested low-water, easy-care landscapes do not want to miss the Friends of the UC Davis Arboretum plant sale this Sunday, April 28 from 9AM-1 PM at the UC Davis Arboretum Teaching Nursery. In addition to the community-beloved Arboretum All-stars—100 tough, easy-to-grow, reliable plants, tested in the arboretum for sustainability—this sale will feature 30 unusual and interesting plants that arboretum horticulturists are calling Durable Delights.
"The best plants are ones that demand little of our time, but offer a big return in form, color, flower and durability, hence the Durable Delight name," explains Ellen Zagory, director of horticulture for the UC Davis Arboretum. Zagory adds, "While wholesale nurseries offer their customers plants in an alluring variety of colors and forms, over the years our team has learned what consistently grows  here in our Valley and persists despite our hot summer, cool damp winters and sometimes heavy clay soils."
"Some of these plants may need shade in the Central Valley, but many are able to stand up and sparkle with little irrigation in the hot summer sun," explains Lisa Fowler, nursery manager, UC Davis Arboretum.
Beyond Durable Delights and Arboretum All-stars, customers will find a huge array plants specifically chosen for their suitability to our area's unique growing environments, trained sales people available to make recommendations as well as stunning demonstration plantings to inspire ideas and design possibilities.
Can't attend on Sunday? You've got one more chance. Saturday, May 18, the nursery will be open to the public for the last time this spring season from 9 AM – 1 PM. For more information, visit the Arboretum's website: http://arboretum.ucdavis.edu. 
Durable Delights: The List (click to download a pdf, Adobe Acrobat required)
Agave americana 'Variegata', striped agave
Delosperma cooperi, cerise hardy ice plant
Leucophyllum frutescens 'Compactum' and 'Green Cloud', cenizo
Muhlenbergia dubia, Mexican deergrass
Rosmarinus officinalis 'Mozart', Ed Carman's rosemary
Saponaria × lempergii 'Max Frei', hybrid soapwort
Bupleurum fruticosum, shrubby hare's ear
Achillea 'Coronation Gold', coronation gold yarrow
Salvia clevelandii 'Winnifred Gilman', Winnifred Gilman Cleveland sage
Anigozanthos 'Amber Velvet', The Velvet Range™ kangaroo paw
Perovskia atriplicifolia 'Little Spire', little spire Russian sage
Dasylirion wheeleri, desert spoon
Iberis sempervirens, evergreen candytuft
Muhlenbergia capillaris, pink muhly
Bouteloua gracilis 'Blonde Ambition', blonde ambition blue grama
Salvia chamaedryoides, Mexican blue sage
Teucrium fruticans 'Azureum', azure bush germander
Beschorneria yuccoides, Mexican lily
Geranium × cantabrigiense 'Biokovo', Biokovo cranesbill
Epilobium canum 'Sierra Salmon', Sierra salmon California fuchsia
Carex oshimensis 'Evergold', variegated Japanese sedge
Viburnum tinus 'Anvi', spirit viburnum
Ajuga reptans 'Catlin's Giant', Catlin's giant bugle
Origanum 'Marshall's Memory', Marshall's oregano
Glandularia aristigera (Verbena tenuisecta), moss verbena
Garrya elliptica 'Evie', Evie's silktassel
Chondropetalum tectorum, small Cape Rush
Quercus tomentella, Island oak
Miscanthus sinensis var. condensatus 'Cosmopolitan',
cosmopolitan silver grass
Juncus patens 'Elk Blue', elk blue California gray rush
Category
Tags