Fall 2018 Edible Plant List
Below is a list of plants that students in our Learning by Leading™ Edible Landscaping internship will be planting in the UC Davis Good Life Garden in Fall 2018. Most of these plants will also be available at our plant sale on Saturday, October 13 from 9 a.m. - 1 p.m. Your purchases of the edibles offered at the Friends of the UC Davis Arboretum and Public Garden plant sale directly support this internship.
Fall 2018 Edible Planting List
Broccoli-Green Comet
Broccoli-Raab Zamboni
Broccoli-Romanesco
Brussel Sprout-Jade Cross E
Cilantro
Collards-Carolina Cabbage
Kale Sprouts - Kollette
Kale-Blue Knight
Kale-Dinosaur
Kale-Red Russian
Leeks-American Flag
Lettuce-Lollo Rosso
Lettuce-Romaine
Onion-Bunching Red Rum
Pak Choi-Toy Choy
Parsley-Italian Single
Spinach-Bloomsdale
Swiss Chard-Bright Lights
Swiss Chard-El Dorado
Swiss Chard-Peppermint
Swiss Chard-Red Leaf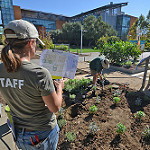 Good Life Garden 2.0
Learn more about the newly renovated UC Davis Good Life Garden and how this landscape serves multiple purposes from student learning to showcasing our university's academic expertise.
Primary Category
Tags