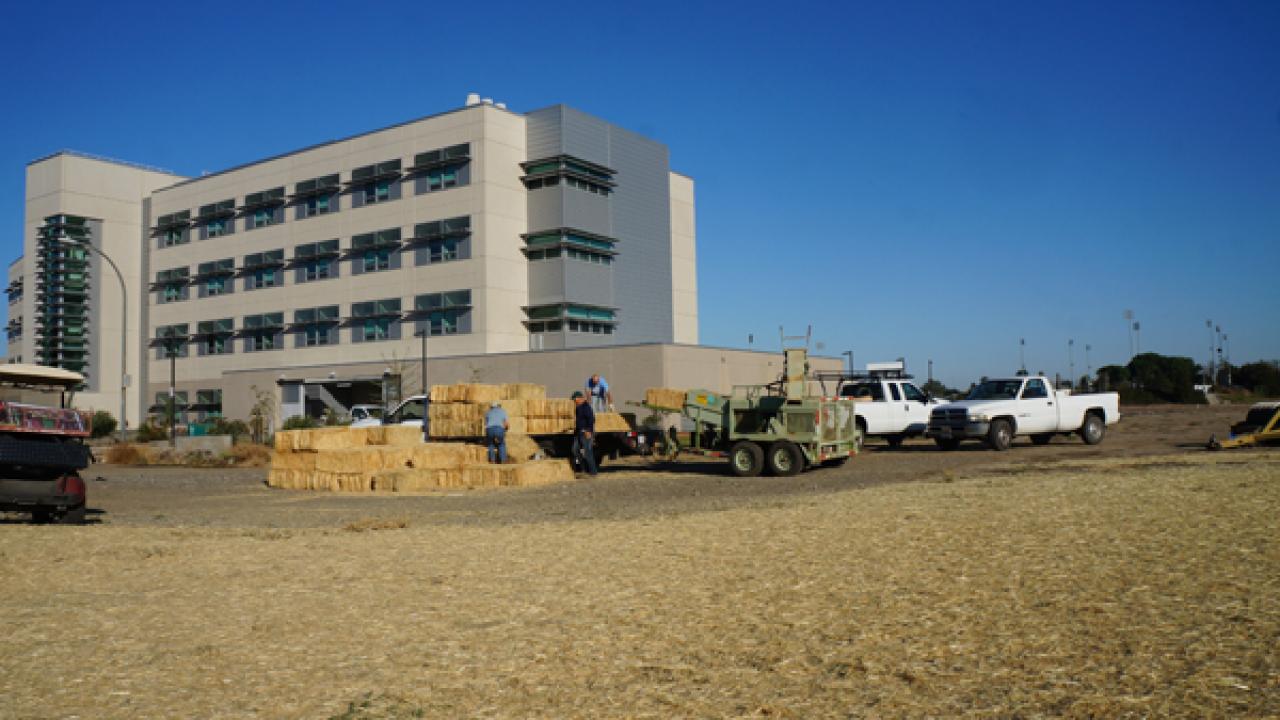 Unless you are familiar with all the methods used to ensure that the campus's stormwater is as pollutant-free as possible, you may have wondered why we bother spreading straw around empty lots. Spreading straw mulch, moistening it, then crimping it into the dirt is one of the ways we can protect exposed soil during the winter months, prevent erosion, and improve stormwater quality—all legal responsibilities that need to be complied with and monitored regularly—especially on a campus of our size.
This is why you'll see the future site of the UC Davis Vet Med Student Services and Administration Building covered with a weed-free, native grass straw.  In order to assist our campus's Design and Construction Management department's ability to meet Storm Water Pollution Prevention Plan requirements, staff from Putah Creek Riparian Reserve and Campus Naturalized Lands used their connections to borrow a straw blower, Grounds and Landscape Services provided their water truck to dampen the straw, and Civil and Industrial Services provided a rented rice roller to crimp the straw into the soil.
This quick collaboration would not have been possible prior to the merger of all the departments responsible for the care of our outdoor spaces into the UC Davis Arboretum and Public Garden.
LEARN MORE:
Update on stormwater quality improvement projects
Partnership with campus Environmental Health & Safety improves landscape and stormwater quality
Landscape improvements in west end of Arboretum to improve stormwater quality
Category
Tags