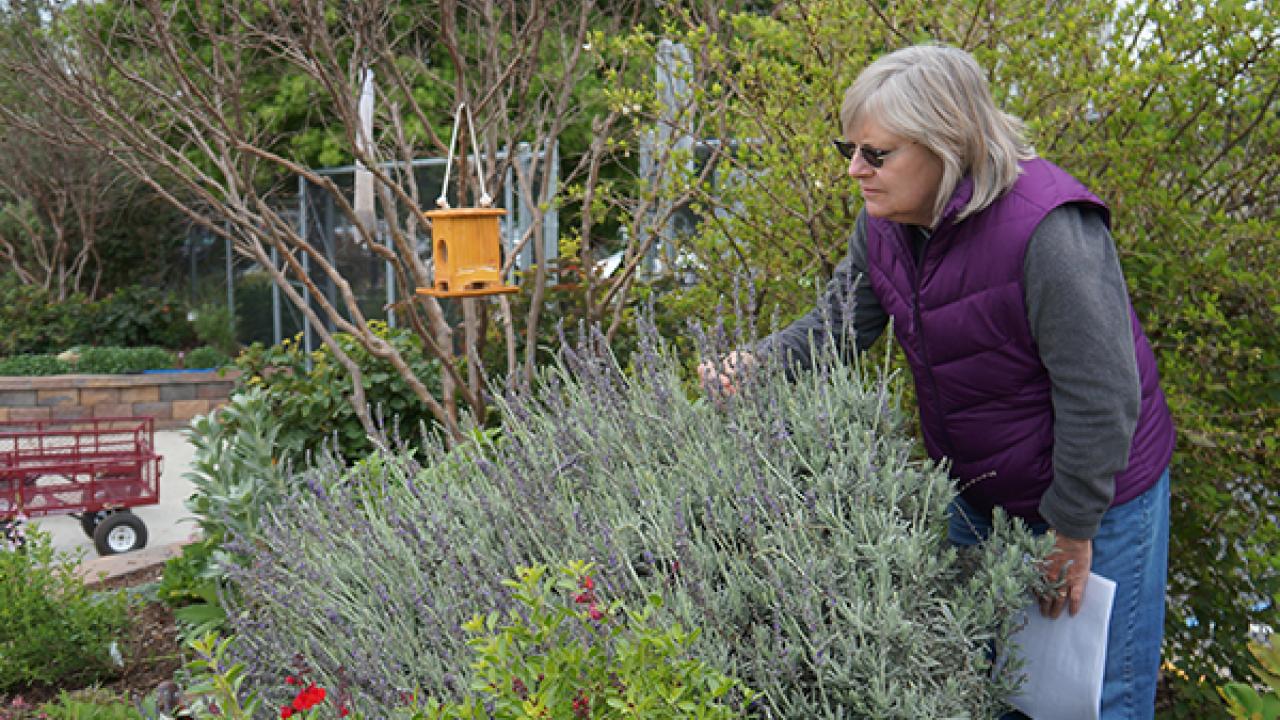 Residents of Davis take pride in the college-town atmosphere here and environmentally friendly way of life. This city was a bike town before sustainability was a buzzword and its Farmers Market bustled before "slow food" was a thing.
Now, as landscapes are being revamped due to the drought, and lawns are removed or let go, the UC Davis campus, the city and its residents are in a position to serve as an example of how urban areas — particularly urban areas in the heart of agricultural country — can support global crop production through small changes in landscape choices.
How does feeding the world connect to residential landscapes?
"It's not about planting more home-grown edibles if that's what you thought the answer was," asserts Ellen Zagory, director of public horticulture for the UCD Arboretum and Public Garden. "It's all about the bees."
Birds, butterflies, bats, bees … Zagory has been on a mission to help all pollinators — an undertaking of particular importance now, more than ever. According to a recent report from a United Nations-formed group — the Intergovernmental Science-Policy Platform on Biodiversity and Ecosystem Services, made of 124 countries including the United States — pollinators vital to our food supply are under threat.
With all of the stories about bee colony collapse in the news recently, most people probably already knew that, but what many may not have known is just how bad it is. As many as 16.5 percent of vertebrate pollinators (birds and bats) are threatened with extinction globally and more than 40 percent of invertebrate pollinators (bees and butterflies) are facing extinction.
The report goes on to detail options for safeguarding pollinators, one of which is "maintaining and creating a greater diversity of pollinator habitats in agricultural and urban landscapes."
"Although this report is not good news, it's well-timed for those of us trying to figure out what to do with our dead lawns," Zagory explains. "By selecting, planting and cultivating plants that support pollinators in our yards, public parks and other urban landscapes, we contribute to supporting life in our local ecosystems.
"Just think about all the farm fields around Davis and Yolo County," she continued. "We've got some of the finest agricultural soils in the world; we're a vital part of our state's economy and the world food supply. By choosing the right plants, our landscapes can support the little creatures that make it all possible, the pollinators.
"They need us and now we've got the space to help."
Interested in participating in this effort? Zagory suggests planting buckwheats, sages, oreganos, lavenders and catmints, in addition to the plants listed below. She's worked with these plants for decades and knows that they are great choices for keeping our pollinator populations well fed. It's the least we can do considering how long they've been feeding us.
These and thousands of other low-water, pollinator-friendly plants will all be available at the Friends of the Arboretum and Public Garden upcoming spring plant sales (quantities are limited) along with expert horticulturists and knowledgeable sales staff available to answer your questions:
California Dutchman's pipe (Aristolochia californica): A major food source for the larva of butterflies like the California pipevine swallowtail. Keep it off the beaten path; if you are lucky, it will be eaten. But don't worry, it will keep growing back.
Milkweeds (Asclepias spp.): Monarch butterfly migration is thought to be threatened in our area, but planting milkweed will help. These plants are a Monarch favorite. Monarchs drink their nectar, lay their eggs, eat their leaves, pupate and emerge from their chrysalises all on this one plant.
Island pink yarrow (Achillea millefolium 'Island Pink'): An excellent garden plant that will reward insects while providing you with a source of cut flowers for your arrangements.
Cascade Creek California goldenrod (Solidago californica 'Cascade Creek'): Reliable gold blossoms in low-water gardens in late summer with very little to no irrigation.
Wayne Roderick seaside daisy (Erigeron 'W.R.'): This early-spring bloomer dons attractive lavender flowers around a green eye that's a magnet to butterflies and bees.
California lilacs (Ceanothus cultivars): Known mostly for varieties with shades of blue to purple flowers, these low-water, largely evergreen shrubs flutter with butterflies and hum with bees who drink their nectar in spring.
Buckwheats (Eriogonum spp. and cultivars): Many plants related to mints like sages, lavenders, oreganos, catmint and more.
Coyote brush (Baccharis pilularis): Varieties like "Pigeon Point" draw lots of butterflies in late spring when others plants are between bloom cycles.
Category
Tags