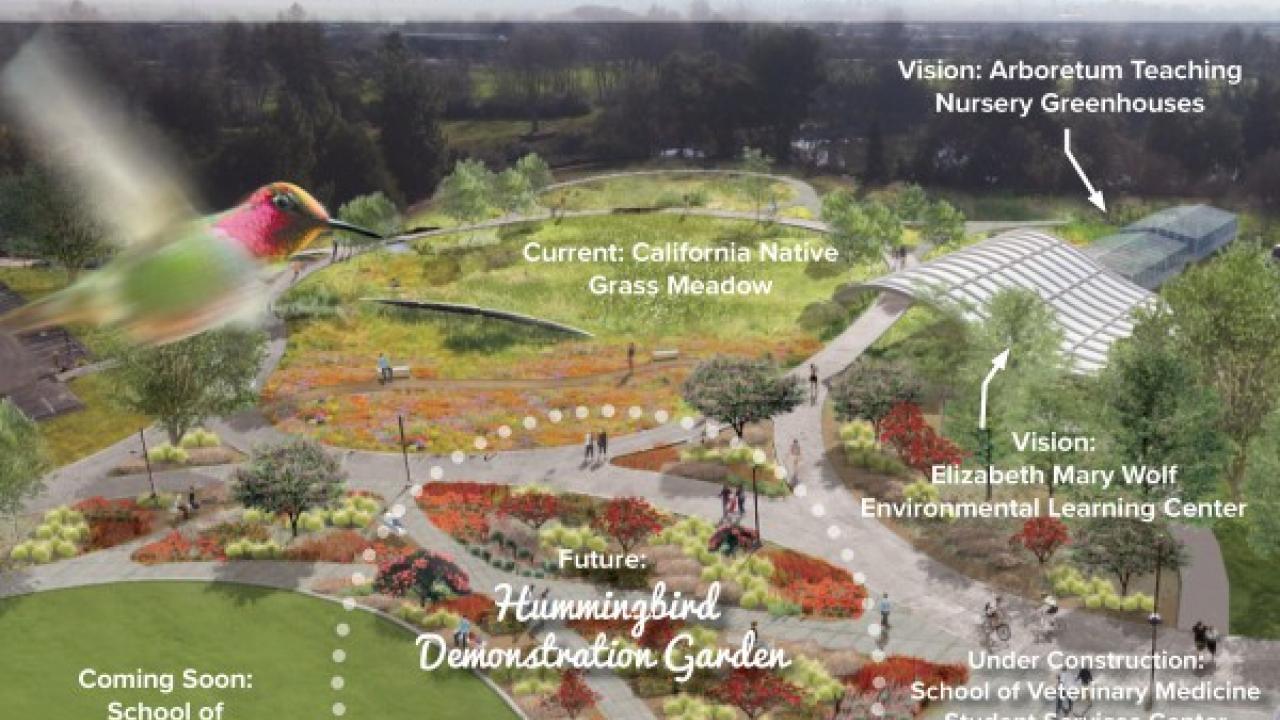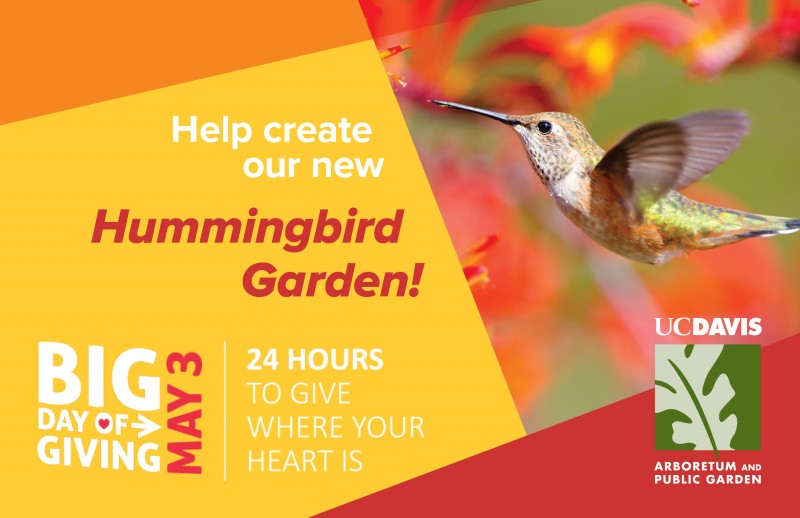 This May 3, 2016, the UC Davis Arboretum and Public Garden is participating in our region's annual Big Day of Giving, a 24-hour online giving challenge for the entire community. Over 570 non-profits in the region are participating to raise funds for projects that impact every facet of our community. We are asking you to support our goal of raising money to support the hummingbird garden project. Your gift on May 3 will help make it possible to build this new garden.
Where is it?
The future site of our Hummingbird Demonstration Garden is located at the Arboretum's west end, across from UC Davis's number-one-in-the-world ranked School of Veterinary Medicine (see image above). With the current and future development, this area is planned as a visitor destination and new Arboretum entryway that includes dining options, restrooms, our teaching nursery, garden exhibits that promote sustainable gardening practices, as well as a beautiful and engaging setting for the innovative public programs planned to take place here.
Why is this garden important?
The natural lifecycle of hummingbirds has been disrupted by large-scale global development and, as a result, 47 species are endangered or susceptible to species-wide population decline. With this garden, designed in partnership with the UC Davis School of Veterinary Medicine's Hummingbird Health and Conservation Program, we will feature habitats to attract hummingbirds that anyone can incorporate into their outdoor spaces whether it's a plant for a single container or dozens to fill a large landscape.
Your gift will be matched!
A huge thank you to these inspiring matching challenge donors: The Family of Johanna Anderson Trueblood; James and Jacqueline Ames; and Pam Marrone and Mick Rogers. These local families have pledged a total of $20,000 in matching challenge gifts for May 3. If we can raise $20,000 for the Hummingbird Garden during Big Day of Giving, they will match those gifts 1:1 up to an additional $20,000! What a great opportunity to maximize your giving!
Incentive prizes
Donors will be eligible for a variety of special incentive prizes, including Arboretum tote bags, annual memberships, coupons good at Arboretum plant sales, and the grand prize for our top three donors — a VIP Garden and Hummingbird Tour. LEARN MORE
Category
Tags