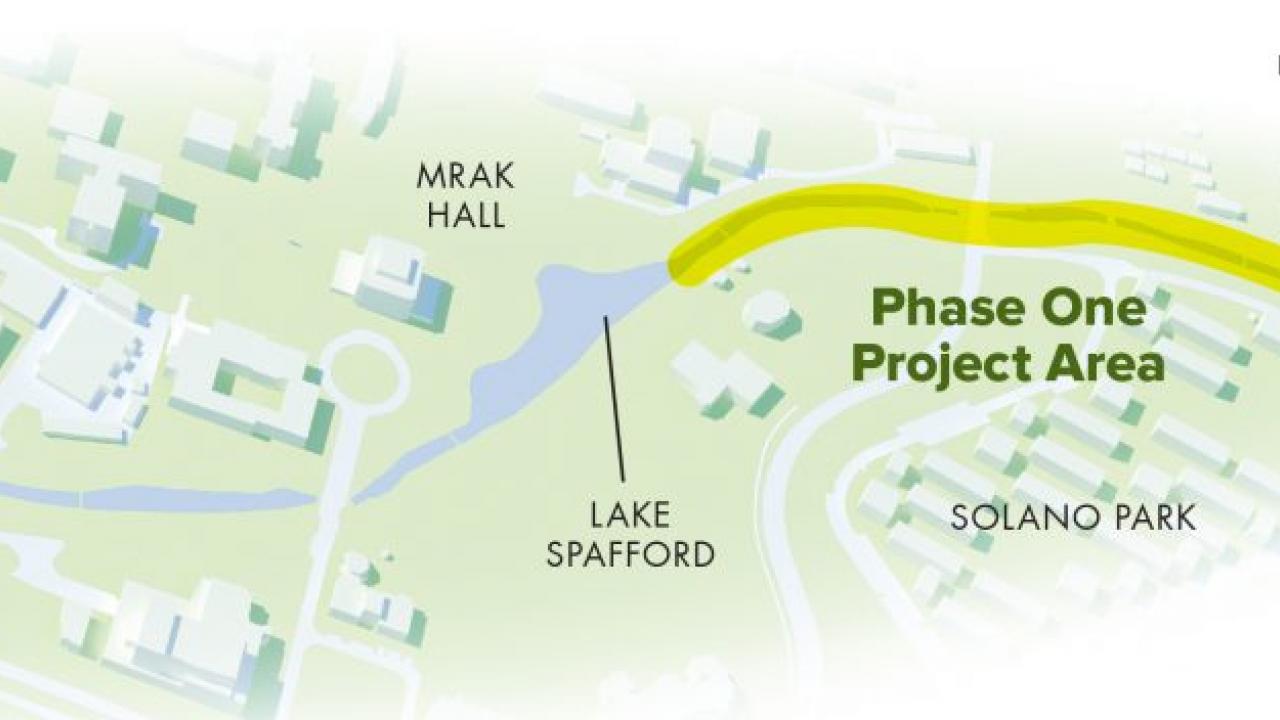 In preparation for phase one of the Arboretum Waterway Maintenance and Enhancement Project, the water level has dropped a couple of feet throughout the Arboretum waterway.
"We wanted to be ready for potential contractor questions like 'how long will it take the project area to drain' and 'how long will the soil take to dry,' says Andrew Fulks, assistant director of the UC Davis Arboretum and Public Garden.  "That information is going to affect the bids we receive and the timeline of the project.
"We also thought lower water levels would make it easier for contractors to assess just what exactly they'll be working with. It's been almost 20 years since the last time the waterway was maintained by dredging. Nobody is sure what the soil is like under there."
Not wanting to the upset the wildlife that has now made the Arboretum Waterway home, the campus team working on this project is releasing water only from the dam on the west end of the waterway while keeping the influx of the campus's recycled water constant.
Construction preparations also include cleaning up vegetation along the banks of the waterway in the project zone.
"We want to make sure that we provide places for contractors to get in and out of the project zone without damaging heritage shrubs and trees," explains Emily Griswold, director of GATEways horticulture and teaching gardens for the UC Davis Arboretum and Public Garden.
"It's been great to be able to have an excuse to give some of our plants a much needed trimming and focus on clearing out overgrown shrubs and some weedy plants along the waterway banks."
Contractor bids for the Waterway Maintenance and Enhancement Project are due August 4. Contractor preparation and construction will likely begin soon thereafter. Please note that all of the paths around the waterway in the phase one project zone, except those in the Redwood Grove, will be closed. Visitors will be rerouted to nearby, upper pathways.
Meanwhile, since phase one of this project is going to affect only the eastern portion of the waterway and nothing west of the campus's redwood grove, the project team is also going to be working on ways to decrease the duckweed in the rest of the waterway. Stay tuned for more on the outcome of that interesting pilot plan.
To learn more about these projects, see graphics, previous news articles and more, visit our Arboretum Waterway Maintenance and Enhancement Project information page.
Category
Tags