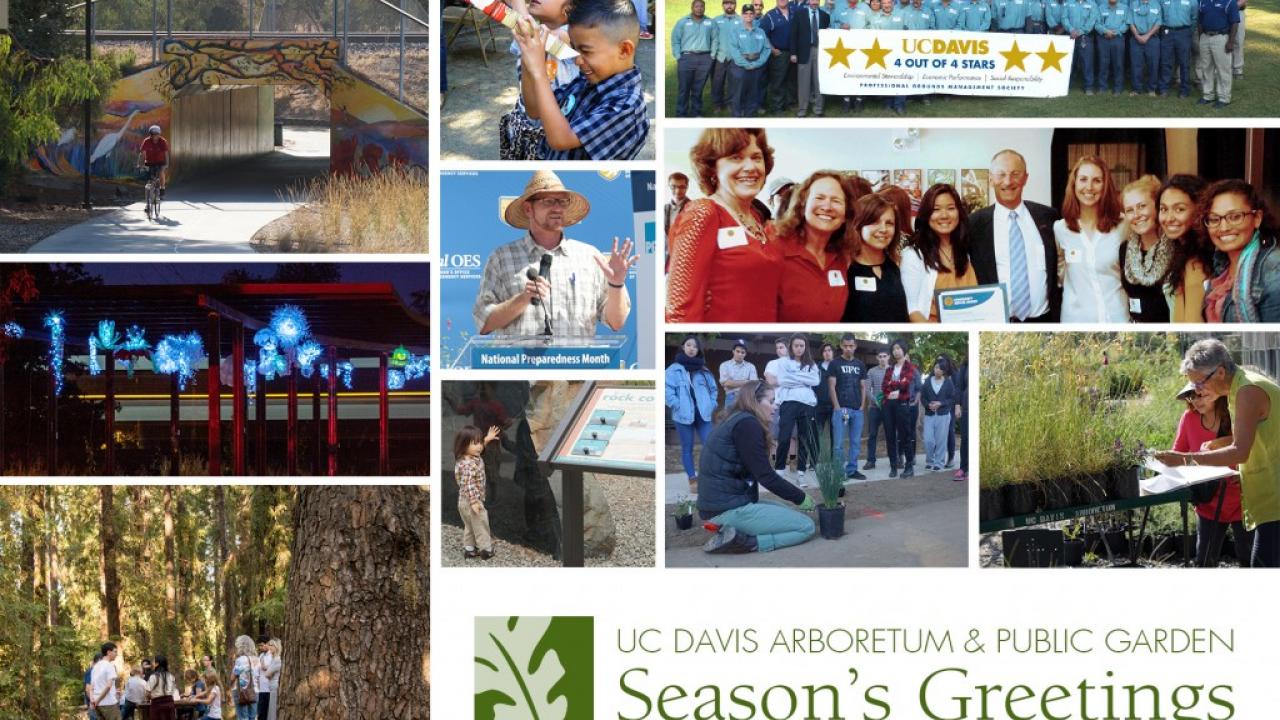 Thanks to the support and interest of people like you, 2014 proved to be another exciting year for the UC Davis Arboretum and Public Garden. We hope you stay involved because we're planning more of the same for 2015! Happy new year everyone!
TOP TO BOTTOM AND LEFT TO RIGHT:
Top left: Through collaborations on campus and in our region, we continued to improve landscapes and landmarks like the community-designed and community-created bike tunnel mural in our Arboretum GATEway Garden. READ MORE
Middle left: Academic collaborations enlivened our gardens with art like the student-crafted, solar-lit sculptures created from recycled materials. READ MORE
Bottom left and top middle: Several student-led programs involving diverse partnerships allowed families the opportunity to discover nature and science together.
Middle center: Our water-wise landscaping experts assisted with California's drought state of emergency. READ MORE
Bottom middle: Enhanced educational exhibits in our Geology GATEway Garden enticed visitors of all ages. READ MORE
Top right: Our landscape operations team received a four out of four star accreditation for their outstanding business, social, and sustainability practices from the Professional Grounds Management Society. READ MORE
Middle right: Our Arboretum Ambassadors, student interns specializing in environmental leadership, earned a campus community service award as well as President Obama's Volunteer Service Award. READ MORE
Bottom right, left: Student learning opportunities coincided with landscape improvements along Arboretum Drive.
Bottom right: Volunteers supported our successful plant sale fundraising events and assisted with the personal shopper benefit we offer high-level members of the Friends of the UC Davis Arboretum and Public Garden.
Category