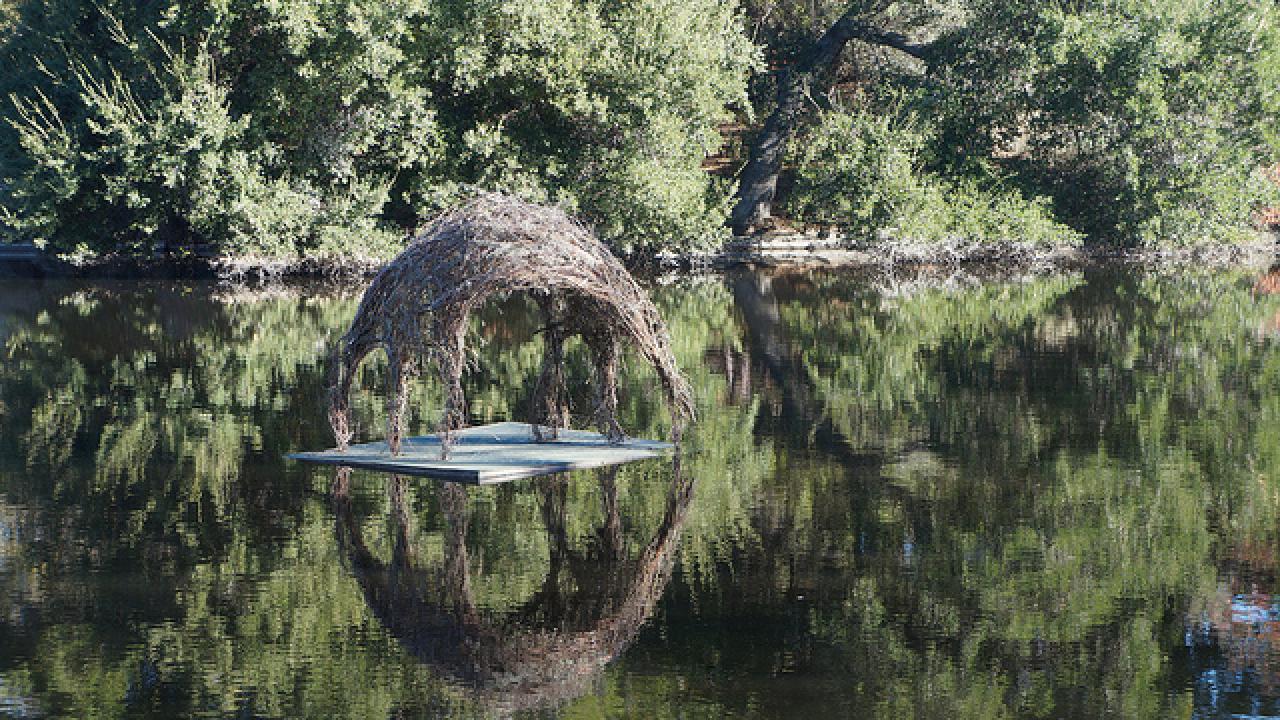 Professor Robin Hill's students created and installed four public art pieces last week in the arboretum and on the main campus; the installations are scheduled to stay in place until around December 21.
The students worked in teams; here are summaries from each team's project description:
UPDATE: Team EyEy Sol's sculpture will remain in Lake Spafford until further notice! 
Team EyEy Sol — A sculpture set in the middle of Lake Spafford "rises from the depths, with twisting intertwined branches and grasses, into a nestlike structure, that is both alien and recognizable. The bottom is open to the lake, allowing viewers to realize this is not a nest for birds, nor even for humans … but what? That is up to interpretation."
The sculptural materials, all organic, reflect the interplay between the natural world and the material world — subject to individual interpretation, visually and psychologically.
PLEASE NOTE: The Team Exterminator piece was removed on Friday, December 13 at noon.
Team Exterminators — Amid the arboretum's redwood grove, the team will create an installation of everyday objects painted glossy white, filled with water to reflect the sky above, and arranged around a bathtub.
"The absurdity of having a bathtub in a redwood grove and the stark unnatural whiteness of the objects will highlight the man-made qualities of the installation. We hope this will make our audience think about how humans have reshaped the world to suit their needs and how far our species has come from our natural roots."
Team Yovin Dice — "Students rarely recall the mundane commute from class to class. What we offer students in this site-specific artwork is a recall function, in one specific location for a very limited time."
The location is one of the grassy mounds amid the Chemistry Building and Chem Annex, the Physical Sciences and Engineering Library, Roessler Hall and Bainer Hall. A temporary movie screen will give a clue to this artwork: The team will film what transpires at this spot during the day, then show the film at night. Four presentations are planned, each from 6 to 8 p.m.: Wednesday-Thursday (Dec. 4-5), Saturday (Dec. 7) and Thursday (Dec. 12).
"We hope for the audience to experience a surrealistic introspective moment of perception."
Team ArtVangLu — Its "Bowl of Stories" truck is an interventionist art work, a mobile structure where people of all backgrounds can enjoy a moment of comfort and share their stories. "The truck focuses on illustrating the stories of underprivileged and underrepresented people of Davis. The truck will serve as a voice for the people who regularly don't have one."
Stories will be gathered and displayed alongside portraits of the people who shared them. "This piece is intended as a celebration of unity of all people. Refreshments and food will be provided as a gesture of giving back."
(Excerpted from UC Davis Dateline article 
CLASS ART: Sustainable birdhouses and site-specific installations)
Category
Tags