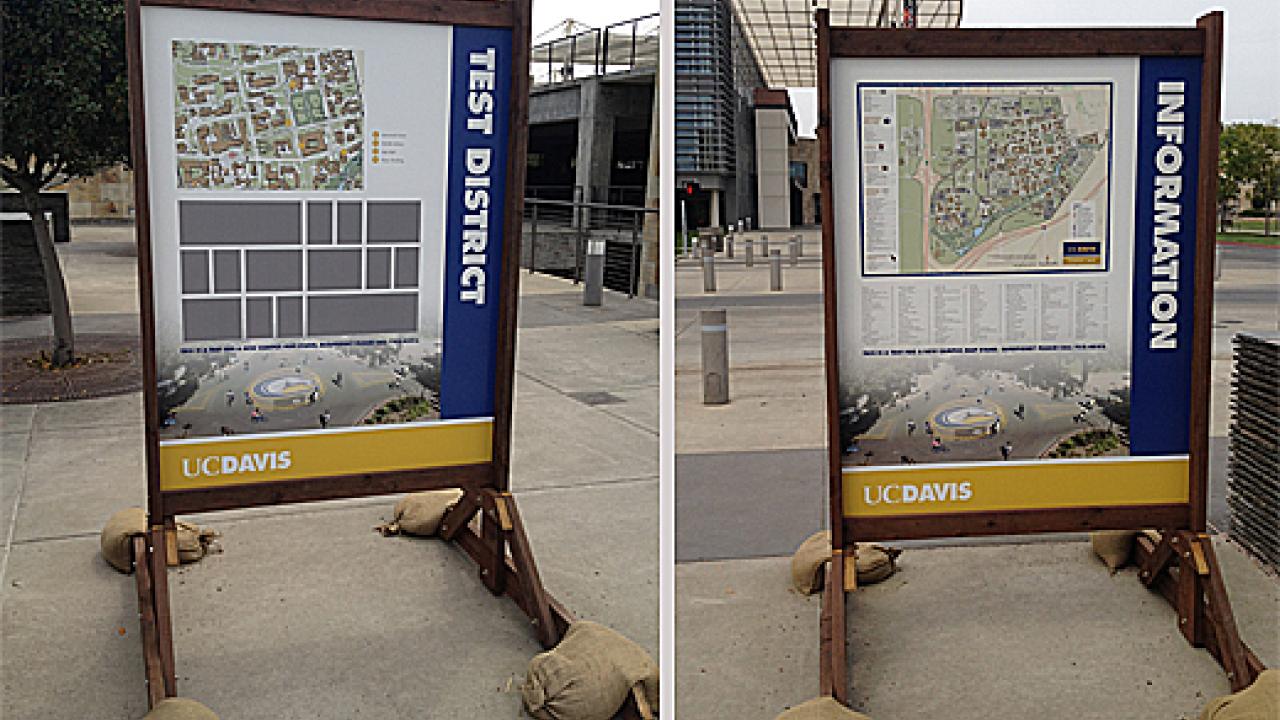 The typical "newbie-to-UC Davis" experience is on the way to a major revamp. Large maps like the mock-up you see above will be placed at key locations throughout campus giving a much-needed hand to the millions of visitors our campus receives every year.
We've all been there before. You've reached your destination at UC Davis with the address of "One Shields Avenue," but you need to get to Freeborn Hall, Aggie Stadium or the emergency clinic at the Veterinary Medicine Teaching Hospital. Now what?
It used to be that you might stumble upon a knowledgeable native who could help, but only after a moment of befuddlement and frustration at your impossible mission. Or, you might notice one of the campus's low-profile visitor maps that were not only difficult to find but next to impossible to maintain.
Credit goes to UC Davis Conference and Event Services staff whose ingenuity enabled our campus to keep its' ubiquitous print map by selling space on it to advertisers. After a couple years of success offsetting those costs, they are tackling the cost and upkeep of our new outdoor map stands by engaging in multiple partnerships with local businesses. (Note that the currently blank gray square boxes seen on one side are actually placeholders for potential advertisers.)
Thanks also goes to UC Davis Reprographics for a design that is consistent with other wayfinding improvements throughout campus (Read more here.); UC Davis Civil and Industrial Services which constructed this full-size mock-up, is helping test the size and placement of the permanent installation, and working with the manufacturer to design and build the framework for permanent installation; as well as a crew from Grounds and Landscape Services that worked to remove the old stands to make way for the new.
Category
Tags