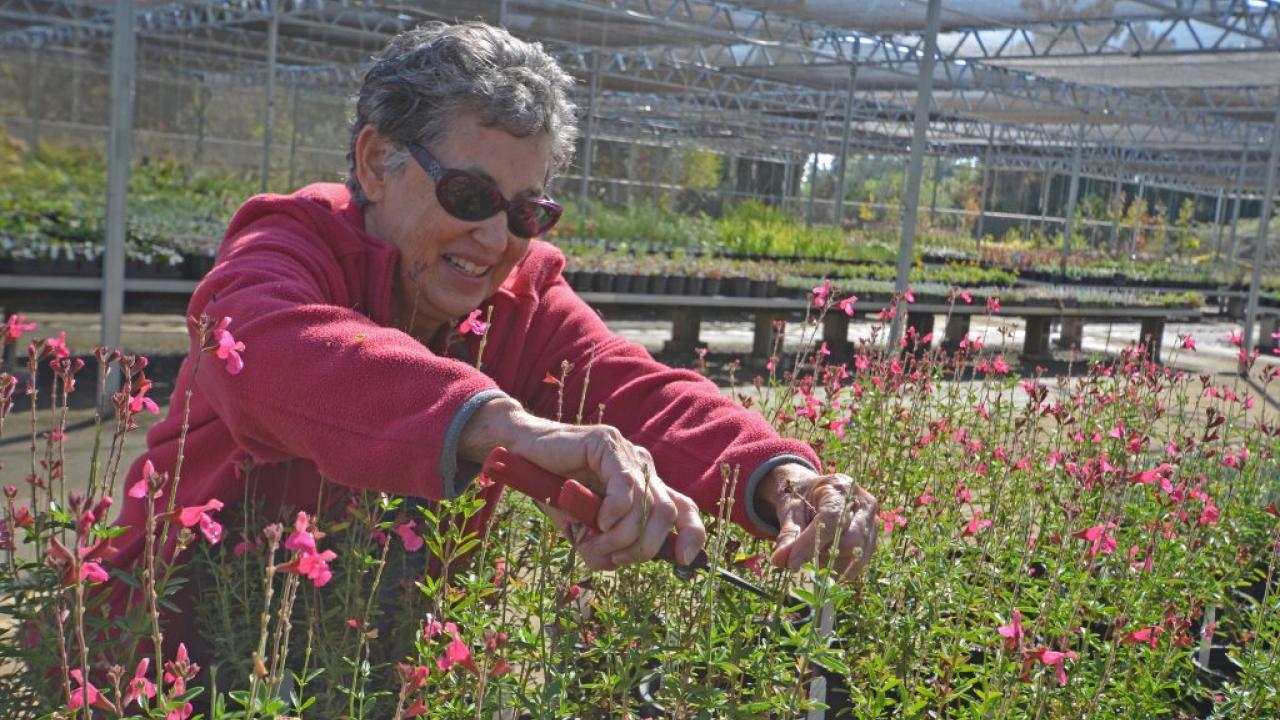 As seen in the Davis Enterprise
Several times a year, the Friends of the UC Davis Arboretum and Public Garden invite members and the public to shop from one of the area's largest selections of attractive, low-water, easy-care plants at their teaching nursery.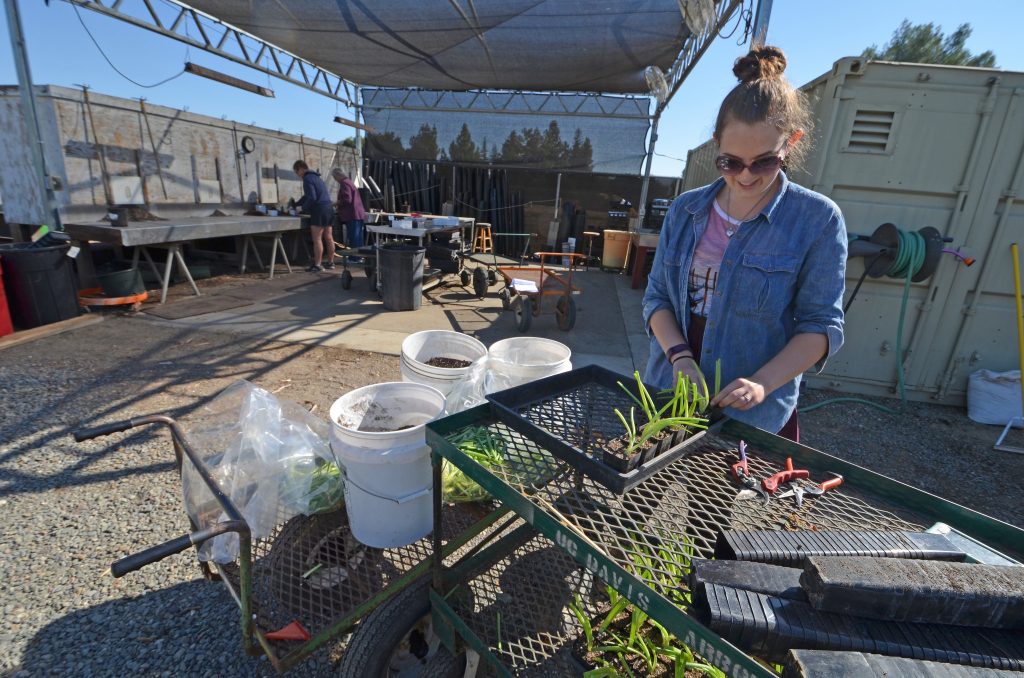 Over the course of four hours, dozens of short-term volunteers work to fulfill the needs of numerous new, experienced or even hesitant gardeners interested in finding the plants that look great and support our environment.
These sales are large-scale community events on par with the ever-popular Davis Farmers Market and may feature live music, children's activities, representatives from other local nurseries, UC Master Gardeners and more. But the real stars — the reason everyone is there — are the plants.
"Many in our community look forward to attending these sales because they can count on finding a large selection of Arboretum All-Stars, California natives and other regionally appropriate plants, but what they may not be aware of is how we are able to offer such a fabulous, large and healthy inventory," says Kathleen Socolofsky, assistant vice chancellor and director of the UC Davis Arboretum and Public Garden.
"All of the plants we offer have been grown, nurtured and maintained by community volunteers and students."
Taylor Lewis is the Arboretum's nursery manager and the sole full-time staff member in the operation.
"Just about every day during the week, Lisa Fowler, the nursery's propagation specialist, and I coordinate the help we need to grow these plants," Lewis says. "Even though we are only open a few days a year, it's a year-round operation.
"For students working here it is an opportunity to get real-world experience working with a large variety of plants, to take on leadership responsibilities, meet other students with like interests and practice the horticulture they learn in the classroom. For community volunteers, it's pretty much the same, just without the classroom part!"
At the last plant sale on Oct. 1, more than 20,000 plants were available, representing 500-plus species, Lewis says.
"Without question, we would not have that variety in those numbers without the dedicated help of our volunteers and students," he adds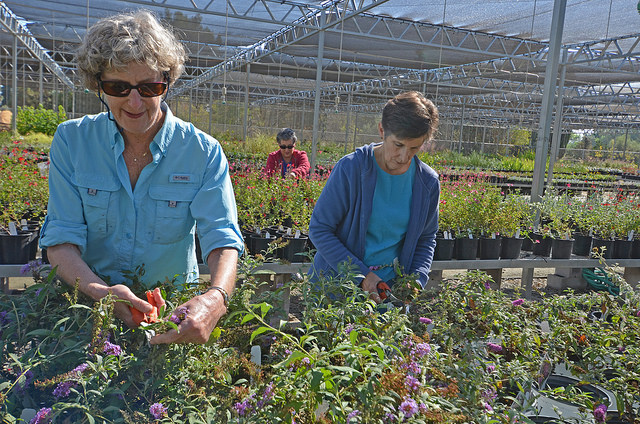 Terry Davison and Christine Joshel, have both volunteered at the Arboretum for over 10 years. Not only do they help grow and maintain the plants, they offer their experience with these particular species to customers at the Arboretum's plant sales.
The wide-ranging inventory is not the only thing that draws in the customers; the sales help is another reason why many consider these events not to be missed. The volunteers and students who have grown the plants are the same orange-aproned sales staff offering assistance.
"Our customers ask a lot of questions, but I'm ready," says Christine Joshel, a nursery volunteer and plant sale staffer for 10 years and counting. "I'll walk them over to the demonstration planting beds to give them ideas and show them what the plants will look like at maturity."
Adds Terry Davison, a nursery volunteer and sale staffer for more than a decade, "If you don't know much about plants, these sales can be overwhelming, but we are here to help. We can answer questions and offer suggestions for specific situations; I wouldn't be as confident in my sales help if I weren't so familiar with the plants and their ability to perform in Central Valley conditions."
The close relationship the Arboretum Teaching Nursery plants have with the regional environment is what makes them a particularly good choice for locals.
"When you buy plants from a big-box store, for example, it's difficult to know exactly what kind of environment that plant is coming from," Lewis says.
"It could be coming directly from a greenhouse or a climate unlike our own … you don't know. But if it ends up not performing as you expected, it may be because it wasn't used to our water or climate."
When purchasing new plants, it's ideal if they are grown in conditions similar to where they will live the rest of their lives. The Arboretum plant sales are rather unusual in that respect. Much of what is sold comes from "mother stock" that lives in the nursery, either in demonstration gardens or in containers growing in reserved areas. The plants propagated from this stock then grow up in the same conditions, readily preparing them life in the Central Valley.
At the nursery, students and volunteers can be found taking cuttings from plants, potting them, then weeks later re-potting them as they develop larger, stronger root systems. Other days they may be dividing grasses or sowing seeds. It all depends on the type of plant they are working with. Their goal is to get the plants ready to sell.
"Once the plants are on the sales floor they've made it past many development stages, including growing roots healthy enough to withstand transplanting — that's not always easy," Lewis explains. "Climate conditions here aren't ideal and neither is our water quality, but that ends up being good for our customers. If it's happy here, it's bound to be happier at your home!"
More than 45 years ago, community volunteers began selling dozens of iris bulbs harvested out of the Arboretum's demonstration garden to support the Arboretum. Today that tradition continues on with ever greater impact.
"Numerous community volunteers and students, work year-round to produce tens of thousands of plants, for our plant sale fundraisers," Socolofsky continues. "These plants then make their way out into our region to become part of the thousands of sustainable landscapes that together work to heal our environment. They don't require the high-water and input needs of traditional lawn while also providing habitat for beneficial insects and pollinators."
Socolofsky adds, "I am incredibly proud of these dedicated individuals, and honored that our community continues to support this organization and the work of our students and local volunteers by shopping these sales."
Category
Tags