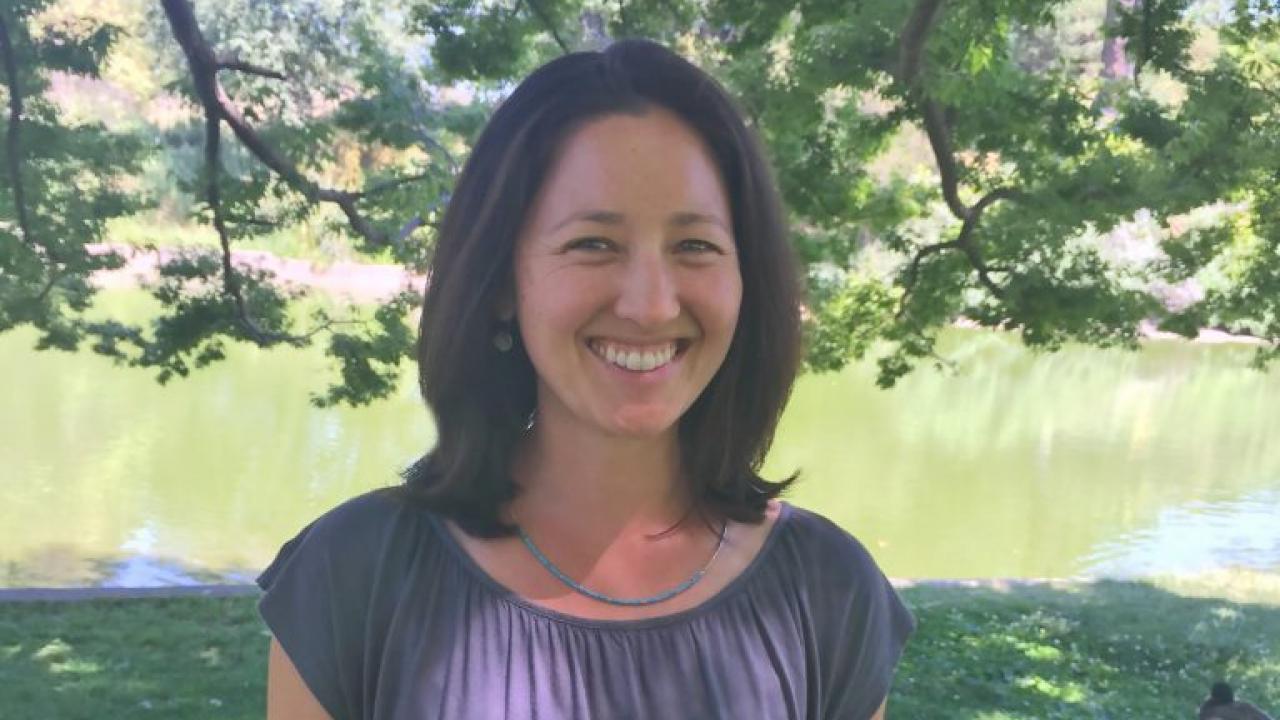 The Arboretum Waterway is not only the centerpiece of the Arboretum; it is an essential piece of our campus's water infrastructure. Despite its high-profile importance, the UC Davis Arboretum and Public Garden has never had a staff member actively managing it, until now! Please welcome to our staff Waterway Steward Nina Suzuki!
Nina comes to us from the Center for Land-based Learning where she was director of the SLEWS program (Student and Landowner Education and Watershed Stewardship). There she introduced high school students to the vital role of habitat restoration. Together they worked with a variety of different organizations to implement restoration projects on farms and ranches, giving these students the opportunity to see first-hand how the ecology concepts they learned in the classroom translated to repairing ecosystems in the real world – perfect experience for some of what Nina will be doing here.
Nina started in April and jumped right in; she helped our team with the Waterway WOW! campaign and launched her new Learning by Leading Waterway Stewardship program for students that will start this summer thanks to Waterway WOW! campaign donors. She's also working with the contractor on the Arboretum Waterway Maintenance and Enhancement Project, keeping an eye on the wildlife in the phase-one construction area, figuring out ways to keep duckweed under control now that it is getting warmer, and reading up on the history of the Waterway.
"Over the years the Arboretum has been fortunate to have had a cross-disciplinary team of people including faculty, staff and community members with a vision for how the Waterway could function; now we are able to actually put many of their ideas into practice," says Suzuki.
"The Arboretum Waterway is important not just to our community; it provides habitat to 169 different species of birds and invertebrates, some of which are threatened."
"One of my goals with this position is to share the importance of riparian areas," explains Suzuki. "These are the ecosystems around creeks and rivers, and in this case, our Arboretum Waterway, which is a pond. They are one of the most biologically diverse areas and, in California, about 95% of them are gone.
"The area around the Waterway is no longer natural, but we hope to mimic, in many ways, what people will find around nearby Putah Creek – the inspiration for the Arboretum Waterway Maintenance and Enhancement Project."
Suzuki also hopes to help educate our community on some potentially contentious topics – both having to do with ducks…
Please, please, please do not feed the ducks.
"Please, please, please do not feed the ducks. There's already enough food around the Waterway to keep the ducks healthy, and we are going to be making their habitat even better. If we feed them, it gets the system off balance and creates problems, for not only the ducks, but other species as well.
"I also hope to teach people about how plants clean water. Don't gasp, but we may want contained areas of duckweed; it's good for taking up nutrients from the campus recycled water deposited here. Of course, we won't let it take over! Plus, the ducks love to eat it."
Suzuki is looking forward to meeting more of our community this fall, when work to revegetate the banks of the Waterway begins, and helping visitors connect with the environment in an easy, fun and educational way.
Meanwhile, when Suzuki isn't working on grants, she can be seen removing traffic cones, street signs, a chair, dog toys, kids cups, a fishbowl and other pollutants from the Waterway.
"It's not too bad, because when I'm out and about I also enjoy seeing the recently born baby catfish, wood duck ducklings, snowy egrets, green heron, and more."
Category
Tags