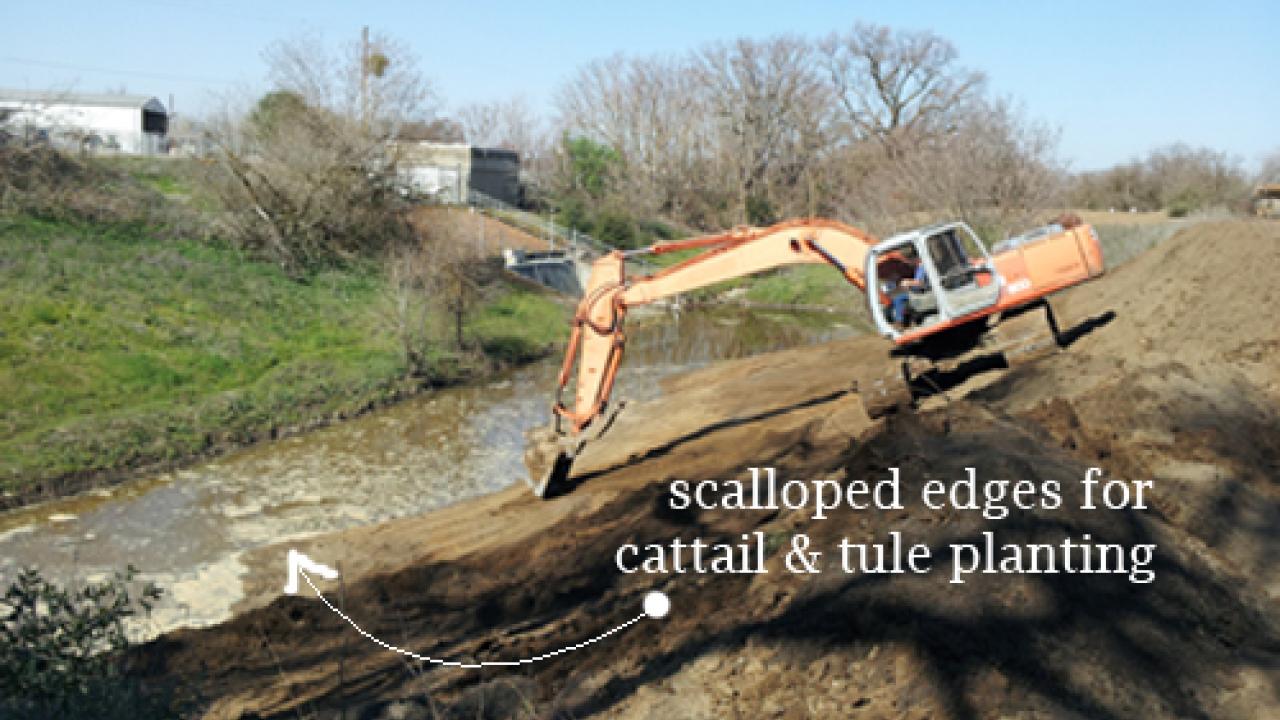 At the very west end of the Arboretum, construction crews are working to complete a project on a channel of Putah Creek that will not only improve our campus utility operations, but restore a native turtle habitat. We may be the only campus in history to have the fortune of meeting both goals with one project!
From an operations perspective, the problem with this channel has been the overgrowth of cattails and marsh plants clogging an intake pump which drains the Arboretum waterway. In order to prevent this obstruction our campus utilities department seasonally removes the plants to keep the waterway clear—an easy solution to a routine maintenance issue. The problem is that in doing so they unknowingly disrupted Wildlife and Conservation Biology researchers studying the Western Pond Turtle—a native species that uses the cattails as cover and calls the marshy channel home.
Now, as a result of collaboration between our Public Garden team, our campus utilities department and researchers from Wildlife and Conservation Biology we are working out a solution to meet both their goals:  1) Construction crews are deepening the channel directly in front of the intake pump. Deeper water will prevent cattails from growing and allow the channel water unimpeded access to the pump; and, 2) The edges of the channel will be scalloped and/or terraced to provide an area that is shallow enough for the cattails to grow, and for turtles to live.
With this collaboration we are gaining a landscape that serves our campus research, aids in the repopulation of a native turtle species, is sustainable and cost-effective. Our campus utilities department is paying for the implementation of this project with the funds that would normally be put towards routine maintenance services. In addition, Wild Campus, a student group comprised of naturalists, has volunteered to help landscape the area with native marsh plants.
This is an example of inter-disciplinary collaboration that we hope will serve as a model for other landscape maintenance opportunities throughout campus.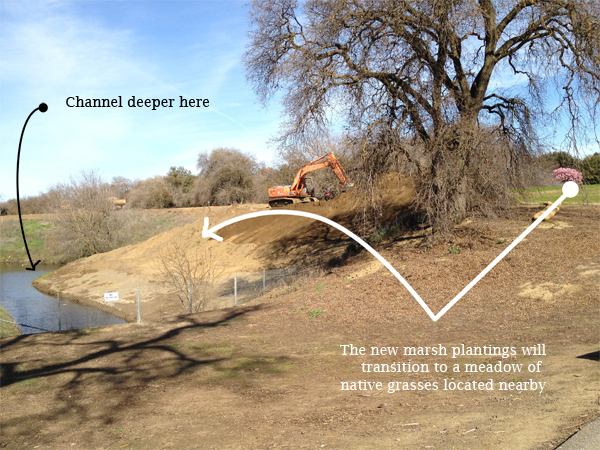 Category
Tags