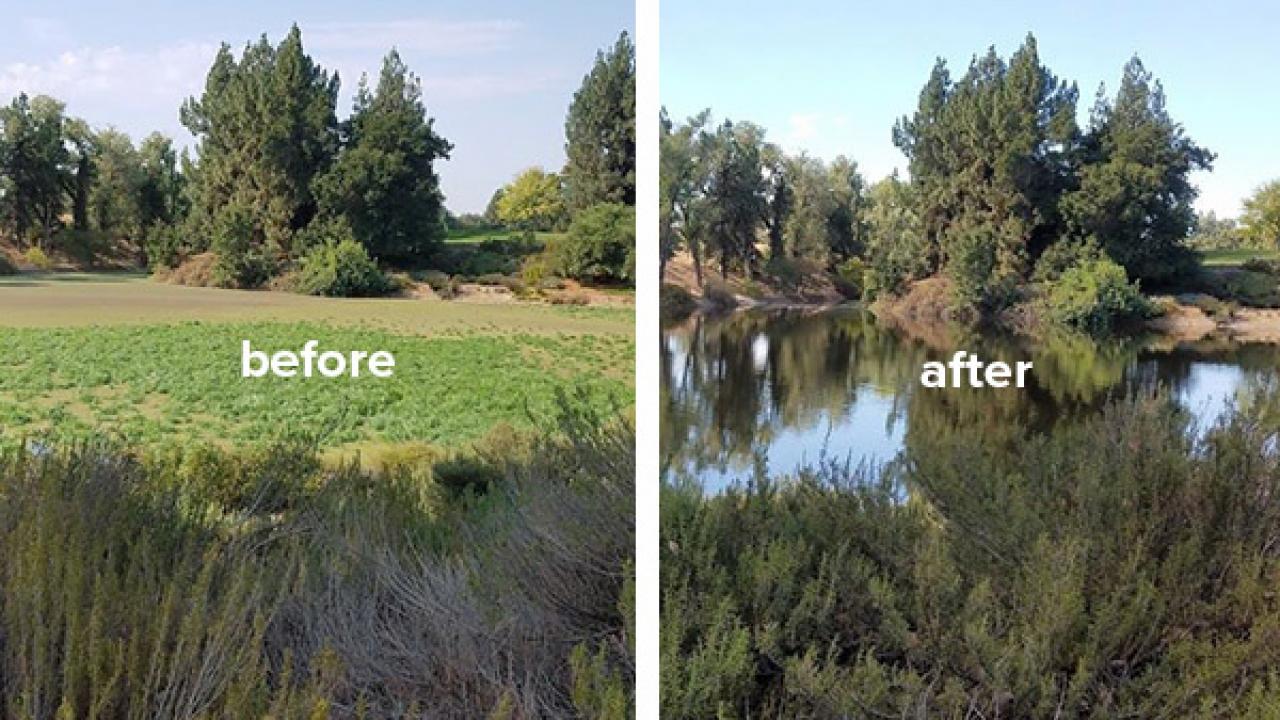 In March, we shared with you the great news that the UC Davis campus has developed a master plan and a funding strategy for making a series of significant improvements to the Arboretum Waterway. We anticipated that construction on the first phase of work would start this past summer and continue through the end of the year, but that timeline has been shifted to begin slightly later. Read further to find out the reason for this timeline alteration and learn more about other exciting developments related to the Arboretum Waterway.
---
First, we have selected a contractor, Valentine Corporation, a general engineering contractor that specializes in a wide range of complex, water-based construction projects. We are pleased that their experience working on similar, as well as much larger scale projects than our Arboretum Waterway, will ensure the success of our Arboretum Waterway Maintenance and Enhancement Project.
Although we would all like to see our waterway improved as soon as possible, Valentine has asked to postpone the project's start date to spring 2017 and we have agreed to accommodate. We both believe this minor delay will maximize the number of potentially dry days in their timeline by shifting the construction period to include all of the summer months.  We have confidence in Valentine's expertise and know this small adjustment is minor compared to the overall goals of this multi-year project.
Second, because we are all looking forward to an aesthetically improved waterway, we are excited to announce that we are augmenting our contract with Fuentes Pond Maintenance, a company that specializes in aquatic weed removal. You may have recently noticed that large expanses of the waterway were cleaned of duckweed, azolla, and algae including Spafford Lake and areas west of Putah Creek Lodge. The Fuentes team did a great job in these locations and will now be coming back to work on the narrow waterway canals from the east end near Aggie Village, to the redwood grove, and then from Mrak Drive to the land bridge at Putah Creek Drive. This project will start on October 10 and last about 8 days.
Third, we have recently received approval for a new Waterway Steward position – this person would be responsible for waterway care and maintenance, collaborating with community volunteers, developing educational programs related to urban water systems, stormwater management, water quality monitoring, and partnerships with academic personnel to integrate student leadership and learning opportunities.
As you can see, more attention is being paid to the waterway than ever before. With the big vision for the waterway in place, we too are anxious to get this project started and thank you for your patience with this delay.
To stay informed about this, as well as future phases of the Arboretum's Waterway improvement project, please be sure you are signed up to receive The Leaflet, our e-newsletter. Also, visit our web page dedicated to news and information about the Arboretum Waterway Maintenance and Enhancement Project.
If you have any specific questions about the project, please comment below or contact Andrew Fulks, assistant director at amfulks@ucdavis.edu.
Category
Tags