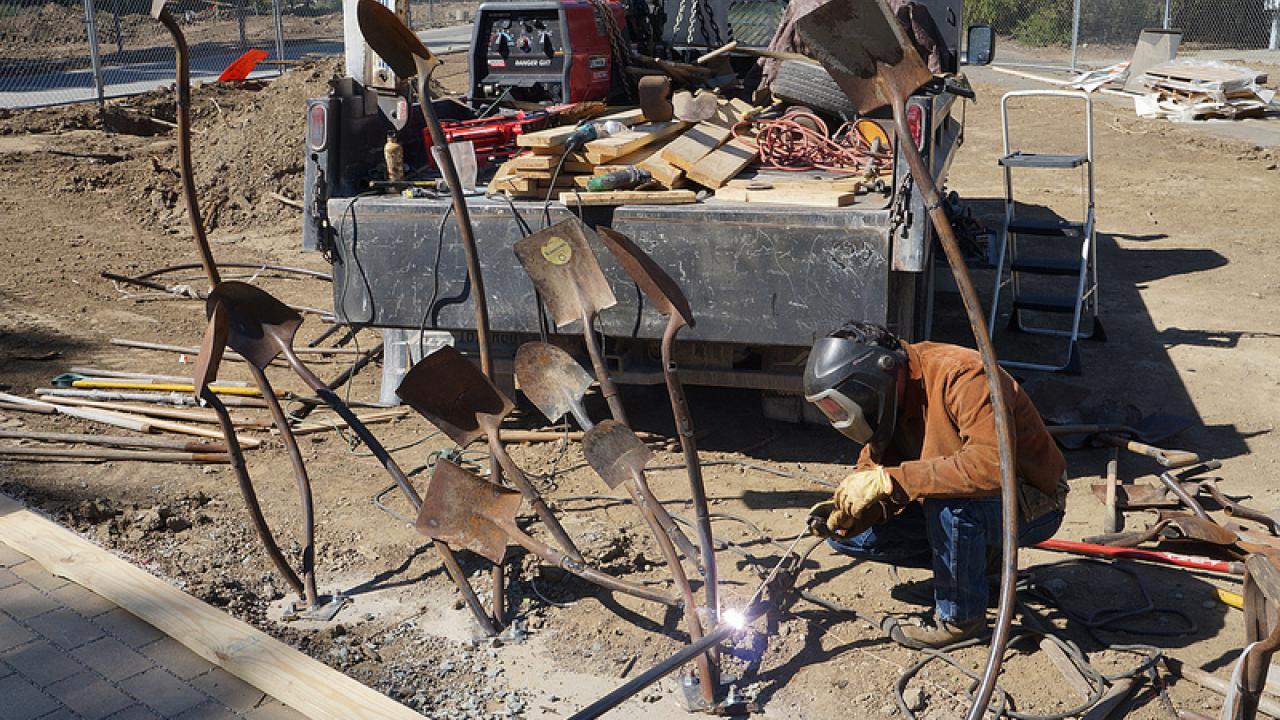 Throughout the month of October, artist Chris Fennell will be creating a sculpture from community-donated shovels—but why shovels?
The idea for creating a vine-inspired gateway germinated in Fennell's mind years ago; the delay in seeing his vision realized was the result of not having found the perfect location. It wasn't until he read about the Davis Civic Arts Commission's request for proposal for the development of a gateway landmark between the City of Davis and the UC Davis Arboretum that he knew his search was over—he just had to convince the selection committee. His sell, as it turns out, was easy.
"At a distance this gateway will look like vine inspired ironwork, but up close the viewer will notice that the vine leaves are actually used shovel heads," explains Fennell. "The diversity of shapes, sizes, and rusty patterns on used shovel heads collected from the community will give the sculpture a richness and character that would be unattainable with new materials."
His idea of collaborating with the community to collect used shovels struck a chord with the selection committee for a couple of reasons:
First, shovels have a special resonance for the UC Davis Arboretum because of all the shovels used by faculty, staff, students, and community members to launch the Arboretum, and plant and care for its collections throughout its 75-plus years of existence.
Second, community collaboration is at the core of the Arboretum's past, present, and future. Our faculty founded and led the Arboretum for decades, students collaborated to construct and fund major site improvements, community volunteers galvanized to create the Arboretum's support group, the Friends of the UC Davis Arboretum, and this is just the beginning.
When complete this sculpture will serve as a landmark designating the link between the City of Davis and campus, a symbol of the strength of our city-campus-community partnership, an emblem of the power of co-creation, and a reminder of our roots.
Category
Tags