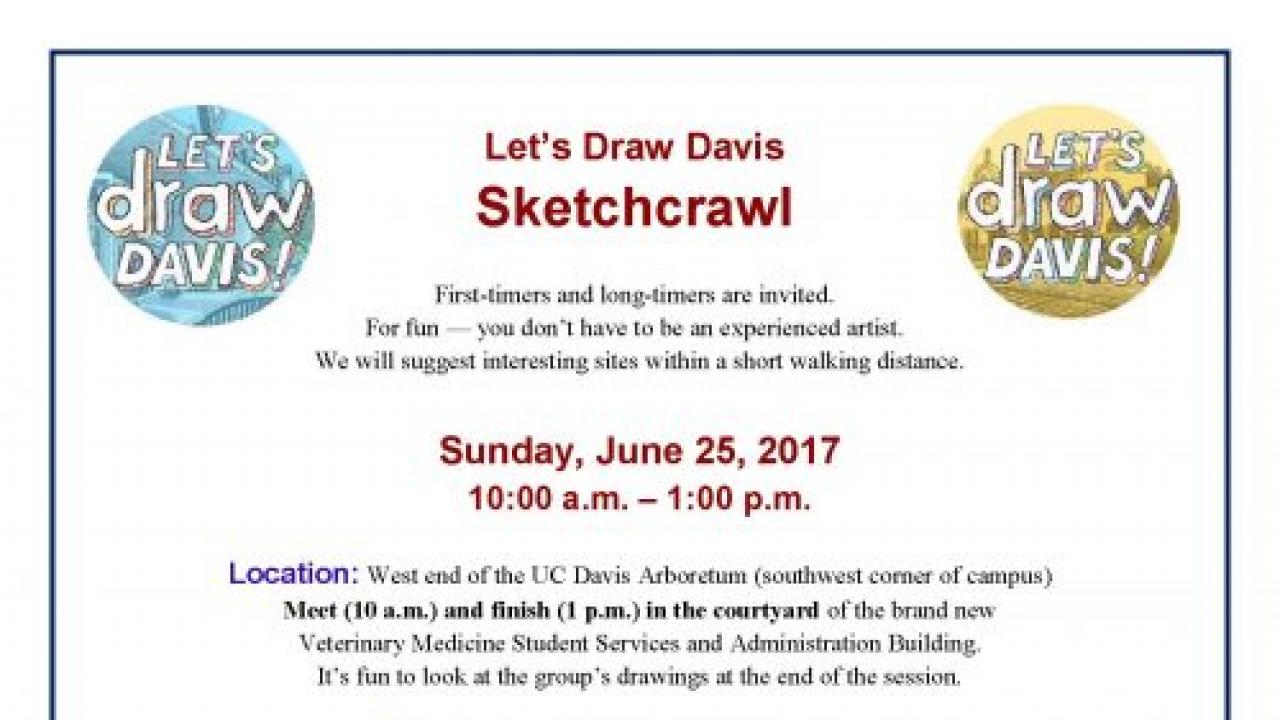 Location
Veterinary Medicine Student Services and Administration Building
First-time and long-time sketchers are invited to a sketchcrawl in the Arboretum this Sunday. It's just for fun, so you don't have to be an experienced artist. Explore, sketch and interpret our everyday surroundings with a fresh perspective.
Date: Sunday, June 25, 2017
Time: 10:00 a.m. – 1:00 p.m.
Location: Veterinary Medicine Student Services and Administration Building
Parking: Free on the weekends (Bike accessible too)
Meet (10 a.m.) and finish (1 p.m.) in the courtyard of the brand new Veterinary Medicine Student Services and Administration Building. It's fun to look at the group's drawings at the end of the session.
What's there to draw?
Nature's Gallery Court – a wall of handmade nature tiles
The shiny, new Vet Med building
Animal sculptures
Real horses
Shield's Oak Grove – trees and more trees
The beautiful landscape of the Arboretum Teaching Nursery
Ruth Risdon Storer Garden
Arboretum Waterway (with herons if you're lucky)
The red double-decker bus repair lot
… something for everyone
Amenities:
Restroom — Yes
Food service — No (it's only 3 hours; bring your own beverage and lunch/snack)
What to bring:
A sketchbook or paper, and drawing instruments (such as pencil, pen, colored pencils, watercolors, eraser – whatever you wish)
Sun-protective clothing
Questions?:
If you have questions, contact afilmer@ucdavis.edu.
Event Category