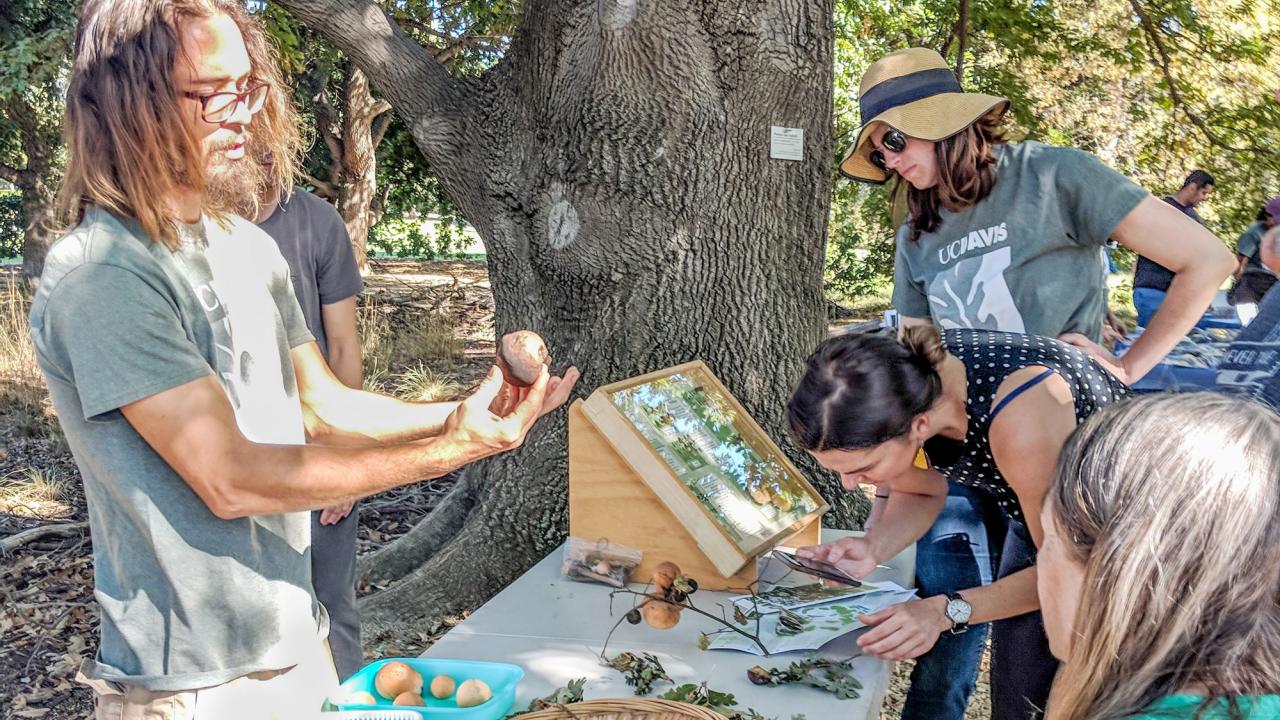 Location
Peter Shields Oak Grove
Note on event timing: Multiple campus museums participate in UC Davis' Biodiversity Museum Day! The entire event begins at 9 a.m. and ends at 4 p.m., but our exhibit (like many others), ends at 1 p.m. Review the complete schedule on the event's website.
Find us in the Peter J. Shields Oak Grove, where you'll discover one of our campus's most scientifically significant tree collections while participating in a slew of all-ages activities focused on the ecologically important oak. All of our activities will be led by our Learning by Leading™ program students and/or Arboretum and Public Garden staff.
Win prizes while learning about the many contributions oaks make to sustaining habitat biodiversity and what the UC Davis and the Arboretum and Public Garden is doing to protect these trees.
Participate in a life-size board game and win prizes while exploring the ecological impacts oaks have in our community and how the changing climate is impacting this important species.
What is an oak gall (aka oak apple)? Did you know the US Constitution was signed in oak gall ink? Join us and try out oak gall ink for yourself!
Take a self-guided tour through our iconic oak grove and learn about the unique characteristics of 12 of our favorite trees.
Engage in mindfulness activities or take a moment to relax and watercolor your favorite oak tree
Join oak expert Emily Griswold on an engaging tour of the oak grove. Uncover behind the scenes information about the grove and get your Quercus (Latin for oak) questions answered.
Take our oak survey for a chance to win a raffle prize — winners announced every hour!
Parking is free on the weekends and can be found throughout campus near each of the participating museums. For more information, visit the Biodiversity Museum Day website. For questions, please call (530) 752-4880.
Event Category