7-year old kicks off Give Day with $5 donation!
At the UC Davis Arboretum and Public Garden, every bit of help counts! Our donors give at every dollar amount and age range — like Declan! Declan is a 7-year old West Sacramento resident and Arboretum visitor who took his appreciation for the Arboretum to the next level. Along with a donation of $5.33, the Arboretum was thrilled to receive this handwritten letter, filled with wonderful drawings of our awesome (aka asume) Arboretum! Thank you so much to Declan for your initiative and generosity! We especially appreciate how you value keeping the Arboretum open during this difficult time and we hope, with everyone's help, that we can keep it that way! 
As Give Day approaches, any size contribution can help. This UC Davis Give Day will be taking place Friday, April 17 through Saturday April 18. To learn more about the funds we are helping raise donations for — the campus's Emergency Fund for our medical students, patients, clinicians, nurses and staff at UC Davis Health who are working on the front lines and in laboratories to save lives and our Arboretum and Public Garden Fund which is supporting our Learning by Leading™ students and connecting people with nature to uplift our campus and region.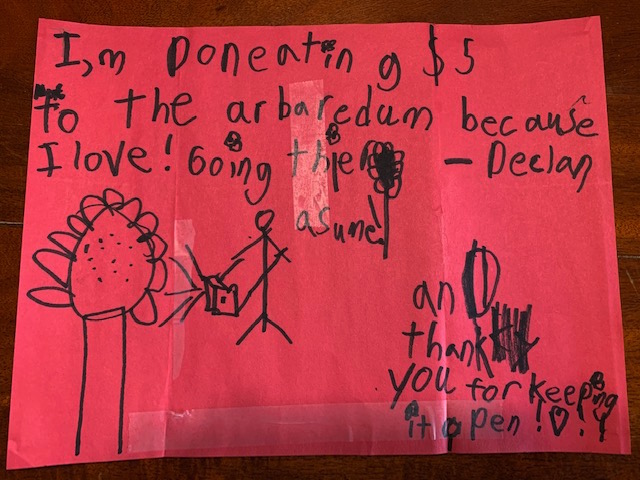 Primary Category
Tags