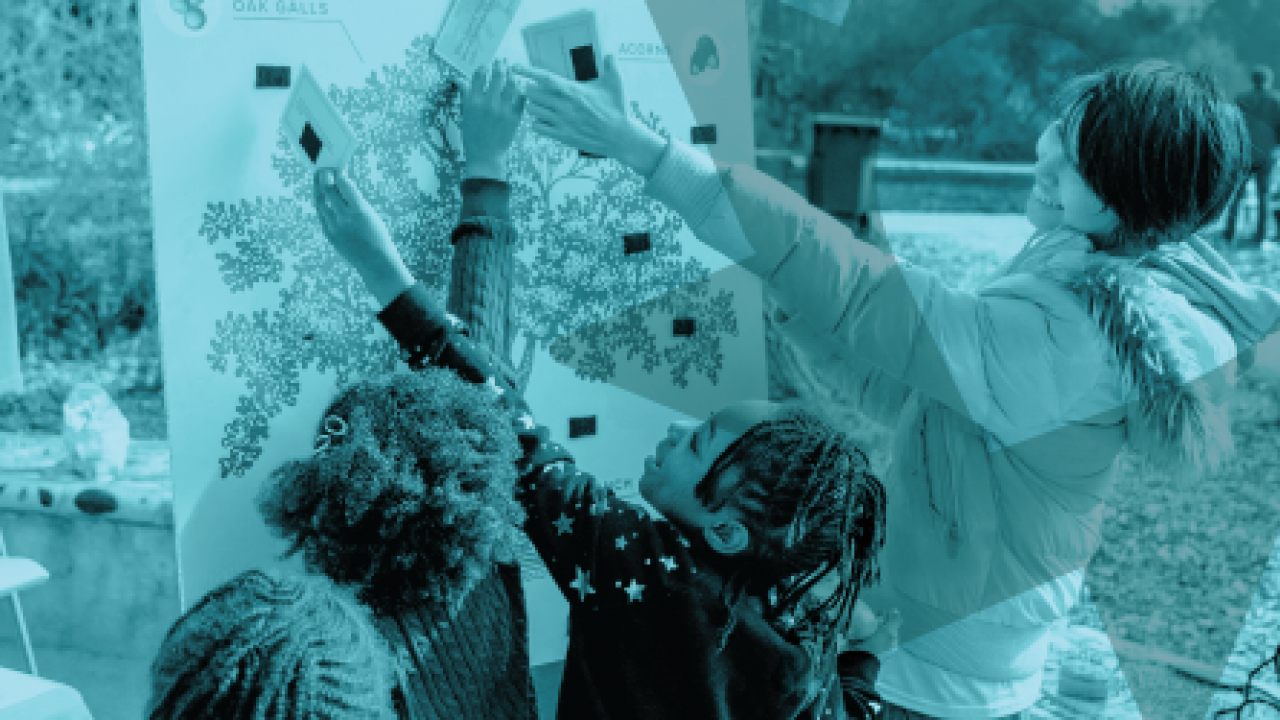 Thank you! We are grateful for the generosity of everyone who has supported the UC Davis Arboretum and Public Garden over the past two months. We know it has been a challenging time, but we've tried our best to be there for the community by keeping the gardens open for everyone. Thank you for being there for us by supporting the Arboretum and Public Garden with your gifts and encouraging words.

We are so appreciative that over $62,000 in gifts were pledged or given during our spring giving campaign season. The majority of these community donations to the Arboretum and Public Garden were made in association with two spring giving events: UC Davis Give Day on April 17-18 and the regional Big Day of Giving on May 7.

Gifts are supporting immediate needs including the work of our student environmental interns in the Learning by Leading program and our ongoing work to engage our community with programs, many of them virtual these days, and the beautiful gardens and plant collections for enjoyment, recreation and rejuvenation.
Thank you again to everyone - volunteers, Friends members, partners and visitors - for your kindness.
We gratefully acknowledge the donors who contributed during Big Day of Giving
Challenge Donors
Anonymous
Terry Davison
Nancy Hiestand and Dean Vogel

Donors
Anonymous (13) 
Jacqueline and James Ames
Cynthia Anders
Alex and Julia Aue
Judith Ballester
Wayne and Jacque Bartholomew
Denise Bell
Marian Bender
Carol Benedetti
Kristen and Alan Bennett
Alison Berry
Betty  Berteaux
James Blackmarr
Fred A. and Mary C.  Bliss
Judith Blum
Anne Brennan
John Brughn
Celia Buckley
Dawn Calciano
Janene Chaffee
Christine Cocanour
Darleen Coppersmith
Diane Crumley
Valerie Custodio 
Ann Daniel
Christopher Dewees
Dana Drennan
Merrily DuPree
Beth Edwards
Joy Elson
Lisa Farquhar
Jaime Ordonez and Carmia Feldman
Felicita Fields
Ann Filmer
Judy Fletcher
Evan Fletcher
Gary & Susan  Ford
Glen Fox
Elaine Franco
Lucas and Stacie Frerichs
Peggy & Clyde  Froehlich
Laura  Goble
Gail Goldsmith
Janet Goldsmith
Cliff and Carol Gravem
Olivia Gray
Mary Doval Graziose
Theresa Greenfield
Thomas  Griswold
W David Haggerty Jr
Lesley Hamamoto
Robin Hansen
Linda Haque
Kathy Harper
Rachel Hartsough
Sherry Heins
Mary Herbert
Hirst Law Group, P.C. 
Elizabeth A. Honeysett
Lee-ann Ikemoto 
Christa Jackson
Nancy Kapellas
Kelly Kell
Lori and John  Key
Jean Kridl and David Dohn
Leslie Kuss
Huey Lin
Garth Lindley
Ashley Lockwood
Melanie Loo
Michael Lopez
Nancy Salerno  Lower
Judith Mack
Karen and Dave Magliano
Frances Maguire
Cheryl Mahoney
Kyoko Malhado
Mark Mancl
Karen Martin
Malinda  Matson
Ann & Richard McCann
Terry McDowell
Vicki Smith & Stephen McMahon
Kristin McMillan
Marcia  Meister 
Kathleen Milne-Monteverde
Barbara Moore
Susan Moore
Jessica Morelli
Robin Netzer
Kristen Nichols
Susan Nishio
Martha Ozonoff
Lori Ann Pardau

Sandip Patel
Allison Pedrazzi
Martha Ozonoff
Lori Ann Pardau
Sandip Patel
Allison Pedrazzi
JoAnn Peter
Kari Peterson
Andy Pfeffer
Preiss Family
Lei Putney
Sharon Radke and Victor Amoah
Lia Ray
R. Reed
Fred and Martha Rehrman
Kevin  Rice
Dana & John Richards
Lee Riggs
Jennifer Roach
Bill & Nancy  Roe
Kathleen Rose
Elizabeth Saft
Michele Santoro
Bob and Jenifer  Segar
Mendora  Servin
Isabel Shaskan
Jacquelin Siegel
Bob Gregoire and Kathleen  Socolofsky
Jonah Spang
Tom and Meg Stallard
Dana Stokes
Christopher Stokes
The  Straandgaards
Terri Strack
David Studer
Nina Suzuki
Renee Swank
Nancy Temple
Joe Turkovich
Suzanne Ullensvang
Christina Craig-Veit and Lance Veit
Melinda Waring
Valerie Williamson
Jean Witzman
Judy Wydick
Doris Yano
Jeff Yee
Michael Reinhart & Dorothy Yerxa
Kent Bradford & Barbara Zadra
Matthew and Meghan  Zavod

Dedications
In Honor Of Warren Roberts 
Anonymous

In Honor Of Katie Hetrick
Barbara Brady

In Memory Of Tom Cahill
Ginny  Cahill

In Memory Of Raymond Carpenter
Pearl Carpenter

In Honor Of Shirley Maus
Nancy Cole

In Memory Of Vince Cross Drew
Candace Cross-Drew

In Memory Of Carlene Berman
Ken Eckey

In Honor Of The Hoffman kids 
Tanya Hoffman

In Memory Of Pency Wong
Marshall Lee

In Memory Of  Anne Pellett
Vicki and Paul Moering

In Honor Of Tilly Jane
EC Moore

In Memory Of Elizabeth Helen Cloherty
Kristy Peterson

In Memory Of Louise Kellogg  
Sarah Roeske

In Honor Of Betsy Rogers
Mary Rogers

In Memory Of Lance Beauregard
Bonnie  Schmidt

In Memory Of Vivian Kearns Tarallo
Bernadette Tarallo
Category
Tags