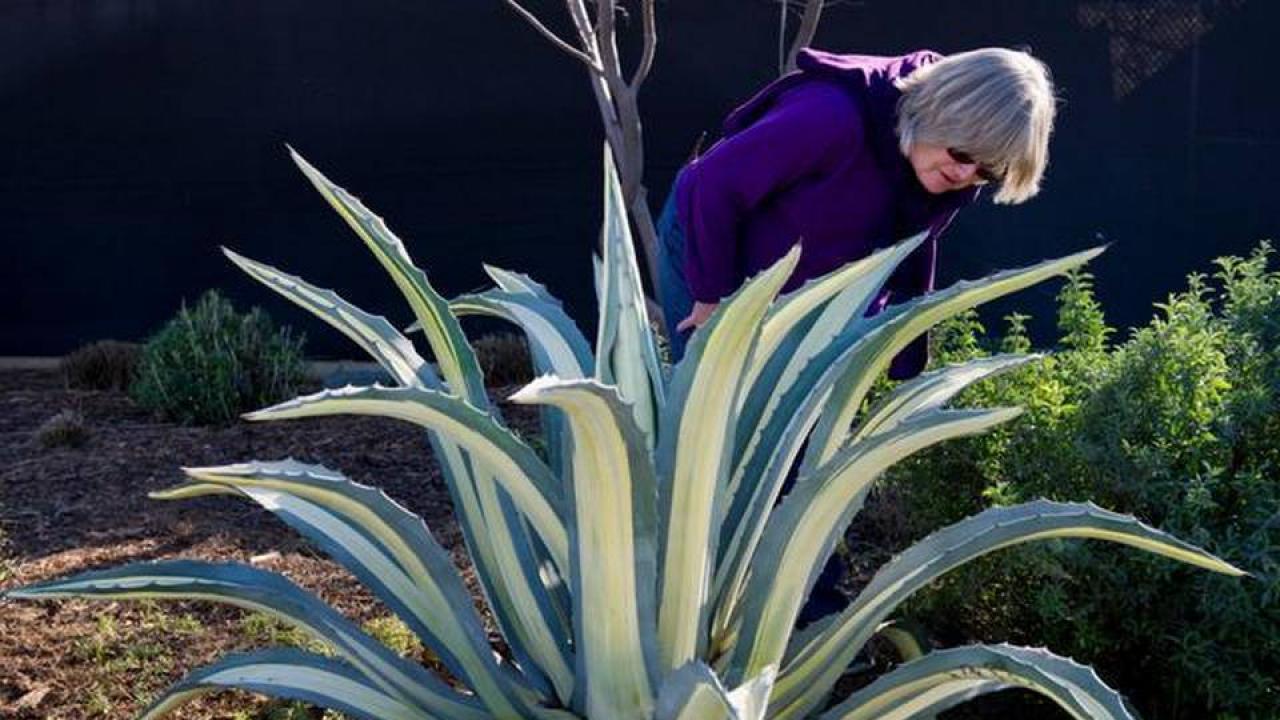 Our upcoming spring plant sales, Director of Public Horticulture Ellen Zagory, and Nursery Manager Taylor Lewis were featured in the Sacramento Bee on February 6, 2015.
The article, featuring information about this spring season's theme — 40 low-water plants you've (probably) never heard of — lets readers know about the diverse plant inventory available at our nursery. Read the excerpt by Sacramento Bee Home and Garden writer Debbie Arrington.
Download our list: 35 low-water plants you've (probably) never heard of (.pdf)
Why 35 instead of 40? There are a few that we consider "waterwise" but not low-water that were included in the Bee's list.
40 new favorite plants for water-wise Sacramento-area landscapes
by Debbie Arrington | The Sacramento Bee
California gardeners are a hardy lot. Even in the depths of drought, they maintain their passion for plants. And when they find a new favorite, they often want to share.
That's been the experience of Ellen Zagory, horticultural director of the UC Davis Arboretum, who is always on the lookout for more water-wise plant suggestions.
"People often ask, 'How did we find these plants?'" Zagory said as she toured the arboretum's one-acre nursery. "Somebody got one, tried it – and it didn't die. There's a lot of word of mouth and trading plants. We keep torturing these plants, seeing how little water they need and still survive."
The best ones not only stay alive, but thrive in adverse conditions. Irrigated twice a month or less, they still bloom and look beautiful while using a fraction of the water needed by more traditional landscaping. They can take the heat of Sacramento summers as well as the chill of winter nights.
And they offer something extra: They attract birds and beneficial insects. Those candidates that meet all those criteria get added to the arboretum's collections of recommended plants.
These "new favorites" aren't always easy to find – unless you're an immediate friend of the gardener who got it first. That's where the arboretum steps in to fill that gap.
"These plants are great for our area, but they can be hard to come by," Zagory said. "That's how we came up with this idea."
That idea is another UCD Arboretum collection: "40 Plants You (Probably) Never Heard Of – But Will Love."
It's a mouthful, but very descriptive of these drought-tolerant perennials, shrubs and other plants. Many are California natives that haven't quite crossed over into commerce. Some are lesser-known hybrids of more familiar flowers. All offer easy care and great water savings.
"Gardeners want more plants to add to their low-water landscapes," Zagory explained. "These are lesser-known players. They're kind of unusual. But they're all available this spring at our (arboretum) nursery."
Credit nursery manager Taylor Lewis and his mostly volunteer staff. They've worked months to make sure shoppers will find these new plants and a lot more at the nursery's spring sales, starting March 7.
"I guarantee we will have some plants that you will not see anywhere else," Lewis said.
Since last fall, Lewis and his staff have been busily propagating these new-found water-savers as fast as the cuttings and seeds would grow.
"Every day, we're planting hundreds and hundreds of starts," Lewis said. "I haven't had time to count, we've been so busy."
In the year since he's taken the reins of the Arboretum Teaching Nursery, Lewis has concentrated on expanding its inventory of California natives and more unusual plants.
"We've probably got 10 times more plants – at least – than we did last year prior to our first spring sale," he said. "It's a good feeling for me to have the nursery so full of plants this time of year."
Lewis knows what his customers want.
"They like finding things that are cool and interesting," he said. "I know I've got lots of great plants I absolutely love and I know will do so well in our area. Our greenhouse is packed with plants; we're going crazy trying to get everything transplanted (into larger pots)."
Succulents and other desert natives are well represented among the "40 Plants." A dwarf striped agave looks just like the popular striped Agave americana century plant, but instead of expanding to 8 feet tall (or more), it stays under 3 feet tall and wide. Gold tooth aloe boasts brilliant spikes of red flowers, a favorite for hummingbirds. Although its spiked edges look scary, they're soft.
Color Guard yucca features striking gold stripes and is surprisingly tolerant of partial shade. Desert spoon (Dasylirion wheeleri) looks like a green starburst.
Lewis is particularly proud of the expansion of one nursery category: drought-tolerant bulbs.
"I'm excited to have this many bulbs," he said. "They're all completely drought-tolerant. We've got bulbs for practically every season: spring, summer and fall."
One of those bulbs – yellow autumn crocus (Sternbergia lutea) – made it onto the "40 Plants" list, too.
"We've also expanded our grasses," he added. "We have ornamental grasses from 8 inches tall to over 5 feet. Pick your color; we've got something."
The "40 Plants" collection features one of the best of those grasses: Clearwater Blue fescue. Similar to Siskiyou Blue, Clearwater (Festuca "Clearwater Blue") is more compact and stays under 8 inches.
Besides color, several of these plants also add scent, said Zagory, as she rubbed the leaves of a pretty perennial. "This is Hildago stachys, but most people call it 7-Up Plant. The leaves smell like 7-Up. They tickle your nose."
Texas mountain laurel (Sophora secundiflora), also known as mescal bean, reminds arboretum staff of another soft drink: grape soda.
"It grows into a large shrub or small tree," Zagory explained. "It has these beautiful cascades of purple flowers that look like wisteria. The whole tree smells like grape bubblegum or grape soda when it blooms. And it's so drought-tolerant. After its first two years, you probably won't have to water it at all."
Call The Bee's Debbie Arrington, (916) 321-1075. Follow her on Twitter @debarrington.
SHOP AT THE ARBORETUM
The Arboretum Teaching Nursery will host four sales this spring, all featuring the "40 Plants You (Probably) Have Never Heard Of – But Will Learn to Love" collection as well as Arboretum All-Stars, Community Favorites, The New Front Yard, Durable Delights and more.
All sales are 9 a.m. to 1 p.m. on Saturdays and take place at the nursery, on Garrod Drive on the UC Davis campus across from the Center for Companion Animal Health. Here's the sales schedule:
March 7: "Friends of the Arboretum" Members Only sale. Members of the arboretum's support group get 10 percent off all purchases plus a $10 off coupon. New members can join at the door and get a $10 coupon, too
April 11: Meet the "40 Plants" sale. This is the introduction for the public at large to many of these unusual but useful water-wise plants.
April 25: More drought-busters sale. Find scores of water-wise plants to add to your landscape.
May 16: Clearance sale. Find significant discounts on many plants.
Details: (530) 752-4880, arboretum.ucdavis.edu
Category
Tags